25 Timeless and Cool Retro Boy Names
Are you an old soul, inspired by styles from decades past?
Retro boy names are hot right now. Not only do they never go out of style, but there's a depth to these names that seems to be lost in many modern names.
Last week I wrote a post on the best retro girl names. This week we're taking a look at cool retro boy names. There was a lot going on during this period, most notably the Golden Age of Hollywood, Puerto Rican immigration, and the Civil Rights Movement. So, you'll see a lot of those influences in the names below.
Most of these names were most popular through the 1920s-60s and are still making waves on the baby names charts. Having said that, some of these names (though absolutely stunning) have been lost through the decades. Meaning, if you're looking for unique retro baby names, you're going to love this list.
Let's dive right in!
POSTS RELATED TO RETRO BOY NAMES:
RELATED POSTS TO VINTAGE BOY NAMES:
25+ Retro Baby Boy Names That Are Just Too Cool for School
This post may contain affiliate links. If you make a purchase from one of the links I will make a small commission at no charge to you. Blunders in Babyland does not diagnose, treat, or give out any professional advice for any medical or financial situations.
Anthony
Anthony never goes out of style, but it peaked in the 1960s when actors like Anthony Quinn and Anthony Franciosa were strutting around. This is a Greek name meaning "priceless one."
Billy
Put a retro twist on a classic name! Billy is the pet name for the formal English William (resolute protection). If you're still looking for a good retro girl name, you can also consider Billy (Billie) as it's most commonly used as a female name now.
Cesar
I love Cesar. Not only is it rich with history, but it really makes a personality statement. Latin for "head of hair," your child can look forward to his memorable namesakes like Cesar Chavez and Cesar Romero.
Clark
Clark is now firmly considered a unisex name, meaning "scribe." It became very popular around the 1930s and 40s, right around the time Gone with the Wind. Having said that, the nerd in me likes to believe it's popularity rose because of Superman 😉
Dean
Oh, how could there ever be a retro boy names list without Dean on it? James Dean set the standard for bad boy while Dean Martin was literally the King of Cool. Dean is an old English name meaning "of the valley."
Ernie
This is the pet name for Ernest meaning "resolute."
Fred
As the shortened version of Fredrick, Fred is a timeless German name meaning "power."
Gene
Short for Eugene, Gene (or Jean for girls) was a very popular male name in the 1930s and 40s.
Harvey
Harvey is an old Breton name meaning "iron." This is one of those unique retro baby boy names that seriously needs the spotlight again. Harvey ran the baby name charts in the 1800s all the way to the 1950s.
Jack
Truly a timeless retro baby name! Jack evokes images of rugged, lumberjacks all the way to charming artists. It's actually a variation of John, meaning "God is gracious." Jack can also be used as a nickname for Jackson or Jacob. For the most part, Jack has been in the top 200 baby names since the 1800s.
Jimmy
This name was ridiculously popular in the 1930s-60s, thanks to popular influencers like Jimmy Dean or even Jimmy Carter. It's considered a nickname for James, which means "supplanter."
Kurt
Depending on who you ask, Kurt can be considered German (bold) or Turkish (wolf). It peaked in the early 1960s as a shortened version of Kurtis.
Louis
Let's talk about this seriously popular retro boy name! It's French for "renowned warrior." It ranked in the top 25 names in the early 1900s before it dipped in the 80s.
Marlon
If you're looking for unique, this is it! This is a forgotten retro boy name that needs to be brought back! Marlon Brando, one of the main actors in The Godfather (not to mention A Street Car Named Desire) popularized this name. Marlon seems to be a relatively new variation of the name Marlin.
Monty
Maybe this is my love for Monty Python and the Holy Grail showing, but when I think retro baby names, I automatically think Monty. Monty became most popular in the US during the 1930s through the 60s. It's considered a derivative of Montgomery or Montague.
Neil
This is an Irish name meaning "champion."
Perry
Perry is a great choice if you're in to 1950s baby names. It literally means "dweller near the pear tree."
Roman
The first thing I think of when I see this name is Elizabeth Taylor's Cleopatra. Roman was fairly popular in the early 1900 but has made a recent resurgence.
Ronnie
Though not as popular for females now, Ronnie is considered a unisex baby name. It's most commonly short for Ronald, a Norse name meaning "ruler."
Stevie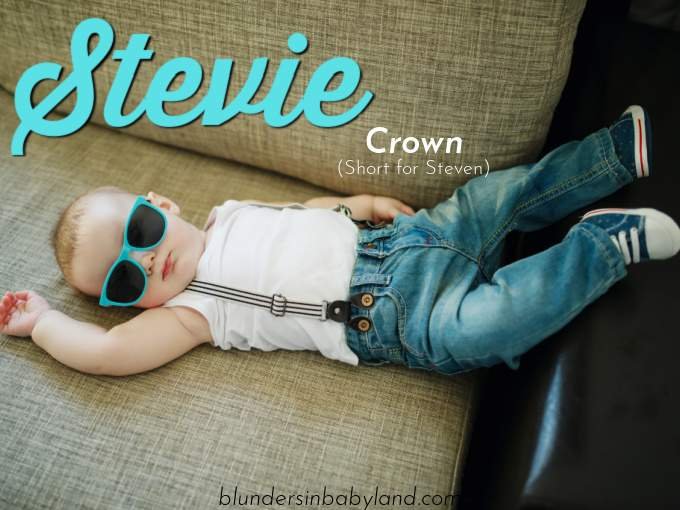 Stevie is recently considered a unisex name as well. In the past, it was mostly a nickname for Stephen, "wreath or crown."
Tom
Tom is the trendy, shortened version of Thomas, which means "twin." This pet name was most popular in the 60s.
Walter
Wally, Walt, or Walter hasn't seen his spotlight for a couple decades. It means, "army ruler." You might recognize a few famous Walters. Walter "Walt" Elias Disney and Walter Whitman to name a couple.
Willie
I love William and how many nicknames it has! This version was most popular in the early 1900s.
Zeke
This is a rising star of retro boy names. Considered the nickname for the Hebrew name Ezekial, Zeke means "God strengthens."
What's your favorite retro boy name?

Incredible legends like Louis Armstrong, James Dean, Jimmy Carter, Cesar Chavez dominate this era, inspiring feel-good memories and timeless appeal. I hope that a name on this list clicked for your little one!
If not, don't sweat it. My husband and I struggled to find the right name for both of our girls. I highly suggest making a list of 5-10 names (both you and Dad should have a list) and then cutting it to just your top 3. This approach helped us choose our baby names (and practically saved our marriage, ha!)
If you're still looking for inspiration, check out these baby names lists below!
RELATED POSTS TO RETRO BOY NAMES: