The Ultimate Italian Boy Names List: 60+ Baby Names You'll Love
Choosing a baby name can be so hard.
Choosing our firstborn's name was tough, but now that we're expecting our second child, my husband and I have literally gone through thousands (no exaggeration) of baby name lists to find the one that just "clicks."
One list held my attention in particular: Italian baby names. 
If you're familiar with the Italian language, you can probably appreciate the sort of nuance that it has to it, an almost sing-songy characteristic. The names have a similar effect, combined with rich, historical and religious meanings.
This post is for all of you parents and parents-to-be that are searching through Italian boy names in hopes of finding the "the one." Below are just a few of my favorite Italian names for boys with meanings that are just plain awesome.
RELATED POSTS:
60 Cool & Unique Italian Boy Names for Your Bambino
This post may contain affiliate links. If you make a purchase from one of the links I will make a small commission at no charge to you. Blunders in Babyland does not diagnose, treat, or give out any professional advice for any medical or financial situations.
Adone
Adone is such a smooth Italian baby name, it just flows off the tongue. It's also deeply religious, meaning "my Lord."
Alfonso
Alfonso is a regal name, literally meaning "noble."
Amadeo
This is one of my all-time favorite Italian baby boy names. Amadeo, originally Latin, means "lover of God" or "God's love."
Battista
Battista has a cool factor that can't be described. Like many of these other names, it's Christian in origin, meaning "baptized."
Benedict
If you have Catholic roots, Benedict is perfect for your little boy. It means "blessed."
Bruno
Bruno is a strong Italian boy name meaning "brown-haired."
Carlo
Meaning "man," Carlo is actually popular in Spain, France, and the U.S.
Ciro
Suspect that your little boy is a spitfire? Check out Ciro. It means, "like the sun."
D'Angelo
Another ridiculously cool Italian boy name! D'Angela simply means, "from an angel."
Hey, Mama! Are you still looking for a quality online prenatal class? Check out my round up of the 5 best childbirth classes online! I've taken and reviewed them all!
Dino
Does your baby already pack quite the punch? Dino means "little sword." Perfect for strong, rambunctious boys.
Don
Don is a sweet name meaning, "gift."
Drago
Fan of Game of Thrones? You'll probably recognize this one. Drago appropriately means "dragon."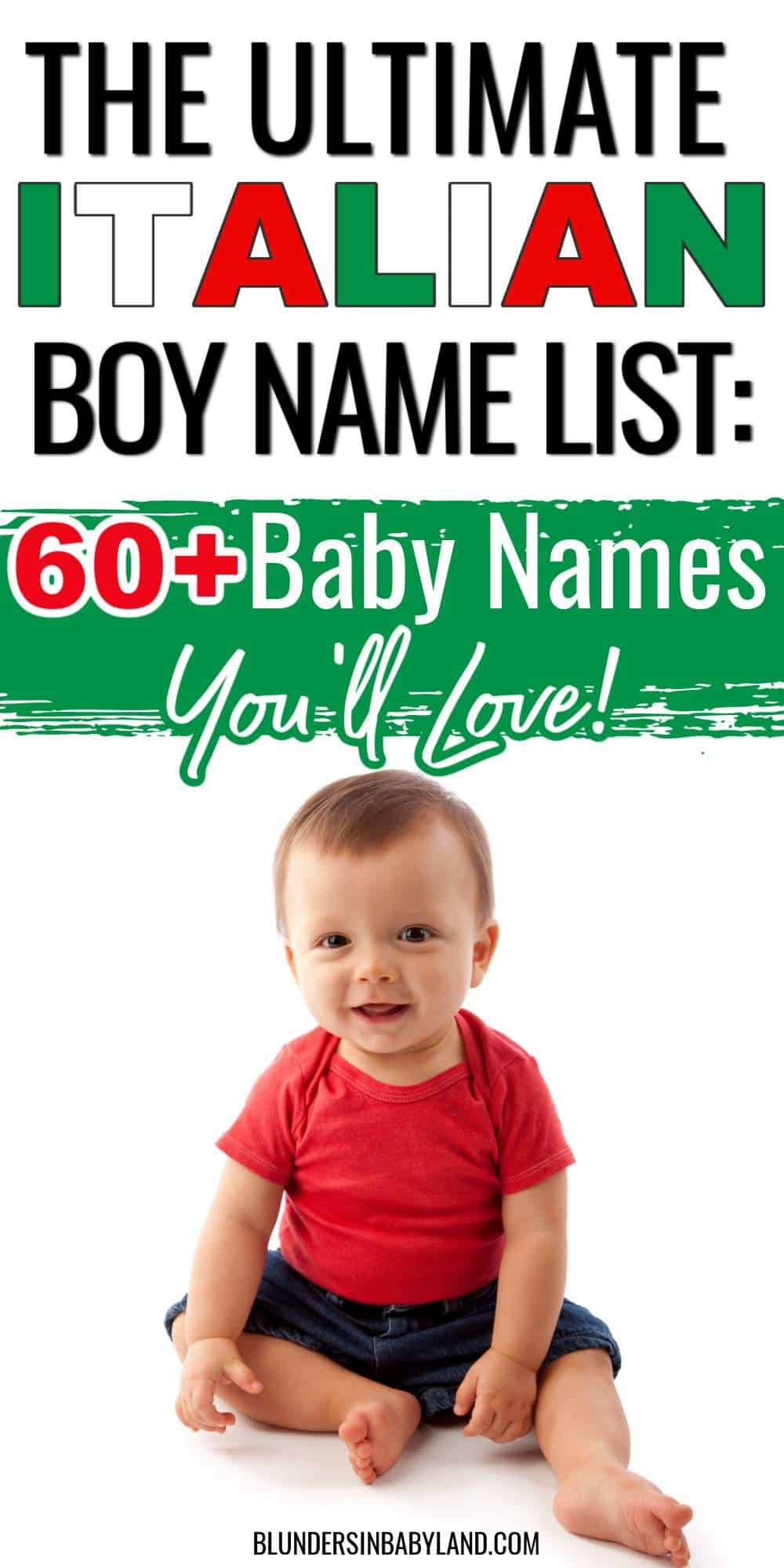 Elisio
Elisio is one of the less popular Italian names for boys, meaning "God is salvation." It stems from the Hebrew name, Elisha.
Ezio
Here's a nod to any of you Assassin's Creed fans out there. Ezio means "home ruler."
Fedele
This unique Italian boy name is deeply religious, meaning "faith."
Filipio
If you're a horse-lover, you will really appreciate Filipio. It literally means, "loves horses."
Franco
Franco has definitely gained popularity in the U.S. over the last decade (presumably because of the Franco brothers?). It is Italian for "free one."
Gabriele
Gabriel is a classic baby name in many languages, meaning "warrior of God."
Giani
Gianni is one rendition of the name, John. John means "God is Gracious."
Guido
There's some debate as to what Guido means. Many believe it stems from the Latin word for guide, while experts attribute it to "wido" or wood.
Hadrian
Everyone's familiar with the ancient emperor Hadrian, or at least his infamous wall. Hadrian actually means "dark-haired." 
Horatio
A timeless Italian baby name derived from the Latin name Horatius. It means "timekeeper."
Ignacio
This is quite a mouthful, but one of the coolest Italian names for boys in my book! Ignacio means "fiery." Keep it in mind if your family is known for their fire-cracker tempers!
Jino
Jino or Gino is actually the shortened version of the Greek name, "Ambrogino." This name means "ever-living."
Jovanne
Yet another variant of the name John, Jovanne is one rendition of Gianni or Giovanni.
Karmello
If you're looking for Italian names for boys starting with k, you're not going to have much luck. However, Karmello is one name that's been rising in popularity lately. It means golden or sweet.
Kosmo
Once again, this name isn't exactly Italian, though it has been rising in popularity. It means "universe."
Lando
Big Star Wars fan? Lando, meaning territory or land (go figure…), is the perfect homage to your favorite series.
Leone
Fierce and strong, Leone means "lion."
Luca
Luca, meaning "light," is an Italian boy name that has risen to the top 100 in the U.S. While it originated as a male name, it's actually now considered a unisex name. So, whatever gender your little one turns out to be, you're set!
RELATED POST: 40 Popular Unisex Baby Names With Meanings
Marcello
Marcello is a classic Italian baby name meaning, "defense." Ditch the extra "l" for the Portuguese version.
Maximo
A powerful name indeed! Maximo means "the greatest."
Mateo
Matteo or Mateo is simply the Italian version of Matthew, which means means "gift from God."
Monte
Here's another unisex name for you! Monte means "mountain."
Napoleone
Can you guess what this name means based on what we've already gone over? Napoleone means "lion of Naples."
Nico
Nico is the Italian shortened version of the Greek name, Nikodemos, which means victor of the people.
Nino
Nino is a traditional Italian name given to the first-born son, meaning "boy." Having said that, it can also be used as a pet name for Giovanni.
Orazio
Orazio is another variation of the name "Horatio."
Orlando
Orlando is actually the Italian version of Roland, which means "famous land" or "famous throughout the land."
Otan
If you're interested in ritzy names, check out Otan. It means "wealthy."
Paco
Popular in Spain and Italy, Paco means "pack."
Pascal
If you're expecting an Easter baby (or you love mathematicians), consider the name, Pascal. It literally means "Easter baby!"
Peppe
This name actually has two meanings, depending on your origin of choice. As an Italian baby name, it means "pepper." If you want to look at the Hebrew origin, it means "God will add."
Rafael
Another deeply religious baby name, Rafael means "God has healed."
Raul
Suspect your baby is one cool cat? Raul is a classic name, meaning "wise wolf."
Ricco
Another cool Italian boy name! Ricco, also Rico, is Italian for "strong ruler."
Salvator
Salvator literally means "savior."
Santo
Yet another name with Christian-Catholic roots, Santo is Italian for "saint", meaning "holy."
Simone
Simone is a popular baby name across many languages, including Gaelic. It means "hearkening."
RELATED POST: 40 Timeless Irish Boy Names for Your Celtic Baby
Tale
Expecting a spring baby? Tale, meaning "green," is the perfect nod to his seasonal birth.
Teo
This shortened version of Matteo means "God's gift."
Torre
I think this name is just so cool! Torre means "tower."
Uberto
Uberto is one Italian baby boy name that has stood the test of time! It means "bright spirit."
Ugo
Ugo is the Italian variant of the name, "Hugo." It means "mind, spirit."
Uso
In Italian, Uso means "intelligent."
Valentino
Do you have a February baby? Valentino is a cute Italian baby name meaning, "strong."
Vico
Can you guess what this name means? Vico is borrowed from the Latin word for "conqueror."
Vito
Here's another one for you movie buffs! The Godfather's Vito has made this name timeless. It means "life."
Yovanni
Can you handle another rendition of Giovanni? Here's the last one!
Zeno
Digging back to their polytheistic roots, Zeno is Italian for "gift of Zeus."
What's Your Favorite Italian Baby Boy Name?
Whew, that's a lot of Italian boy names! Did anything stick out to you? If you're still looking for names (BELIEVE me, I get that), check out a few of our other baby names lists below. Or, if there's a good Italian name you think should be on this list, let the rest of our readers know below. 
Good luck finding the perfect name!
RELATED POSTS TO ITALIAN BOY NAMES: