Simply Earth December 2022 Box Review
I love the Christmas season! It's the perfect time to meet up with old friends and cozy up by the fireplace and read a good book.
Well…that might be true if kids, viruses, and Christmas lists didn't exist. In my house at least, the winter season usually contains warm memories spliced with stress, illness, and dry skin.
If that sounds a little familiar, you're in luck. This month's essential oil box review is all about beauty solutions. Unlike the chemical-laden beauty solutions you're probably used to, these contain antibacterial, anti-inflammatory, and (my favorite) stress-relieving properties.
Let's dig into the Simply Earth December 2022 box and make some Christmas-themed beauty remedies, shall we!
POSTS RELATED TO THE Simply Earth December 2022 Box Review: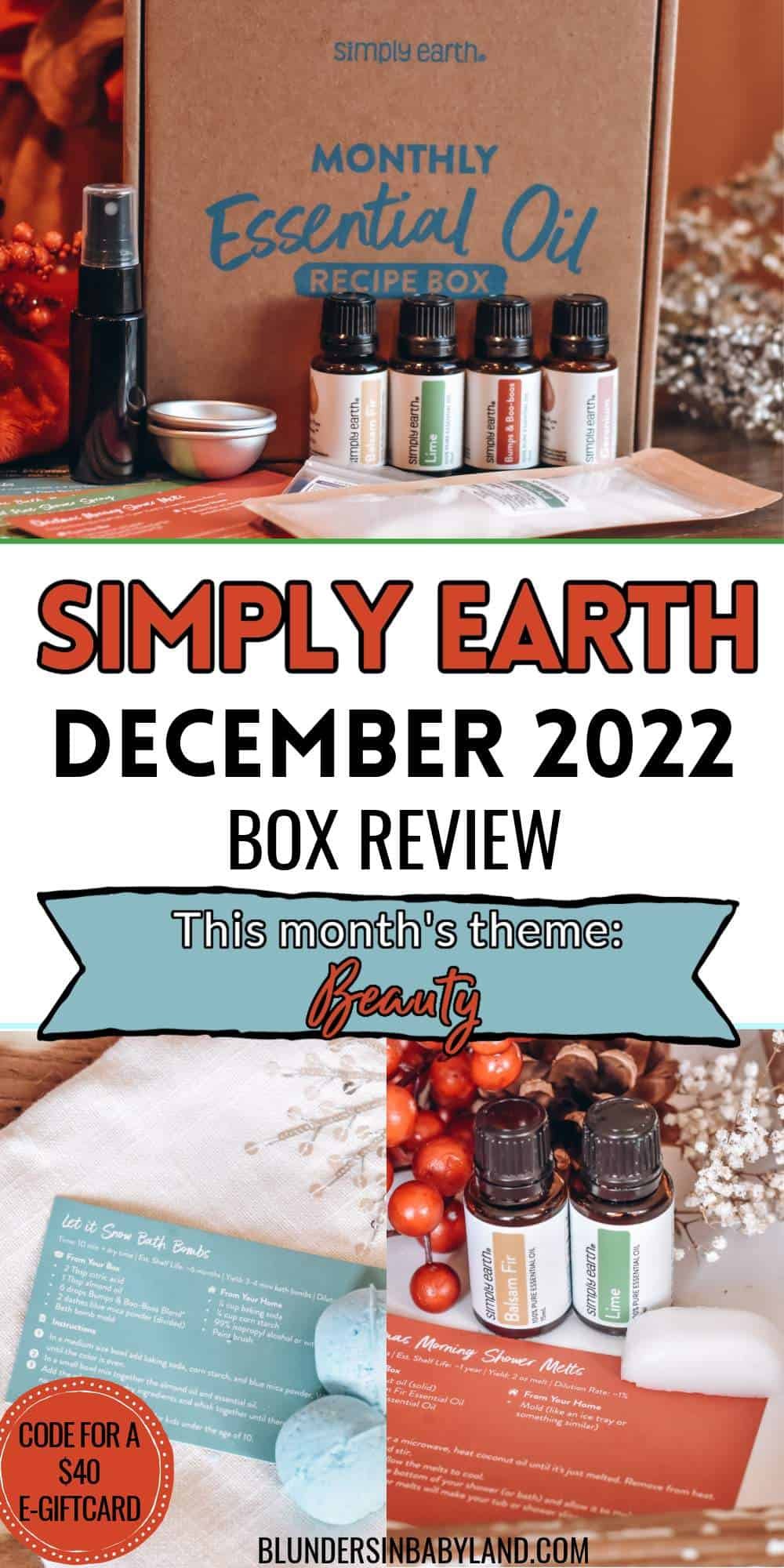 What is Simply Earth?
This post may contain affiliate links. If you make a purchase from one of the links I will make a small commission at no charge to you. Blunders in Babyland does not diagnose, treat, or give out any professional advice for any medical conditions.
First of all, are you new to Simply Earth? If you love supporting small businesses and ethical farming practices, you will love this company!
Simply Earth is a small essential oil manufacturer that seriously keeps the big guys on their toes. Their essential oils are 100% pure, ethically farmed, meticulously tested according to industry standards, and offered at a significantly lower price.
How does Simply Earth do it?
Basically, they keep their costs down by cutting out the middleman. Simply Earth works directly with farmers (as opposed to brokering deals), they manufacture their oils in their own commercial-grade kitchen, and pack the boxes themselves.
If you'd like to learn more about Simply Earth, you can check out my full review here.
What is the Simply Earth Recipe Box?
So, we already talked about the ways that Simply Earth is different from other essential oil manufacturers. Let's talk about their most popular (and affordable) product: the Simply Earth recipe box.
Simply Earth has two main goals: to offer affordable essential oils that anyone can buy, and help their customers transition into a non-toxic lifestyle. To do this better, they created the Simply Earth recipe box.
Every month Simply Earth sends you 4 essential oils, 6 recipes, and 2-3 bonuses. This recipe box focuses on a theme designed to help you replace the chemicals-laden products in your home with all-natural, essential oil alternatives. The box is only $45 and you can cancel, pause, or skip at any time.
This month, the recipe box theme is beauty.
Bonus Box
If you're a new Simply Earth recipe box subscriber, you'll also recipe the super awesome bonus box!
Another reason why essential oils are so expensive? You need to purchase additional supplies to make remedies! Bottles and carrier oils are not cheap! So, Simply Earth is giving them to you for free.
The Bonus Box includes:
12oz fractionated coconut oil (Solid coconut oil)
4oz carrier coconut oil
4oz carrier almond oil
6 10ml roll-on amber glass bottles
6 5ml amber glass bottles
2oz beeswax
If you use the code BABYLANDFREE, you'll also receive a $45 e-gift card that you can use on future purchases.
The Simply Earth December 2022 Box Full Reveal
Essential Oils Included in the Simply Earth December Recipe Box
Balsam Fir
This essential oil smells like an air freshener in a bottle! If you're going to have an artificial tree this year, balsam fir is exactly the oil you need to run through your diffuser. On the medicinal side, balsam is used to improve circulation, respiratory function, stress.
Lime
Lime is one of my favorite essential oils. It smells fresh like lemon, but contains a sweet note that (in my opinion) makes the scent more pleasant. Lime is known for its antibacterial, antifungal, and antiviral properties.
It's also great for your skin! Lime is rich in antioxidants and vitamin C, which can slow the appearance of aging and improve dark spots in your skin.
Geranium
I love that Simply Earth included Geranium oil this month! It's so unique and smells great.
Derived from the geranium flower in Egypt, this essential oil is good for all kinds of things. You can use geranium essential oil in several beauty recipes, like masks and astringents (or bath bombs, which we'll get into in a little bit!). Geranium can improve redness and tighten your skin, as well as detoxify it.
Bumps & Boo-Boos Blend
At first I thought this was an interesting choice for a beauty-themed recipe box. Once I saw what the Bumps & Boo-Boos blend was made of though, it totally makes sense. This blend is a mix of Tea Tree,Lavender, Lemon, and Helichrysum. These oils have excellent calming, antibacterial, and anti-inflammation properties (which is exactly the type of oil you'd want on your skin). Helichrysum specifically can tighten your skin and, according to some claims, can reduce the appearance of acne.
The Bonuses
The Simply Earth December 2022 box has a lot of value. This month, you're receiving $177 worth of goodies for only $45. I believe that high value is because of allll the goodies they've included. Let's review, shall we?
Bath bomb mold: This is the gift that keeps giving. In this post, I'll show you how to make bath bombs. It's super easy and you can do it again and again with this mold.
Citric acid
Spray Bottle: Keep in mind this is good for cleaning solutions as well!
Ocean Blue Mica Powder
Recipes Included
I feel like this month the recipes have a dual theme: Christmas and beauty! I am totally down for it. Hold on to these recipes, because I have a feeling they'll make great gift ideas for next year.
Here are the recipes included in this month's box:
Christmas Morning Shower Melts
Breath of Pine Shower Spray
Snow Storm Mini Bath Bombs
Cheerful Giver Roll-On
Let It Snow Bath Bombs
Christmas Vacation Diffuser Blend
Recipe Tutorials
Christmas Morning Shower Melts
Ingredients Needed:
¼ cup solid coconut oil
7 drops balsam fir essential oil
3 drops lime essential oil
Mold (I used an ice tray)
Heat the coconut oil in the microwave or in a double-broiler. The key is to not overheat. I warmed it in 15 second increments, stirred, and repeated until the oil was liquid. Add the essential oils once the oil has melted and give it a good stir. Pour the oil mixture into the mold. Wait until the oil completely solidifies (it usually doesn't take long, maybe 30 minutes) and gently, oh, so, gently, remove the melts from the ice tray. Since my ice tray is rigid, I put it in the freezer so the melts would contract away from the edges.
When you're ready to use these adorable melts, just place it at the bottom of your shower or bath. Just remember that coconut oil is a little slippery, so don't fall!
Christmas Day Roll-On
Ingredients Needed:
3 Drops Balsam Fir Essential Oil
1 Drop Lime Essential Oil
10 ml fractionated coconut oil
Roll-On Bottle
This roll-on might specifically say Christmas, but you can use it any day! Remember, your roll-on bottles come with the box when you subscribe to Simply Earth. To make this recipe, Simply add the ingredients together, pop the roll-on lid back into place and give it a good shake.
Let It Snow Mini Bath Bombs
Ingredients Needed:
2 TBsp citric acid (divided)
1 Tbsp almond oil
2 drops Geranium Essential Oil
2 drops Bumps and Boo-boos Blend
1 dash blue mica powder
Bath bomb mold
¼ cup baking soda
¼ cup corn starch
99% isopropyl alcohol or Witch Hazel (After using alcohol, I recommend Witch Hazel)
I love that simply earth included the bath bomb mold. After you see how incredibly easy it is to make bath bombs, I'm fairly sure you'll become addicted to making them (and why shouldn't you? Bath bombs are so expensive to buy!)
Mix the baking soda and corn starch. In a different bowl, mix the almond oil and essential oils. Add the oils to the dry ingredients and whisk together. Truly a whisk works better than a fork or spoon here. You want the mixture nice and smooth.
Add the mica powder to the bowl and stir. Spray a small amount of isopropyl alcohol to the bowl and stir. Repeat until the mixtures begin to hold shape (kind of like a dough). Add 1 Tbsp of citric acid to each mixture and stir. Fill each side of the bath bomb mold with the mixture. Push the mold together. The key is to overfill ever-so-slightly so that the middle melds together well.
Once you fuse the two pieces together do not leave it in the mold. It'll be a bear to get out once it dries. Take the bath bomb out and set it somewhere safe. Let the bath bomb dry. It took mine about 6 hours.
It is super easy to make, but a little intimidating the first time you make it. Simply Earth has a really good tutorials you can watch as well.
How to Save on the Simply Earth December 2022 Recipe Box
Ready to level up your beauty routine and make some wonderful Christmas-themed recipes? Grab the Simply Earth December 2022 box now! This box is sure to sell out before the end of the month, so don't wait.
To purchase your box, visit Simply Earth here. Don't forget to use the code BABYLANDFREE to snag your $45 e-gift card and free bonus box!
I hope you love it!