8 Best Tips to Save Money as a Stay at Home Mom
With a stay-at-home mom's busy schedule and the high costs of raising a child, it can be difficult to save money. If you find yourself living on one income with limited funds, this article is perfect for you! From making your own cleaning supplies to budgeting wisely every month in order not to fall into debt, I will give tips that have helped me thrive as a frugal woman myself.
As someone who has struggled financially through my twenties while striving towards personal financial goals at the same time (namely getting out of credit card debt), these are words from experience which may help women like us live better lives.
If you're ready to make a commitment on your own personal finances, here are the top 8 money saving tips for stay at home moms.
RELATED POSTS SAVING MONEY AS A STAY AT HOME MOM:
8 Top Money Saving Tips for Stay at Home Moms
This post may contain affiliate links. If you make a purchase from one of the links I will make a small commission at no charge to you. Blunders in Babyland does not diagnose, treat, or give out any professional advice for any medical conditions.
1. Avoid credit card debt at all costs
Getting out of credit card debt quickly is a great goal, but avoiding it altogether is even better. Using a credit card can make you feel like you're being spendthrift since they allow the convenience of payment later. However, if you don't have the money for something now or in the future, using a credit card to pay for it will cost you more down the line.
Before you even think about using a credit card, create an emergency fund that can pay off purchases immediately. This way if something breaks or wears out, you won't be stuck with the bill. You will also know how much money is in your account without having to guess, and this will help you make smarter decisions about saving and spending.
In the event that it does take you a while to build up an emergency fund, only use your credit card for emergencies. This can include things like job loss or emergency medical expenses when you don't have health insurance. Even if you are out of debt before retirement age, it's a good idea to keep your credit card for emergencies.
2. Make your own cleaning supplies
As someone who is still looking into ways of replacing all store-bought products in her house with homemade versions, I can say that this tip has saved me a lot of money! It's also worthwhile because when you make your own cleaning supplies, you can be sure that they're safe for your family to breathe in.
Homemade cleaning products are safe and work just as well or better than their chemical-laden counterparts. I used to buy Swiffer pads and sprays before trying out some homemade versions. I was shocked at how well they cleaned my hardwood and tile floors. Not to mention, I wasn't having to manage the chemical smell in my house anymore!
Some of the ingredients that you can use are vinegar, castile soap, baking soda, lemon juice, and salt.
Vinegar: Use as a degreaser on surfaces you can't scrub like windows and toilets.
Baking soda: Great for getting rid of the grime in your kitchen sink.
Castile soap: Mix with warm water to make a homemade wood floor cleaner.
Lemon juice and salt: Excellent ingredients for cleaning up tough spots on things like sinks or tubs that need to be scraped with a sponge or scrubber.
3. Shop more at thrift stores and share items you no longer need
When I was in college, I had a job working at Goodwill that lasted for about 7 months. This job really helped me to understand the value of things, and I learned that some items can be worth much more than the shelf price. For example, you may find a game system for $10 at one Goodwill, but it could be worth $300 in working condition if you were to sell it on eBay or Craigslist.
Furthermore, shopping at thrift stores will give you the opportunity to find some things you love for as little as $0.50. For example, vintage photographs can really add to the decor of your living space and you can get a hold of them easily at thrift stores like Goodwill or Savers. I even used one of my grandmother's old photo albums to put together a "memory board" for my wedding!
As you look through the clothing racks at thrift shops, be sure to keep an eye out for vintage pieces. Dresses can cost a fortune if you want anything with some kind of brand on it. However, if you're willing to take a chance and do some research online about how much vintage dresses are worth, you just might find one for a couple of dollars.
Don't be afraid to try out online resale shops as well, like ThredUp or TheRealReal.
Different parenting style books and blogs will tell you to avoid the toy isles at thrift stores, but I've personally never had to worry about this. When I was working at Goodwill, we would throw away any toys that were broken or past their prime, leaving the great items up for grabs!
4. Maximize Leftovers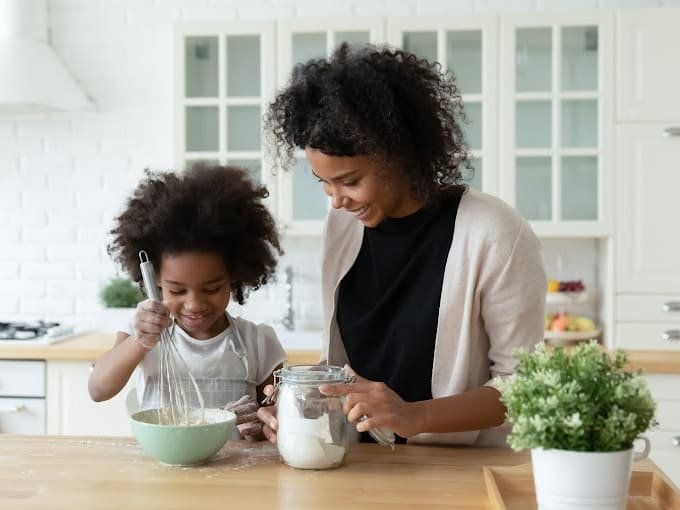 When I first started learning how to cook, I loved making meals that were as easy to prepare as possible. This way I could have more time to spend with my husband!
However, since most of us don't have the time to cook three full-course meals every day, it is important that we learn how to make good use of leftovers.
Since you've just paid for all the ingredients, it makes sense that you would want to get the most out of each meal.
Meal planning can be an excellent tool to help maximize leftovers and eliminate food waste. At the beginning of the week, just write down the meals you want to make from scratch. See if you can fill the rest of the days with leftovers.
Knowing how to throw together a bunch of leftovers into one dish and calling it dinner is such an awesome money-saving skill!
RELATED POST: 15 Freezer Meals for New Moms
5: DIY Your Beauty Routine
Being a stay at home mom doesn't mean you need to give up your beauty routine. However, there are probably certain rituals or beauty products can end up costing you quite a lot of money.
For example, if you're the type of woman who wears nail polish like it's going out of style then I doubt you are very interested in using the same colors over and over again.
This is why it's important to learn how to do your nails yourself, or at the very least to know someone who can teach you. If you can master a great at-home manicure, then you won't have to spend so much money on getting them done by a professional!
6. Build an Emergency Fund
Even if your spouse has a good job and you have a little extra money to splurge, it is always smart to have an emergency fund. We've all heard the stories about people who lose their jobs and then find themselves unable to pay rent or put food on the table for their families – this is why having a bit of extra cash lying around is such an important part of being financially safe.
A good rule of thumb is to tuck away $1000 in savings as quickly as you can. Then, deposit a small amount every month until you've accumulated at least three months worth of your monthly bills.
7. Skip the brand name products
While I'm certainly not telling you to go out and buy a bunch of cheap imitation products, some generic items can be just as good as their brand-name counterparts. For example, instead of paying $3 for one stick of deodorant at your local grocery store, you might look around to find it at a dollar store or even at one of the discount drugstores.
Baby formula is another easy item to substitute. Since all baby formula must meet FDA standards to be sold in the US, you can experiment between box store lines and name brands.
RELATED POST: Kirkland Signature vs. Enfamil Baby Formula
8. Take advantage of free/cheap entertainment opportunities
One thing that really sucks is getting yourself ready to go out and have some fun, only to realize that you don't have enough money in your budget for cover charges! However, if you're willing to do a little bit of planning, it's easy to find free or cheap ways to spend time with your friends.
The next time you get together with your girlfriends for a night on the town, try something like Karaoke Night! Not only is this a fun way for everyone to get in on the singing action, but it can also be a lot of fun to watch your friends make fools out of themselves. If you have never been to one, check out Karaoke Monkey – they have great reviews and are open in several cities across the country!
RELATED POST: 8 Cheap Places to Take Your Baby For Fun
Final Thoughts on How to Save Money as a Stay at Home Mom
Learning how to save money as a stay at home mom can take some time, but don't be discouraged. Gradually you'll learn new tips and techniques that fit your lifestyle. So, save when you can but expect there to be a learning curve.
The best way to save money is to keep track of where its going. If you're expecting or have a new baby, make sure you grab a free baby budgeting worksheet to get started!
Good luck, stay-at-home moms! Remember that money should never stop you from enjoying motherhood to its fullest!
NEED MORE TIPS TO SAVE MONEY AS A STAY AT HOME MOM? CHECK OUT THESE RELATED POSTS: