Simply Earth February 2022 Box Review + Coupon
It's a little ironic that, in an effort to maintain and heal our skin, we resort to harsh chemicals. But what other choice do we have? Have you tried to buy natural face masks lately? They're so expensive!
How about we make our own?
Homemade essential oil skin care products are actually a cinch to make. Luckily for us, the theme for this month's Simply Earth recipe box is skin care! We're going to use essential oils that hydrate and heal your skin and natural cosmetic bases that don't introduce chemicals into your system.
In this Simply Earth February 2022 Box review, I'm going to show you how to make a few DIY products that will leave your skin glowing and won't cost a fortune. Plus, I'll share everything I know about the box to help you decide if it's worth the $39…
Oh, and did I mention that there's a coupon involved?
POSTS SIMILAR TO THE SIMPLY EARTH JANUARY 2022 BOX REVIEW:
Simply Earth February 2022 Recipe Review: At-a-Glance
Theme: Skin Care
Recipes Included: Clear Skin Jelly Face Mask, Sugar Goop Body Polish, Candy Hearts Difffuser Blend, Blemish Soother Roll-On, Bi-Phasal Facial Cleaner, Lavender Love Shower Gel
Oils Included: Palmarosa, Lavender, Peru Balsam, Clear Skin Blend
Bonuses: Xanthan Gum, Vegetable Glycerin, Body Wash Base
This post contains affiliate links. If you make a purchase from one of the links I will make a small commission at no charge to you. I only recommend what I trust. Blunders in Babyland does not diagnose, treat, or advise medical conditions. I received this recipe box for free in order to facilitate this review. All opinions are my own.
Which Essential Oils Are Best
Before we get started, can I introduce myself?
I'm Erin, work-at-home mom of two and also what you would call an "oil-y mom." That means I'm one of "those" women who whip out the essential oils when someone has a boo-boo, cough, or mild stomach complaint.
Why do I resort to essential oils? BECAUSE THEY WORK. I've researched a lot on essential oils over the years and I'm thoroughly impressed by the studies scientists (not essential oil fangirls) have conducted. I'll drop a link or two to these studies in this post.
But which essential oils are the best? In my opinion, Simply Earth. Hands-down.
I've been a loyal customer of Simply Earth Essential Oils for a little over two years now.
Simply Earth is a family-owned business that manufactures 100% pure, ethically-farmed essential oils. They produce the oils in a commercial kitchen and ship the product themselves. This manufacturer only purchase supplies from farms they've personally vetted and worked with. No shady brokers!
Now, because Simply Earth does a lot of the leg work themselves, they've cut down on the cost to produce. And do they mark up their oils for a higher margin? Nope. Simply Earth passes those savings on to you, the customer.
Some of the oils I'm about to talk about are literally a quarter of the price of competitors.
Like I said, Simply Earth is a great company.
What is The Simply Earth Recipe Box
You can purchase Simply Earth oils individually, but if you want to save even more more AND learn how to use your oils, their monthly subscription box is the best deal by far. Every month the recipe box focuses on a theme that teaches you how to create fun essential oil products.
For example, this month's theme is skin care.
Every recipe box includes:
4 pure essential oils
6 essential oil recipes
3-4 bonus goodies
The Bonus Box (for new subscribers or every 6th box)
As a subscriber, you'll also receive access to their Essential Oil Hero Course (think Essential Oils 101) and Facebook group.
Simply Earth February 2022 Box Review: What's Included
The Essential Oils
Are you ready to talk about essential oils for skin care? Let's dive in! I love every single one of the oils included in the Simply Earth February recipe box and I'm genuinely so excited to use the products I created with them!
Peru Balsam: Words cannot describe how good this essential oil smells. Think vanilla but with a woodsy twist. You're probably pretty used to this scent, as it's a common choice for soaps, shampoos, and home fragrances (and we get to make our own toxin-free products soon! Woohoo!) Peruvian balsam has antibacterial properties and can reduce dandruff as well as eczema.
Lavender (Bulgarian): I know what you're thinking. Erin, what the heck is Bulgarian lavender? Well, this is most likely the variety you would usually buy when you're looking at "lavender essential oil." But sometimes, you can also purchase French or even English lavender, which smells a little different. Bulgarian lavender has a stronger scent and it's great for reducing stress.
Palmarosa: Made from a grass in Nepal, somehow the scent of Palmarosa relaxes and invigorates you in the same breath. Palmarosa is known mostly for its antibacterial, antiviral, and anti-anxiety properties…but did you know that it's great for your skin? It actually aids in the repair of cells damaged by aging and retains hydration.
Clear Skin: Tea tree, sandalwood, cedarwood, juniper berry, & lemon. All mixed together to create this earthy, fresh blend! The Clear Skin blend makes an excellent astringent. It kills bacteria and clears your pores. More specifically, sandalwood has fantastic anti-inflammatory capabilities, which will help us in later recipes. This blend also contains a compound called a-santalol. A-santalol, according to research, can protect your skin against skin cancer.
Bonuses Included with the Simply Earth February 2022 Recipe Box
Thank you, Simply Earth, for including such awesome bonuses this month! These bonuses are everything you need to create your own skin care products. You're saving so much money here (seriously, look up the price of xanthan gum and natural body wash bases!)
Here's what's included in the Simply Earth February 2022 Box:
Xanthan Gum
Vegetable Glycerin ( a common product used in natural cosmetics. Great for hydrating skin)
Body Wash Base (contains: water, potassium oleate, potassium cocoate, glycerin, potassium citrate, citric acid)
Bonus Box
If this is your first time subscribing to Simply Earth's recipe box, you're going to receive a bonus box for free. Look at this bonus box! Isn't it impressive? You'll actually receive one of these every sixth recipe box as well. It contains all the carrier oils, waxes, and containers you'll need to start mixing recipes.
What's Included:
5 10ml roll-on bottles
5 5ml bottles
Coconut oil
Fractionated Coconut Oil
Almond Oil
Beeswax
Top 3 Recipes from the Simply Earth February 2022 Box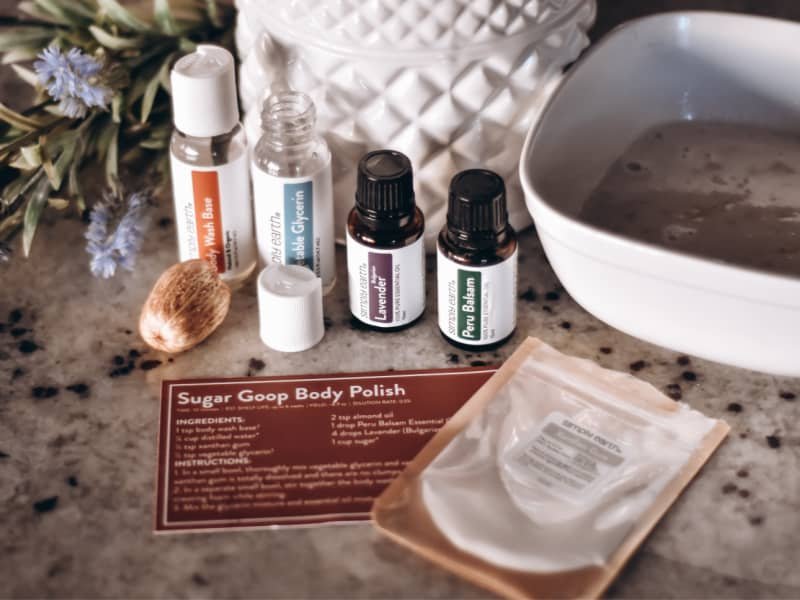 Creating this month's DIY skincare recipes was super easy. I love how the recipes coordinated, so I could easily grab the ingredients and mix them up in batches. I'll show you what I mean.
Sugar Goop Body Polish
I was very curious about the body goop. Simply Earth introduced me to sugar scrubs a couple years ago and ever since I've been addicted. The sugar crystals clear away dead skin cells and the essential oils smell soooooo good.
This sugar goop does not disappoint. It's much less grind-y than previous recipes and it does a perfect job of polishing your skin. Fun fact, I actually used this goop on my stretch marks as well!
To make the sugar goop body polish, mix ½ tsp xanthan gum with ½ tsp vegetable glycerin. It's very important to mix these ingredients thoroughly before moving on to the next step. No clumps!
In a separate bowl, mix 1 tsp body wash base with 1 drop peru balsam and 4 drops lavender essential oil. Stir the two mixtures together and add ¼ cup water. Add 1 cup of sugar (I used plain old white sugar cane).
Keep in mind that this recipe has a shelf life of 6 weeks.
Lavender Love Shower Gel
Do you love lovely smelling shower gels but hate using products with harsh ingredients? *Raises hand*. This shower gel smells absolutely heavenly. It's perfect for those late-night, unwind showers.
To make your own, mix ½ tsp xanthan gum with ½ vegetable glycerin in a small bowl. Once again, no clumps! We need to make sure that this mixture is very smooth before proceeding. In another bowl, mix 1 tsp body wash base with 12 drops lavender and 2 drops peru balsam. Mix slow and steady. Don't create a foam (this doesn't ruin the recipe but it messes with the overall texture later)
Stir both mixtures together. This is actually more difficult than it sounds. I used a spoon first (would not recommend) and then a whisk. Do yourself a favor and use a small blender.
Stir in ¼ cup distilled water. And you're done!
(Last thing, although this shower gel is pictured in a bowl, I would definitely, IMMEDIATELY, seal it in a reusable plastic container. If you're done with the vegetable glycerin, you can use that container!
Blemish Soother Roll-On
I love skincare products that I can simply dab on and go. This blemish soother roll-on is perfect for those days when my skin is acting funny and needs a little low-key TLC.
Almond oil is super hydrating without weighing down your skin and lavender and palmarosa are wonderful anti-inflammatory agents.
To make this recipe, simply grab one of those 10ml roll-on bottles you received from the bonus box. Pour 1 drop lavender and 1 drop palmarosa essential oil in. Fill with almond oil, reseal, and shake. Viola!
Your Coupon + Other Ways to Save
Are you ready to save yourself a ton of money and make some fun DIY natural skincare products? You can order your Simply Earth February 2022 Recipe Box right here!
Remember to use the code BABYLANDFREE & get a FREE bonus box and $40 egift card for future purchases. Honestly, I can't believe that Simply Earth is so generous. I love that these prices allow you to have 100% pure essential oils for "Walmart prices."
If you get the box, let me know! I'd love to know which skin care products you decide to create. Enjoy!