What Are Receiving Blankets and 8 Genius Ways to Use Them
Receiving blankets, swaddles, burp cloths, baby blankets…you've been adding items to your baby shower registry for hours and everything is starting to look the same.
I totally get it. As a new much just followed the Amazon's default registry suggestions. When I someone was kind enough to buy me a pack of receiving blankets, I had no idea what to do with them. They're not really big enough for swaddling but too large for a burp cloth…
Are you wondering the same? Believe it or not, receiving blankets are extremely useful! In fact, they've been a downright necessity for baby #2.
In this post, I'm going to give you the skinny on receiving blankets. What they are, how to use them, and a few of the best receiving blankets for baby.
RELATED POSTS TO RECEIVING BLANKETS:
What are receiving blankets?
This post may contain affiliate links. If you make a purchase from one of the links I will make a small commission at no charge to you. Blunders in Babyland does not diagnose, treat, or give out any professional advice for any medical conditions.
First of all, what are receiving blankets. If you're a new mom and you're not too familiar with the baby gear lingo, this is probably the question you're asking yourself right now.
In ages past, a receiving blanket was the first piece of cloth your baby was wrapped in. This is literally how you received your blankets. In fact, you were probably introduced to receiving blankets at the hospital. Remember those soft nice blue, white, and pink blankets the nursing staff swaddled your baby in?
That's technically a receiving blanket.
Receiving Blankets vs. Swaddle Blankets
In modern times, a receiving blanket is usually considered an interchangeable term for swaddle blanket. But don't let that confuse you!
You're probably wondering what the difference between a receiving blanket and swaddle blanket is.
A receiving blanket is usually 30×30 (sometimes 30×40) and made from cotton, about as thick as a t-shirt.
A swaddle blanket is typically 47×47 and made from muslin (which is also usually cotton but much lighter). Because a swaddle blanket is used primarily to wrap around your baby, it's very, very thin for breathability.
On the other hand, receiving blankets can be purchased for a variety of uses. They are usually thicker and more durable.
Swaddling with a Receiving Blanket
Yes, you can do it. But not for long.
Keep in mind that swaddling is not the primary function of a receiving blanket. Receiving blankets are not nearly as stretchy or lightweight as a muslin swaddling blanket. So, if you do decide to use a receiving blanket as a swaddle, make sure it's large enough to burrito your baby safely and that your baby won't be overheated.
I recommend only using a receiving blanket to swaddle if your baby is very small (like a newborn) or if your baby is already swaddled very securely and you're just looking for an extra layer. But once again, remember, receiving blankets may be thicker, so take your baby's temperature in consideration.
8 Fantastic Ways to Use a Receiving Blanket
After my first baby was born, my receiving blankets collected dust in her closet. I mean, what do I even do with them? They're too small to swaddle. Too big for a burp cloth. But with baby #2, I just can't wash them fast enough.
What gives?
Well, I discovered that there are actually tons of uses for receiving blankets. Here are just a few of the most common ways to use a receiving blanket:
Warmth
This might seem a little obvious, but hear me out.
Believe it or not, finding that perfect temperature for your baby in her car seat is kind of tricky. You really shouldn't leave your baby in a coat while traveling. This extra layers can a., overheat your baby or b., compromise his safety if you loosened the straps to accommodate your baby's coat.
The compromise is dressing baby in a long-sleeve onesie and covering his legs with–you guessed it–a receiving blanket.
Receiving blankets are the perfect size for giving your baby an extra layer in the swing or car seat. They are smaller than swaddles, which can brunch up and become a choking hazard. I liked to tuck a receiving blanket around my baby's legs (not swaddling and preferably away from curious hands) during colder temperatures.
Provide a Clean Play Area
Are you stuck at a doctor's appointment with a wiggly baby? Laying out a receiving blanket as a makeshift playmat can save your sanity!
Receiving blankets are made from a thicker material and less likely for a wiggly baby to tangle. They're also super durable, so you can just throw it in the washer once you get home
Diaper Changing
Speaking of washing, a receiving blanket's durability also makes it a better choice for an impromptu diaper changing mat. Stains easily come out of the cotton fibers of a receiving blanket (whereas your swaddling blanket would be a goner).
I also like the thickness of receiving blankets for changing diapers. Poop happens…when you use a swaddle blanket, said poop tends to seep right through. Not so much for receiving blankets!
Burp Cloths
For some reason, I've never enjoyed using burp cloths. They generally only serve one purpose (cleaning up your baby's spit) and are just large enough to just barely fit over your shoulder.
If you fold your receiving blanket in half, it'll protect your shoulder, hair, and upper back. Thus protecting you from possible projectile spit up situations.
Cover Car Seat
Okay, this little receiving blanket hack depends completely on the size. A 30×40 blanket can be thrown over a car seat if your baby needs a little nap during grocery shopping or if you decide to take a stroll on a chilly morning. I also like hanging receiving blankets on the clothes hook inside cars to help reduce direct sunlight from reaching my baby.
A Lovey (After 12 Months)
My daughter (now age 3) still sleeps with her favorite receiving blanket. The durable cotton and ribbed edges make it a durable and treasured nighttime necessity. Below I've listed a few receiving blankets that could make a great keepsake.
Transition Blanket (After 12 Months)
When your baby hits the 12 month mark, you'll probably want to introduce blankets. A lot of parents are a little hesitant to give their pre-toddlers a full-size blanket or a throw.
A receiving blanket is the perfect compromise.
It's large enough to provide comfort and sometimes a little warmth, but not big enough to be a choke hazard (remember, for babies OVER 12 months).
Nursing Cover
If you opt for a 30×40 receiving blanket, you can easily use it as a nursing cover!
How many receiving blankets do I need?
So, now you're hopefully seeing the value of baby receiving blankets. But how many do you need? I would say at least 3 of the cheap kind without the stitched trim, and one or two with edging. The receiving blankets with trim do not fray as much at the edges, and are better as keepsakes.
I like to have 3 receiving blankets on-hand at home for any messes or play activities. Then, I like to stash one in my diaper bag as well.
I also use a "pretty" receiving blanket for warmth when my daughter is either in her car seat or in a swing. This is most likely the one that I'll keep as a keepsake.
What to Look for in a Receiving Blanket
Okay, we're about to get into the fun part: what are some of the best receiving blankets available.
I don't know about you, but I don't want to waste my time or money on a product that doesn't work for me. So, here's a few things to consider before buying receiving blankets.
Purpose: First and foremost, ask yourself how you're going to use the receiving blanket. If you're thinking about buying one primarily as a cheap swaddle, don't. Just buy a swaddle (with velcro straps or one that zips up). Also, if you're looking for a keepsake, you might want to invest in a personalized receiving blanket for babies or one with the edges.
Size: This kind of ties along with purpose. 30×30 is a great size as an extra burp cloth or for warmth. 30×40 make great playmats or diaper changing mats.
Fabric: Receiving blankets generally come as cotton (organic and non-organic), flannel (also cotton), or bamboo. Some parents select bamboo receiving blankets because for the hypoallergenic properties and environmentally-friendly material.
Designs: Many receiving blankets can coordinate with crib sheets, quilted baby blankets, and more. There are a few of those listed down below.
Best Receiving Blankets
My go-to's for receiving blankets are Amazon.com and Target. If you'd like to save some money, sign up for their baby registries. The Amazon baby registry gives you a free welcome box that often includes a free swaddle blanket. I've seen free swaddles in the Target Welcome Bag (for my firstborn, they offered one, my second they did not), but they also offer a 15% completion discount.
Sign up for Amazon Baby Registry – Check out the Amazon Baby Registry Tutorial
Hospital Receiving Blanket
Does this look familiar? If your baby is already here, there's a good chance this is the first receiving blanket you've ever used! I love these Elain Karen receiving blankets! This blanket's thick, soft material is perfect for warmth, diaper changes, and swaddling. It's also super-durable and handles well in the washing machine.
| | |
| --- | --- |
| Size: 30×40 | Rating: 4.5 Stars |
| Material: Cotton | Quantity: 6 Pack |
Luvable Friends Unisex Receiving Blankets
I also own these Luvable patterned receiving blankets. Luvable Friends offers a huge selection of colors and designs for a very inexpensive pricetag. These receiving blankets are lightweight, but still offer a warm, comforting flannel texture. Because of the price, I consider these my throw-away receiving blankets (you know, the kind you whip out if your baby has a massive blowout).
| | |
| --- | --- |
| Size: 30×30 | Rating: 4.5 Stars |
| Material: Cotton | Quantity: 7 Pack |
Personalized Baby Blanket
Are you looking for a keepsake? This personalized baby receiving blanket is perfect for providing warmth and play areas, but durable enough to be kept for a lifetime. This blanket is so, so soft, with satin edges, and embroidered name option. With over 4,000 ratings, you are buying from a trusted seller!
Just note, I wouldn't use this as a swaddle. It's going to be way too thick for that!
| | |
| --- | --- |
| Size: 36×36 | Rating: 4.5 Stars |
| Material: Fleece | Quantity: 1 |
Touched by Nature
Are you looking for an environmentally-friendly receiving blanket? Check out this Touched by Nature receiving blanket. My firstborn still uses hers. It's very lightweight, has the most adorable double-sided designs, and the edging is still great. We've washed it a ton and the edging is still great!
| | |
| --- | --- |
| Size: 30×36 | Rating: 5 Stars |
| Material: Organic Cotton | Quantity: 1 |
Cloud Island Receiving Blankets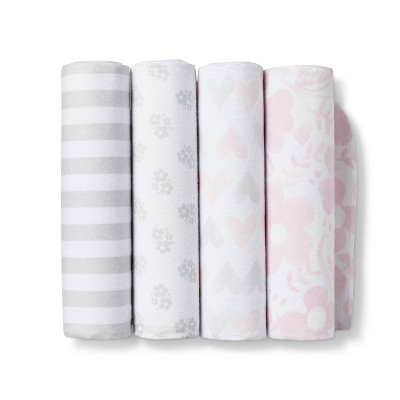 Are you obsessed with Target's nursery gear? Me too! These receiving blankets from Cloud Island actually coordinate with some crib sheets, bumpers, blankets, and more! My second daughter has the quilted blanket and we've used it for pretty much everything: diaper changes, makeshift swaddling, and cuddles 😉
| | |
| --- | --- |
| Size: 32×32 | Rating: 5 Stars |
| Material: Organic Cotton | Quantity: 1 |
Honest Baby Quilted Organic Receiving Blanket
Speaking of quilted receiving blankets, check out this one by Honest Baby. If you're new to the baby gear scene, let me introduce you to Honest Baby. They create organic products that are safe for your baby and environmentally friendly. This particular receiving blanket is fairly warm, constructed with a quilted pattern and organic cotton.
| | |
| --- | --- |
| Size: 32×32 | Rating: 4.1 Stars |
| Material: Organic Cotton | Quantity: 1 |
Do You Have a Favorite Receiving Blanket?
I hope by now you have a fair idea of what receiving blankets are and how to use them. Personally, I can't believe I didn't see their value with my firstborn. As a second-time mom, I don't think I could survive without them.
If you have a favorite receiving blanket that you think should be on this list, let me know below! Otherwise, check out a few of the best receiving blankets above. They're inexpensive and totally worth it. Happy hunting, Mama!
RELATED POSTS TO RECEIVING BLANKETS: