Whether you're a first time mom or a seasoned veteran, having a baby is such an exciting event. As I'm writing this post, I'm pregnant with my second daughter. Let me tell you, I'm learning just as much about motherhood and pregnancy as I did the first time around.
One thing I didn't have to think twice about, however, was registering with Amazon. The Amazon Baby Registry is my absolute favorite and the simplest I've used so far. There are a ton of benefits for creating one (which we'll go through in a moment) and I firmly believe it allows you to snag the best deals.
Having said that, if you haven't used Amazon's system before, signing up and taking advantage of all of the benefits can be a little confusing.
That's where this post comes in. I'm going to share how to create a baby registry on Amazon, as well as how to get the Amazon welcome box and completion discount.
Hopefully this little review and tutorial makes your life so much easier.
RELATED POSTS TO AMAZON BABY REGISTRY REVIEW & TUTORIAL:
Benefits of Amazon Baby Registry
This post may contain affiliate links. If you make a purchase from one of the links I will make a small commission at no charge to you. Blunders in Babyland does not diagnose, treat, or give out any professional advice for any medical conditions.
Let's back up a moment. If you're new to Amazon's Baby Registry, you might be wondering why it's the best and what kind of benefits you can expect to see. In other words, what makes it so special?
Here are some of my favorite reasons to use Amazon's Baby Registry:
15% Completion Discount for Prime Members (Sign up for a Free 30 Day Trial Here), 10% Non-Members
Free Welcome Box (Amazon Prime Members)
Free Shipping (Amazon Prime Members)
365 Return Policy for Items Bought on Registry (or 90 if bought by the registrant)
Big Ticket Items Fund: Your guest can add funds toward the purchase of big ticket items (say a stroller)
Diaper Fund: This is where your attendees can donate money specifically to diapers)
Universal Registry: You can add items to your registry via other websites
Aside from these benefits, I love how simple using their registry is. The selection is huge, they have a fantastic return policy (you can actually return many items in person at Kohl's now), and the welcome box is a genuine steal.
Keep in mind, you're not limited to creating just one baby registry. In fact, I recommend that you create 2: One at a brick and mortar location and another with Amazon.
For example, I created a registry with Target and Amazon. This allowed my guests that don't feel comfortable with online shopping to still buy items from my registry. Also, with two registries you can get double the welcome boxes, selection, and completion discounts.
How to Create a Baby Registry on Amazon
Sign up for Amazon Prime (Optional)
You can sign up for Amazon's Baby Registry without being a Prime Member, but signing up does give you access to the baby welcome box and a steeper completion discount. You also can also receive up to 20% off on Amazon's diaper subscription program (next to warehouse memberships and buying off-brand diapers, this is one of the cheapest ways to purchase diapers).
A few other Amazon Prime benefits are:
Free 2-Day Shipping on Eligible Items
Free 30 Day Returns on Eligible Items
Access to Member-Exclusive Sales
Access to Prime Video (Tons of free movies)
Sign up for Amazon Prime for FREE for 30 Days here.
Sign Up for the Baby Registry
Now you're ready to Create Your Registry. Click here to sign up for your Amazon Baby Registry. After hitting "create a new registry," fill in your information.
PLEASE make sure you fill in the correct address, due date, and make sure you list whoever owns the Amazon Prime membership as the primary recipient.
Guests will not be able to see your address. They'll just have the option to send gifts to the "recipient's address" or their own. As for the last two, you'll need to configure your registry this way so you can receive the maximum completion discount.
Add Items to Your Registry
If you want to access the Amazon Baby Registry and completion discount, you MUST add a certain number of items to your registry that qualify under their main categories. Luckily, Amazon makes this extremely easy. Simply click on the main categories displayed in the screenshot above, and add items to your registry.
If an item isn't listed in any of those categories, you can go to the search bar, find the item you're looking for, and hit "Add to Baby Registry."
Keep in mind, if you've already registered for items with another registry or you simply don't need items from a certain category you can just click the checkbox next to the subcategory.
Okay, that's it! Very simple, huh? Now let's make sure you get your free welcome box.
How to get the Amazon Baby Registry Welcome Box
The welcome box is one of the main draws of Amazon's baby registry. It's certainly the reason why I registered with Amazon for both pregnancies!
My Amazon welcome box 2020 included:
Now to answer the burning question on your mind: how do I get the amazon baby welcome box?
Amazon has 3 requirements that you must fulfill before you can redeem the welcome box.
You must be a Prime member
Your checklist must be at least 80% complete
SOMEONE (whether that's you or a guest) needs to make at least a $10 purchase from your registry. The item must ship before you're eligible to access the welcome box.
After you've fulfilled these requirements, click over to your registry "Home," then the "Benefits" tab. Here you'll be able to access lots of goodies, such as your completion discount (more on that in a minute), your welcome box, and your diaper fund.
Click on "Redeem Welcome Box."
The next screen takes you to the welcome box description.The welcome box is actually very popular, so it may or may not be in stock.
If it's in stock, just add it to your cart like a regular item.
If it's not in stock, you can sign up to be notified when it is. I actually didn't receive an alert when it came back in stock. I just checked back after a few days and it was in.
When you reach the check out screen, the $35 cost SHOULD be taken off your total.
Summary: How to Get the Amazon Baby Registry Welcome Box Summary
Sign up for Amazon Prime (30 Days Free)
Sign up for the Amazon Baby Registry
Complete at least 80% of your checklist
Purchase at least $10 of items from your registry
Redeem your welcome box from the Benefits tab.
How to Get the Completion Discount
Are you ready to save oodles of money?
Like the welcome box, Amazon's completion discount is one of the big draws to this particular registry. A 15% discount is no joke, especially when you're talking about big ticket items like car seats and strollers! Not only that, but you can add additional items to your baby registry that *might* be eligible for that discount as well. (I added quite a few of my postpartum necessities that were eligible for the discount. I've heard rumors from other moms that toys and electronics are eligible as well).
Like the welcome box, you need to fulfill a couple requirements before you can snag this benefit.
Sign up for Amazon Prime (for the 15% discount. You can still use the 10% discount if you're not a member)
Wait until you're within 60 days of your due date and at least 14 days after you created your registry
The completion discount is for the primary registrant only. So, make sure that the primary registrant holds the Prime membership.
To get the completion discount, navigate to your baby registry Home, then Benefits. The button for the Completion Discount is usually front and center. Usually, it says, "Redeem."
From here, you'll be taken to a list of items on your registry (both eligible and not eligible). In order to take advantage of the completion discount, you MUST add items to your cart from this screen.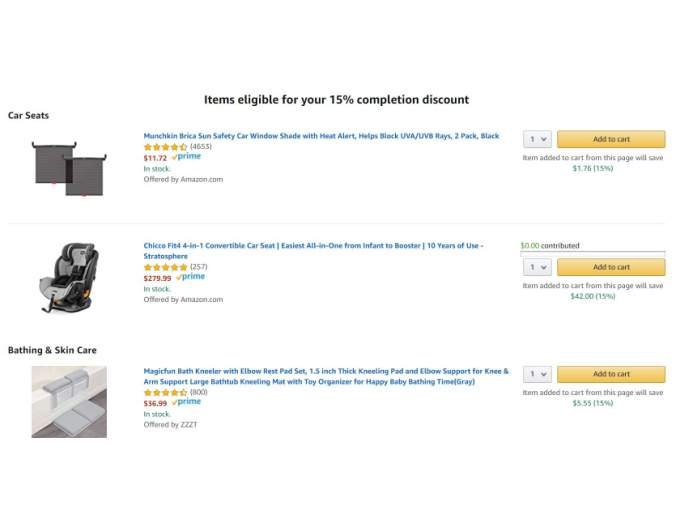 After you've added the items you want, check out. You should see that your eligible items are discounted.
Keep in mind that you can use the completion discount twice. In my opinion, this policy is GREAT. After baby is born, you'll probably need additional items that you had absolutely no way of predicting. Simply add these items to your registry and use the discount again.
Summary: How to Get the Amazon Baby Registry Completion Discount
Sign Up for Amazon Prime (30 Days Free)
Sign Up for Amazon's Baby Registry (ensuring that the Prime Member is the primary registrant).
Add Items to your registry
Wait until you're 60 days from your due date/14 days after you've registered
Add registry items to your cart from the completion discount screen
Amazon Baby Registry Review and Tutorial Conclusion
Okay, hopefully this Amazon Baby Registry review and tutorial made the process simple and fast for you.
Did you know that I LOVE helping pregnant moms? I hope you'll check out some of my other resource guides. Below are just a few of our more popular ones.
Did you use this tutorial to create your Amazon baby registry? Let me know how it went. Do you have another favorite registry? Let me know below!
RELATED POSTS TO AMAZON BABY REGISTRY REVIEW & TUTORIAL: