Quiet Activities for Toddlers: 15 Ideas to Keep Your Little One Busy
Do you have young kids who always want to be entertained but you badly need some alone time?
Enter quiet time activities for toddlers. They can be your best bet for keeping your toddlers busy and happy while you rest, do chores, work from home and/ or take care of another baby!
RELATED POSTS TO QUIET TIME ACTIVITIES FOR TODDLERS:
What Are Quiet Time Activities for Toddlers?
These are low-key age-appropriate undertakings, activities, and toys that your little one can safely and QUIETLY, play on their own.
These are helpful to giving you a break, especially when you have a newborn who needs a nap, you need to make dinner, you need to check your emails, etc.
Quiet time activities for toddlers can be educational, art-related, or just fun. As long as they encourage your toddlers to play independently, in a calm, quiet manner, they're called quiet time activities.
15 Quiet Time Activities and Toys for Toddlers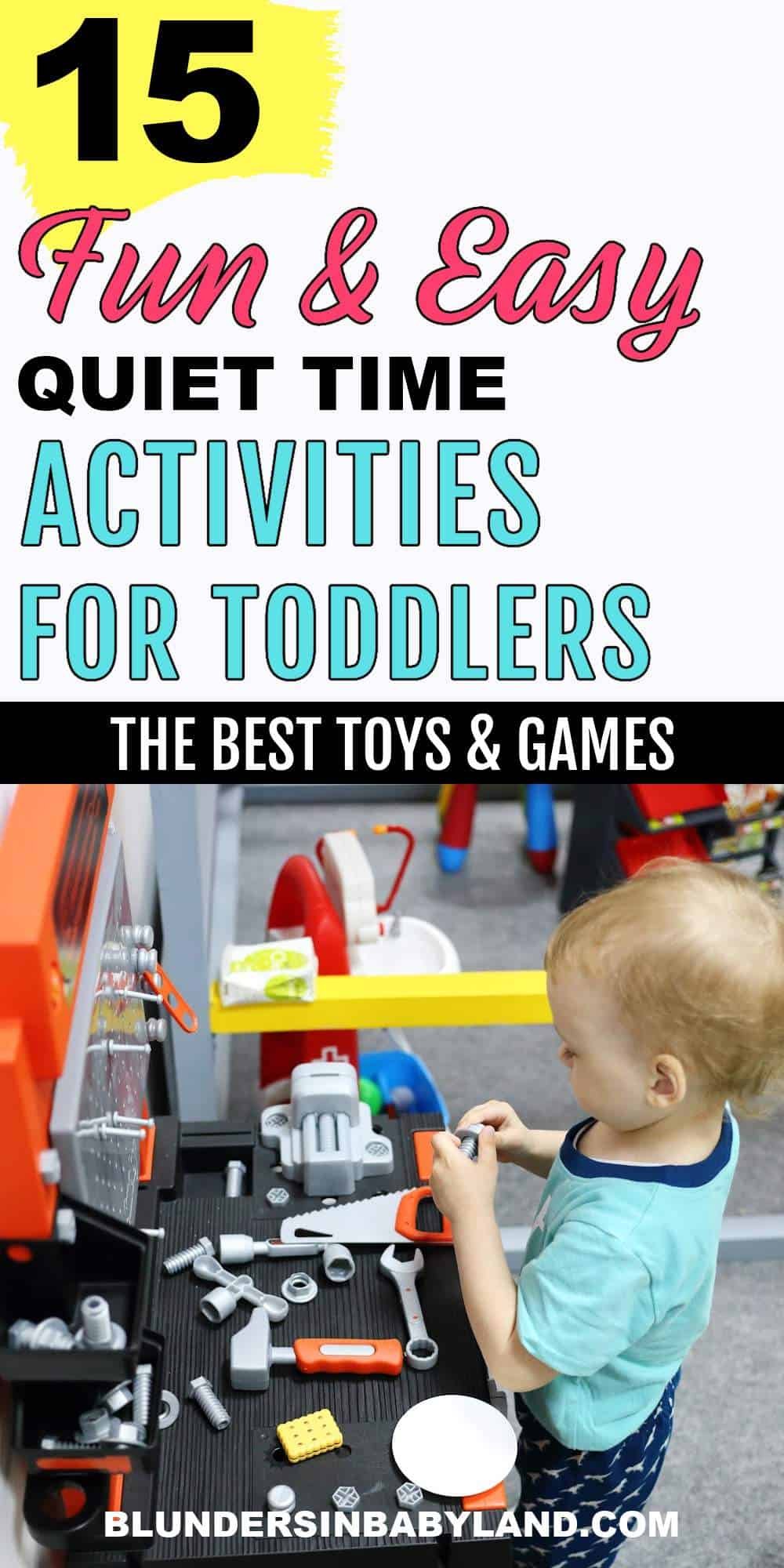 This post may contain affiliate links. If you make a purchase from one of the links I will make a small commission at no charge to you. Blunders in Babyland does not diagnose, treat, or give out any professional advice for any medical or financial situations.
Coloring/ Drawing Books
These are probably the simplest yet engaging quiet time activities you can prepare for your toddler.
Just get some paper or a coloring book, hand out a few markers, pencils, and crayons, and see them entertain themselves quietly in their room.
Puzzles
If you have a toddler who's fond of puzzles, provide them with ones that are age-appropriate and doable for them to finish.
Legos/ Tiles/ Blocks
Hand these to your toddler or set it up in a very engaging way and see them try to build and create structures, put together buildings, and more.
Sticker Books
You can find a lot of these that not only builds and improves fine motor and visual skills but are also informative and teaches your toddler new things, depending on its theme!
Play Kitchen
Encourage your toddlers to stay in just one spot with a toy kitchen set!
It's already interesting enough on its own but when you add in kitchen accessories and tools, it becomes a magical place for your little one to pretend and play in.
Be wary though of small toys and items that are a choking hazard, especially if your kid is still fond of putting everything in their mouth.
Dollhouses
Another great way to keep your child quiet yet engaged is by letting them play with their dolls, robots, action figures, toy animals, etc. in a dollhouse.
It's one of the best pretend sets that can hold your kid's interest longer than you'd expect.
Just take note that this is better suited for 3-year-olds or for kids who know not to smash and destroy a dollhouse in pieces.
Did you know that there is a CLASS that teaches about the best toys and activities to help your baby develop important skills? I recently took the BabyCenter Meeting Milestones Through Play online class and I loved the fun ideas it taught! If you'd like to learn more, check it out here. You can also read my full review here!
Sensory Bins
For a more relaxing, calming activity for older toddlers, use sensory bins.
Get a container and fill it up with rice or pom poms or beans or kinetic sand or simply just water and let your kid use their imagination to scoop, fill, mold and play with it.
Just take note that you might need to supervise your child, especially if they can't be trusted yet NOT to dump all the contents of the sensory bin. Or worse, eat it.
Drawing Boards/ Blackboards
Give them a chalk or a whiteboard pen and see your kids get busy and quiet with these tools!
Just stay on the lookout for potential drawings on the wall and always redirect them when needed.
Clay
Sometimes play dough and clay requires more supervision. However, if your kid is fascinated bi, why not let them play while you sit sipping your coffee nearby?
Let them play longer by adding interesting toys to the clay, such as to expand their play and imagination, such as clay molds, toy animals, cars, etc.
Podcast/ Audiobooks
These might not work on everyone but if you have a little one who loves listening to stories, then let them listen to podcasts or audiobooks for children!
There are tons available online and our absolute favorite is Tula Jane and the Mother in the Wild podcast from Spotify.
My kid loves the variety of stories there and they accept book requests and even dedications. So your kid might find it delightful to hear their name on the podcast being greeted by the host!
You can let them hold a toy, or have their snack while listening, just to keep their bodies busy while their minds are engaged.
If you want a more modern way to engage your little ones with audio stories and audio-related activities, try out Tonies and Yotoplay! It might work wonders for your kid.
Books
I've seen a couple of toddlers in libraries, who can sit on their own quietly and "read" a book.
So if you have one that absolutely adores books, turning pages, and just looking at pictures, let them have a go at it, quietly in their room.
RELATED POST: How and When to Start Reading to Your Baby
This is a brilliant idea where you fill up a box with "quiet-ish" appropriate toys (books, puzzles, legos, animals, etc.) and let your toddler play with it only when it's quiet time.
You can change up the toys in the box or have a few quiet time boxes and rotate those as needed.
Busy Bags
This works like a quiet time box, except that it's in a bag! Which is also convenient to bring to restaurants, travel, visiting families, etc.
You can make it educational and let them learn a variety of things, such as their letters or colors.
You can also work on their other skills by adding toys or items that can improve their fine motor skills.
The entertainment possibilities are endless with both busy bags and quite a time box!
These also work like the quiet time box and busy bag but all the interactive toys are plastered on a binder.
You can purchase one or make it yourself!
If you want to DIY a busy binder, just remember that most of the activities inside it should match your kid's interest and skill level. They shouldn't become bored quickly nor have a hard time understanding how to do the activities. You'll want them to remain engaged.
Screentime
We all need a break and sometimes, certain activities might not work with our toddlers.
They might always come out of their room. Sometimes, they might want us to do quiet time with them or not want to do quiet time at all.
So for days like these, just turn on the TV, or let them play with a kids educational mobile app and save your energy and sanity.
RELATED POST: Best Free Educational Apps for Toddlers
When To Start Quiet Time
The best time to introduce quiet time activities to your toddler is when they've finally dropped a nap.
Just make sure that they're not going through a sleep regression or want to skip naptime.
How To Introduce Quiet Time Activities
You can start by giving them short activities that will require them to sit down and work on them independently. Give them something that's in line with their interest and that they can do on their own.
For example, if your kid is into dinosaurs, set up "invitations to play" with dinosaurs, lego buildings, and action figures. Let them play with it or you can tell them first that the dinosaurs might destroy the buildings and the little toys need their help!
They may play with it for 30 minutes but if it's only for a few minutes, that's fine too.
Just set a timer, establish a regular time for doing "quiet time" activities, and check up on them using a baby monitor, so as not to disrupt their play time.
The Bottomline on Quiet Time Activities and Toys for Toddlers
Playing independently is a skill that your kid needs to build up. They need to learn this first before they can have an enjoyable quiet time.
So don't expect them to play quietly on their own just because they're in a room filled with toys.
Guide them first, establish boundaries, and talk to them about the rules of quiet time. Stay consistent until your little one understands the concept of "quiet time"!