50 Strong Rustic Boy Names With Meanings
When I lived in Washington, my favorite pastime was driving to Mt. Rainier. I loved closing my eyes, breathing in the sweet, untainted air and listening to the wildlife move around me. Nature is beautiful, strong, frightening, and blessedly simple. Kind of like these rustic boy names.
Whether you love mountains, the wild west, or the simple country life, these rustic boy names celebrate nature in some way. Many of these names were on my favorites list for a long time (that is, before we found out we were having girls!). I hope you enjoy these names as much as I do and one clicks!
RELATED POSTS TO RUSTIC BOY NAMES:
50 Strong and Nature-Inspired Rustic Baby Boy Names
This post may contain affiliate links. If you make a purchase from one of the links I will make a small commission at no charge to you. Blunders in Babyland does not diagnose, treat, or give out any professional advice for any medical conditions.
Ash
If you happen to love Biblical and nature-inspired baby names, check out Ash. Asher is Hebrew for happy, while Ash is referring to the dioecious tree.
Austin
This is an ancient Latin name meaning, "great" or "magnificient." However, most parents give it to their kids as a reminder of the city in the heart of wild Texas.
Bear
The nice thing about rustic baby names? They don't necessarily need a deep meaning. Bear is a strong name referencing the impressive animal. 
Brooks
Suspect you'll have a nature-loving boy? Brooks is a worthy name.
Boone
Daniel Boone explored the wilds of North America fearlessly.
Colt
A strong rustic boy name referring to either the weapon or the baby horse.
Dakota
This unisex baby name can refer to the state or the Native American tribe. It means "friendly allies."
Denim
I mean, it's the favorite material of cowboys!
Denver
The heart of the frontier and Colorado's capital, Denver inspires stories of beautiful mountains, wildlife, and adventure.
Falcon
Named after the intelligent bird of prey, this rustic name for boys is a classic.
Flint
Used by man and animal, Flint is the perfect name for feisty, outdoor-loving boys.
Forest
You don't have to be a Forrest Gump fan to admire this rustic name! If your passion is hiking through the woods, Forest is perfect. 
Gage
This might night be an inherently "natural" name, but there's just something rustic about Gage. It's actually French for "oath or pledge." 
Grey
To me, Grey evokes images of stunning gray wolves running through the wilderness. It can also be a nickname for Greyson.
Gunnar
Gunnar is a favorite among rustic name lovers! I'd say it's pretty self-explanatory.
Hawk
This is one of my absolute favorite baby names ever! Not only is it earthy, but it me reminds of the superhero.
Hunter
Does your family love living off the land? Hunter might be a perfect fit.
Lake
This simple rustic boy name is for the steady, calm boy.
Leif
You can think of Leif in literal terms, or dive back to the original Scandinavian meaning, "heir" or "descendent."
Logan
Logan is a staple among rustic baby names. It makes me think of flannel, log houses, and if we're being completely honest, the X-Men.
Mason
This strong rustic name referring to the stone craftsmen.
Marshall
This name reminds us of the original U.S. federal authorities that kept the wild west safe from outlaws.
Moss
This rustic name can have many meanings. It can be an excellent nickname for Mossberg (after the gun manufacturer), literally refer to the plant, or be used as a nod to the camo apparel line, Mossy Oak.
Oakley
Speaking of oak, no rustic baby name list would be complete without oak. This is a unisex name, and can refer to either Annie Oakley or the oak tree.
Omaha
This isn't just a city in Nebraska! Omaha also refers to the Native American tribe.
Parker
English for "park keeper," Parker just screams nature-lover.
Phoenix
Referring to the place or the mythical bird, phoenix is a classic rustic name for boys.
Pike
This is the perfect homage to the great mountain, Pike's Peak.
Quill
You can use this as a nod to a bird, or refer back to the name's Gaelic origins. In Gaelic, Quill means "descendant of Coll."
Quincy
Originally a French name meaning "estate of the fifth son."
Rainier
Referencing the giant mountain in Washington, Rainier is the epitome of rustic beauty.
Remington
Do you love guns? Remington is a very popular rustic unisex name.
River
Yet another unisex name referring to nature.
Rocky
Destine your little one for fun hikes and outdoor adventures by naming him after the great rocky mountains.
Sawyer
This name always reminds me of Tom Sawyer and his explorations through Missouri.
Sterling
Sterling means "high-quality." In this case, it reminds me of the beautiful sterling silver often used for topaz and turquoise jewelry.
Steel
A strong rustic name referencing the mountains of ore in the wilds.
Sky
This fun rustic boy name is perfect for a fun-loving, light-hearted baby boy.
Tanner
This masculine name means "leather maker."
Thorne
Need I say more? This is just cool nature-inspired name!
Todd
Do you also like Irish names? Todd is Irish for "fox."
Utah
Aside from the breathtakingly wild state, Utah also references the Ute tribe, which means "mountain people."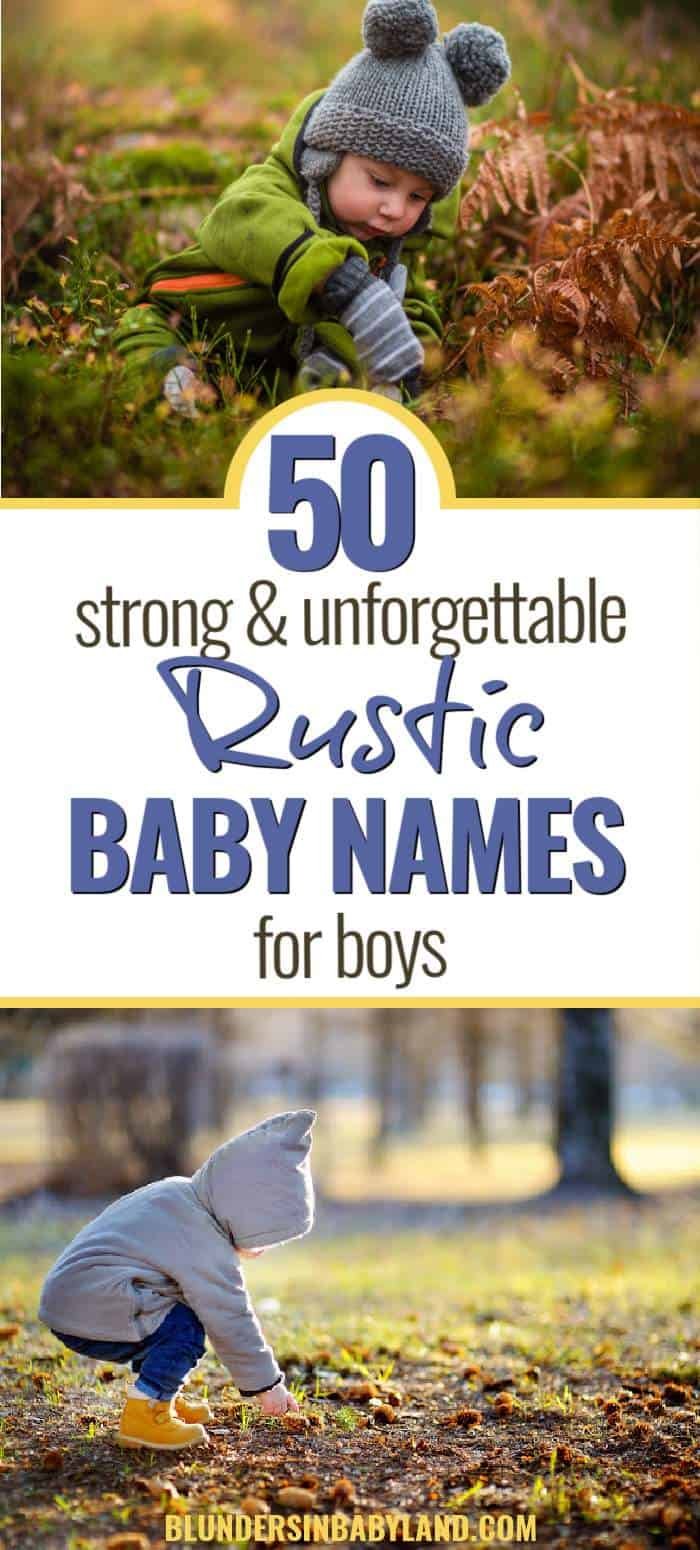 Vegas
Most appropriately, vegas means "large plain" or "valley."
Wesley
Originally an anglo-norman name, Wesley means "western field or pasture."
Weston
Wesley not quite right? Try out Weston. It means "western town."
Wilder
Wilder is beginning to grow in popularity. It's an old English surname, literally meaning, "untamed."
Wyatt
This might not be inherently rustic, but Wyatt does evoke images of the wild west thanks to Wyatt Earp.
Yosemite
Covered in looming, prehistoric trees,a diverse ecosystem of wildlife, and lush mountains, Yosemite
National Park calls to millions of nature-lovers a year. Your little boy will have an incredible namesake for sure.
Zeke
Often short for Ezekial ("God strengthens"), Zeke was commonly thought as a Western or Country name.
Zion
Have you ever been to Zion National Park in Utah? It's a definite must-see! Zion is actually a Hebrew name meaning, "highest point."
So, what do you think? Any of these rustic baby boy names stick out to you? Choosing a baby name can kind of be a bear sometimes (pun not intended!), but I've found that the best strategy is to write down your favorite ten, narrow it down to five, then three. Then share your favorite three with your spouse. We've tried this approach with both of our girls before eventually settling on the first names we thought of!
I hope this list of rustic boy names helps you choose the perfect one for your baby. If you're still looking for inspiration, you might want to check out these other posts here.
Good luck!
RELATED POSTS TO RUSTIC BOY NAMES: