The Ultimate Guide to Pregnancy Classes: What You Need to Take and When
This post may contain affiliate links. If you make a purchase from one of the links I will make a small commission at no charge to you. Blunders in Babyland does not diagnose, treat, or give out any professional advice for any medical conditions.
On the day my midwife confirmed my pregnancy, I grabbed a handful of pregnancy class brochures. I was so anxious to learn everything I could about motherhood.
Babies, breastfeeding, and that looming event that separated me from my baby: childbirth.
Are you feeling a little overwhelmed, like you can't possibly learn everything you need to baby the time your baby arrives?
Honestly, you could spend a lifetime learning about your new bundle of joy and still have questions. That's the fun of motherhood, but it doesn't mean you have to go into this blind.
Pregnancy classes help you prepare and give you the confidence to handle motherhood like a pro.
If you've been trying to decide what pregnancy classes are for you, welcome! This post is all about pregnancy classes: what's available, what pregnancy classes to take, and how to pay for them. I've also added quite a few free and paid resources at the bottom of the post to jump start your research.
Let's dig in!
You'll Also Love:
What Pregnancy Classes are Available and What's Worth It?
Newborn Care
Infant or newborn care classes (also known as early parenting classes), teaches you how to satisfy the basic needs of your newborn.
Some topics newborn care classes cover are:
How to hold a baby
Change a diaper
Care for fevers or illness
Safety considerations (SIDS prevention, childproofing, choking hazards, etc)
Vaccines
Hygiene care (baths, umbilical care, snot removal, etc).
Is it worth it?

Most of this information is easily found on the internet, but if your baby knowledge is zilch, a newborn class will likely reduce some new mommy overwhelm.
However, if you're going to spend the money on an in-person class, I'd avoid "interactive" video classes with little hands-on experience.
The biggest benefit to instructor-led classes is the ability to practice holding a baby, swaddling, changing a diaper, etc. Without this hands-on experience, you could most likely find a video on Youtube (see the bottom of the post!) or take an online newborn care class for less of an investment.
Newborn care classes range from $30-100.
Childbirth Classes
If you had to take ONE class in your pregnancy, I would take a childbirth class.
Childbirth classes, also known as prenatal classes, typically cover the basics of your late stages of pregnancy, labor, delivery, and postpartum recovery. Even if you plan on receiving an epidural, childbirth classes are an absolute necessity for labor preparation.
Note: if you plan on having a natural, unmedicated childbirth, then a natural childbirth class will be even more beneficial to you!
A few topics you might see are:
Signs of labor
When to go to the hospital
How to cope with pain
Pain medications
Labor complications
Labor positions
What happens after baby is born
How to survive the first 6 weeks after giving birth
I could go on and on. These classes are usually fairly long, often spanning from two hours per sessions (with multiple sessions) to a single five hour session.

Is it worth it?
YES!
Honestly, I couldn't imagine going through labor without attending a basic childbirth class. In theory, yes, you can find all of this information on the internet, but it's so much to absorb and research, that there's a good chance you'll never be able to do it.
If you're unprepared for labor, it can be a scary thing. You'll be completely reliant on whoever happens to be working at the hospital that night. Every little pain, every little complication, can stress you out. A childbirth class can give you confidence and help you prepare for a successful, peaceful childbirth experience.
If you're looking for a recommendation on an inexpensive, straight-forward childbirth class, I loved the Online Prenatal Class for Couples. It teaches you everything you need to know about childbirth in bite-sized chunks. No fluff or lengthy narrative that loses your partner in 2.5 seconds. Plus, it's online, so you can go over it over and over again.
RELATED POST: The Online Prenatal Class for Couples Review
Natural Childbirth Classes
A standard childbirth class instructor will most likely touch on the subject of natural childbirth, but due to the needs of their other students, but will not be able to focus on it.
A natural childbirth class specializes in breathing techniques, efficient labor positions, pain management techniques, and all of the tools you will need to have an unmedicated birth.
In my opinion, the key to a successful natural childbirth is practice and confidence. Natural childbirth classes are extremely hands-on and designed to help you prepare for anything your labor could throw your way.
There are actually a few methods of natural childbirth:
Online Childbirth Classes- Not a method, but these classes usually discuss and teach the above methods.
Is it worth it?
Yes, 1000x yes!
If you'd like to pursue an unmedicated birth, a natural childbirth class is the best investment you can make. It's easy to look up articles and make a plan, but once you're at the hospital these ideas can easily get thrown out the window.
Your birthing partner gets called away unexpectedly or maybe your baby is actually posterior, and you need to labor differently. A good natural childbirth class prepares you for unwanted scenarios and gives you the tools you need to be successful regardless.
Natural childbirth classes aren't usually cheap. They range from $100-$300. Mostly because they typically cover all of the topics as a standard prenatal class plus additional pain management techniques.
Independent mid-wiferies, doulas, and natural birthing centers are your best bet for finding an instructor-led course.
I highly recommend the KOPA PREPARED Childbirth Course. Not only is it the most resource-filled childbirth class I've taken, but it includes actionable tips and homework that genuinely prepares you and your husband for your labor.
\It's an online course, but the support system included with it is incredible. Plus, it includes additional labor tools, like a relaxation soundtracks, a mock labor experience, birthing videos, etc.
There aren't a lot of online courses that I would recommend instead of an instructor-led course, but the KOPA Prepared is just that good.
Breastfeeding Classes
If there was one class I wish I had taken before becoming a mom, it was a breastfeeding class.
Even though breastfeeding is the most natural act in the world, it's actually not that easy to do in the beginning–for you or your baby. It takes time and practice to get that perfect latch or find that perfect position.
A good breastfeeding class teaches you the essentials of breastfeeding like:
Breastfeeding positions
How to achieve a good latch
How to correct a bad latch
Maintain milk supply and what to do if its low
How to tell if baby is getting enough milk
Breastfeeding complications and concerns
Basics of pumping
Is it worth it?
In an ideal world, your labor and delivery ward will host lactation consultants in-house and nurses well-versed in the art of breastfeeding. These women can show you how to latch and position your baby. Unfortunately, many hospitals are under-equipped.
Taking a breastfeeding class may not be a necessity, but it can seriously improve your chances of success.
Breastfeeding classes costs vary wildly. I've seen them range from $30-$200. The best places to find them are:
La Leche League
Independent Breastfeeding Groups
Lactation Consultants
Online
While I did not purchase a breastfeeding class because of the cost, I decided to take a free version I found on the internet. It did teach me the basics, but my life would've been so much easier (and less painful) if I had invested in a breastfeeding course.
If you're like me and struggling with the monetary aspect of breastfeeding classes, I highly recommend the Ultimate Breastfeeding Class by Milkology. I took this class after breastfeeding for an entire year and I still learned so much. It taught me everything I needed to know about breastfeeding, plus helpful tricks that could've saved me a lot of grief.
Plus, they also offer the Ultimate Back to Work Pumping class, which teaches you all about pumping techniques, pumps, milk storage, etc.
The best part? Both courses are super cheap, only $19. I literally have not been able to find any quality breastfeeding classes on the web or in-person for that price.

Infant CPR
Just a heads up, once your baby becomes mobile, you're going to grow a few more gray hairs. That baby will discover tiny, swallowable objects in every crevice of a fully babyproofed room. On one hand, his detective skills might impress you. On the other, you will probably have quite a few miniature heart attacks.
For the most part, choking situations resolve themselves. Having said that, an infant cpr class gives you the skills you need to handle a real emergency.
Typically, an infant cpr class covers first aid, breathing, and cardiac arrest situations.

Is it worth it?
Even if you don't decide to take this pregnancy class, I highly recommend becoming familiar with infant cpr and breathing maneuvers.
Having said that, an actual class may not be necessary depending on your learning style, the price of the class, and your time constraints.
If you're a visual learner, you can simply tune in to Youtube to learn just about everything you need to. The Red Cross also offers an online Infant CPR class that can teach you the basics.
Instructor-led courses often offer dummies that you can practice on. If you're like me and need a little hands-on experience to reinforce your lesson, an instructor-led course is the better option. These classes are usually inexpensive, ranging from $30-$60.
Most hospitals offer Infant CPR classes. You can also check your local government, the Red Cross, local EMS or fire stations.

When Do You Need to Take Pregnancy Classes
Alright! Now that you know the different types, when do you take pregnancy classes?
If you're like me and you grabbed a bunch of pregnancy class resources on your first doctor's visit, I'm just going to give you the bad news: it's better to wait until the beginning of your third trimester.
Most doctors recommend taking a pregnancy class when you're 6-7 months along. This will ensure that you're still able to retain all of your knowledge, but you're not sitting too close to your due date.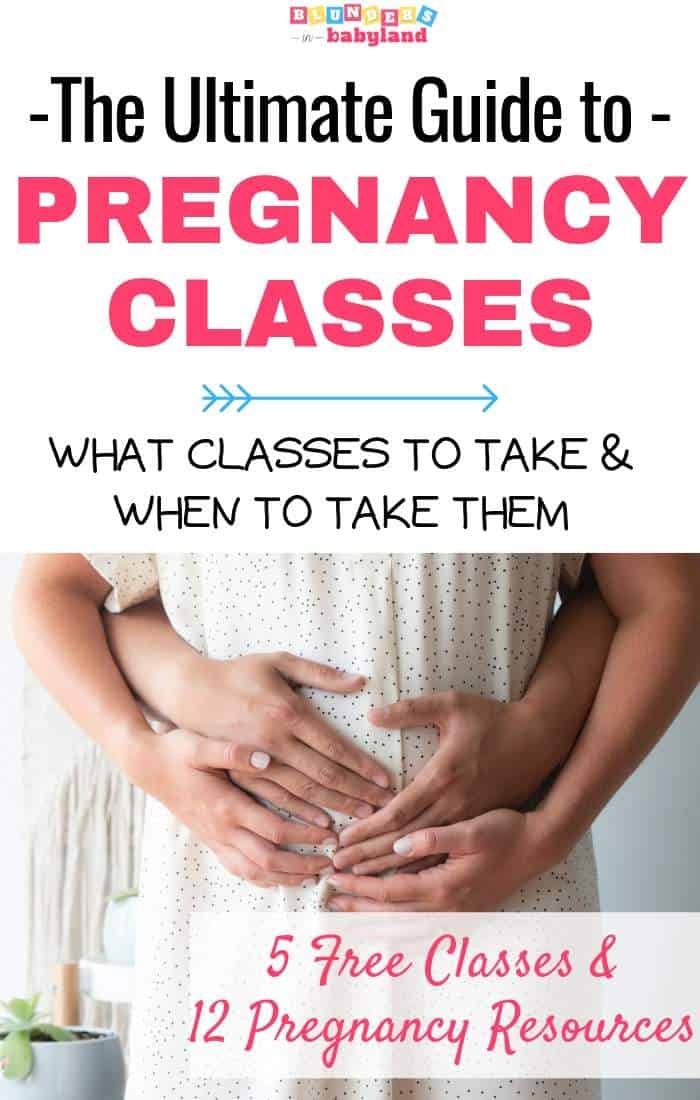 How to Pay for Pregnancy Classes
Use Insurance to Pay for Childbirth Classes
Step 1 is to check with your insurance provider to see what they will cover. Many insurance companies will pay for a portion of the childbirth class. However, if you use your insurance, most require that the class is taught by an instructor that meets certain criteria or by an instructor that's in-network.
The fact that some insurances actually pay for childbirth classes is a huge testament to its importance. Insurance companies know that a prepared mom is a mom with less complications.
While most insurance companies will not cover the cost of a breastfeeding class, they may cover a visit to a lactation consultant and/or a breast pump.
Hospital Grants, Scholarships, and Discounts
If your insurance company is a no-go, check with your hospital to see if they offer an scholarships or financial aid based on household income.
Take an Online Pregnancy Classes
Online pregnancy classes are certainly an option if you can't afford an instructor-led course. The online classes I mention in this post are excellent resources.
Instructor-Led vs. Online Pregnancy Classes
Which brings us to the debate: instructor-led vs. online pregnancy classes. Which one is better?
Honestly, that depends on you.
The obvious benefits to online classes are the cost savings, convenience, and the ability to watch the material over and over again.
Newborn care classes are extremely easy to take online, as are high-quality childbirth classes (if you do take an online childbirth class PLEASE do not cheap out).
The two childbirth classes I recommend is the Online Prenatal Course for Couples and the KOPA Prepared Childbirth Class.
Theses classes are very, very different and cater to two specific audiences. I have a little blurb explaining the difference between these classes below, but you can also read my reviews for them as well.
Breastfeeding classes and infant CPR classes are toss-ups, depending on your learning style.
If you know that you'll never finish an online course or you'll never learn what you need to without hands-on implementation, stick with an in-person, instructor-led course.
(Note: I really do love the Milkology Ultimate Breastfeeding Class. The information and the price makes it my top recommendation for new breastfeeding moms. HOWEVER, my one reservation is that it does not have an instructor to assist with your initial latching and positioning. If you're interested in the Milkology course, remember to check with your hospital to confirm that their L&D nurses are familiar with breastfeeding to help with that initial latch.)

The Online Prenatal Class for Couples vs. the KOPA Prepared Childbirth Course
Online Prenatal Class for Couples: This course was designed by Hilary Erikson from Pulling Curls. She's an experienced Labor and Delivery Nurse who's literally seen hundreds of births. Her class is best for couples that are short on time and looking for a budget-friendly childbirth class. The class covers everything you need to know about labor, epidurals, the hospital visit, etc. in bite-sized chunks.
The KOPA Prepared Childbirth Class: My top recommendation for moms-to-be that want an unmedicated birth. Katie is a registered nurse and a Lamaze certified childbirth educator. This class is quite the time commitment because it is absolutely loaded with information, homework, and exercises to help you give birth naturally. Katie focuses on teaching you and your partner how to manage the pain of labor and build your endurance.
Free and Paid Pregnancy Class Recommendations
If you made it to the end, congratulations! I hope that, at the very least, you now see the value you in quality pregnancy classes.
Motherhood is far from easy. Luckily, we have over nine months to prepare for it. I hope you'll give yourself the headstart you deserve by investing in the best pregnancy classes for you.
Below there a few resources that I think you'll love, free and paid. I also listed out a few posts on this blog that can help you with your journey.
If there is any I can do for you, any questions I can answer, please let me know in the comments below or email me!
My Favorite Paid Classes
My Favorite Free Resources
Free Pregnancy Classes
Online Prenatal Class for Couples – Free First Lesson
KOPA Prepared Natural Childbirth Course – Free First Lesson (over an hour's worth of material!)
Babycenter – Free Childbirth Class (Good for getting your feet wet)
Milkology Free Breastfeeding Class
Free Breastfeeding Class – Medela University (this is the class I watched while I was pregnant).

Breastfeeding Videos
Breastfeeding Positions and Latching

Toddler and Infant Choking and CPR Videos
Newborn Care Youtubers
Our Top Pregnancy Posts