Unique & Popular Irish Girl Names with Lovely Meanings
In case you've never visited this blog before, I'm sort of obsessed with finding new and unique baby names. Celtic baby names are my absolute favorite.
Especially unique Irish girl names.
Not only do they possess a lyrical nuance, but most contain a personal meaning. And what mother doesn't want her baby's name to have an incredible meaning?
Whether you're hoping to capture your baby's Irish ancestry or you just appreciate Irish baby girl names, I think you'll really going to love this list. Some of these names are popular abroad and in the US, while others are rare jewels forgotten in time. All are beautiful and unique!
Are you ready? Let's find your baby's name.
Other Posts You'll Love:
30 Popular & Unique Irish Girl Names for Your Celtic Baby
This post may contain affiliate links. If you make a purchase from one of the links I will make a small commission at no charge to you. I only recommend what I trust.
Aideen
Do you suspect that you have a little pistol on your hands? Check out Aideen. It means little fire.
Alanis
This Irish girl name gained some popularity is the US some time ago, but now it's considered very unique indeed. It means handsome.
Bebhinn
(be-veen or bev-in) Many parents change the spelling of this name to the phonetic version, Bevin. I love the original Irish spelling. It means fair lady.
Ciara
One of the more popular Irish baby girl names in the US. It means dark.
Catriona
There are several variations of this name including, Catalina, Caterina, and most popularly, Katherine. This Irish baby name means pure.
Deirdre
(Deer-dra). Deirdre is a strong name for a strong-willed little girl. It means fearsome one.
Eabha
(Ee-va) Eabha is a variation of Eve, which means radiant.
PIN THIS POST TO YOUR BABY NAMES BOARD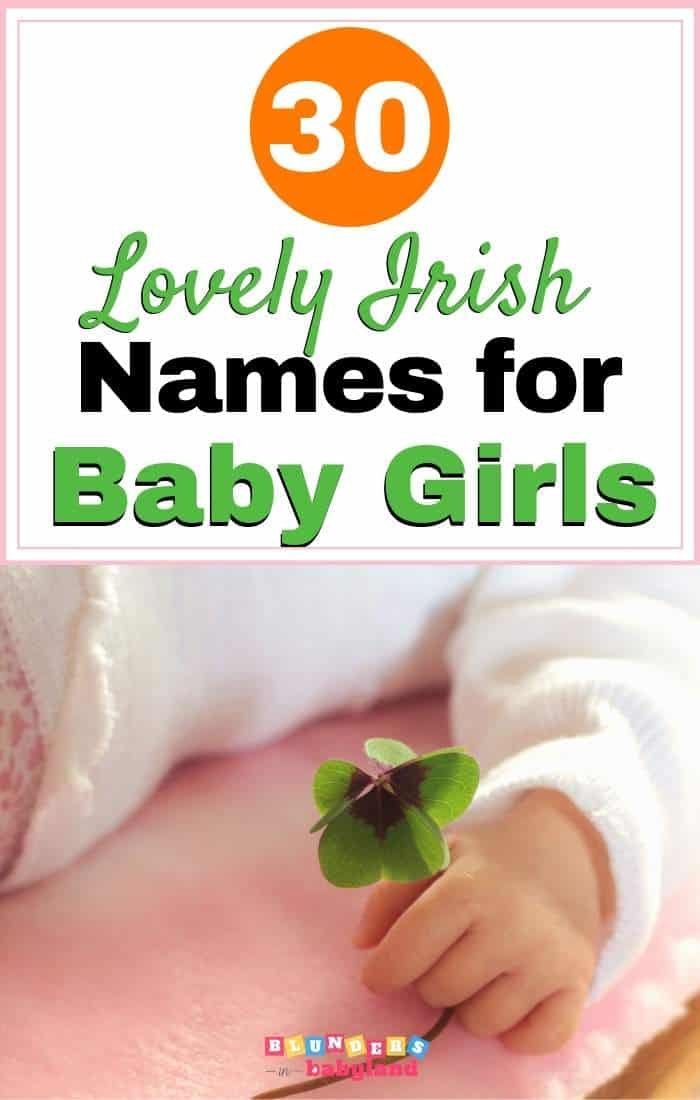 Erin
Quite possibly my favorite Irish girl names and the source of my childhood obsession with Ireland. Erin is the Irish name for Ireland, but it also means peace. It's also my name 😉
Fiona
Fiona captures the essence of beauty and feminism. It means fair.
Fiadh
They say that mothers instinctively know the personality of their unborn child. If you think that your little girl will need a fierce Irish baby name, choose Fiadh. It means wild.
YOU MIGHT ALSO LIKE THIS POST: 15 EASY FREEZER MEALS FOR NEW MOMS
Gail
If you're declining a gender reveal, a unisex name like Gail is just perfect. Gail means joyful.
Grainne
(Gran-ya)Not to be confused with Grannie! Your baby's namesake would be a powerful herione from Irish legends.
Hiolair
Pronounced exactly as it looks, Hiolair is the Irish version of Hilary. This Irish girl name means happy.
Inis
(In-is) (Ee-nis) A popular Irish baby name meaning from the River Island.
Innogen
A variation of the name, Imogen. Innogen means maiden or innocent.
Kagen
Another fiery name for your feisty baby girl. Kagen means fiery and thinker. A dangerous combination 😉
Laoise
(Lee-sha). A feminine version of Irish god Lugus.
Maeve
Also spelled, Maebh, this Irish baby girl name means "the cause of great joy".
Niamh
Sometimes spelled phonetically as Neeve, Niamh means radiance.
Orlaith
(Or-la) Perfect for your fall baby! Orlaith (or Orla) means Golden Princess.
Phiala
Phiala is the name of an Irish saint.
Raicheal
A stunning variation of Rachel and the name of another Irish saint.
Riona
The Irish girl name for Regina, which means queen.
Siobhan
(She-von or Si-von) When I decided to create an Irish baby name list, I knew that Siobhan had to make the cut. It's a classic yet uncommon name meaning God is gracious.
Sadhbh
(Sive) The Irish variation of Sabine. Sadhbh means goodness.
Tawney
Just as you might suspect, Tawney means golden or sandy color.
Tara
A very popular Irish baby girl name, Tara means crag or tower.
Una
I actually love this unique Irish girl name because it represents a gentle spirit. Una means lamb.
Vevila
Vevila means harmony.
Wynnie
One of my favorite Irish girl names, Winnie or Wynnie means fair or light complexion.

Which of these Irish Girl Names is Your Favorite?
What did you think? Did a name stick out to you? If there's a unique Irish girl name you think needs to be on this list, let me know in the comments below.
I'd love to feature it!
If you're still searching for baby names, check out some of our other baby name posts below.
Blunders in Babyland is also much more than a baby name blog. We love helping new and expecting moms through their early years of motherhood. Below you'll find some helpful posts to get you on your way!

Our Popular Baby Name Posts
Our Popular Pregnancy Posts