15 Powerful Tips to Fix Mom Burnout
Is there a mom on Earth who has never felt so overwhelmed from motherhood? Because I would like to meet her. And I bet my boobs you'd like to meet that lucky mama too!
But until then, we must use our life experience to figure out what works and what miserably fails to prevent mommy burnout. Like committing to 5 AM yoga with early risers – that didn't last long!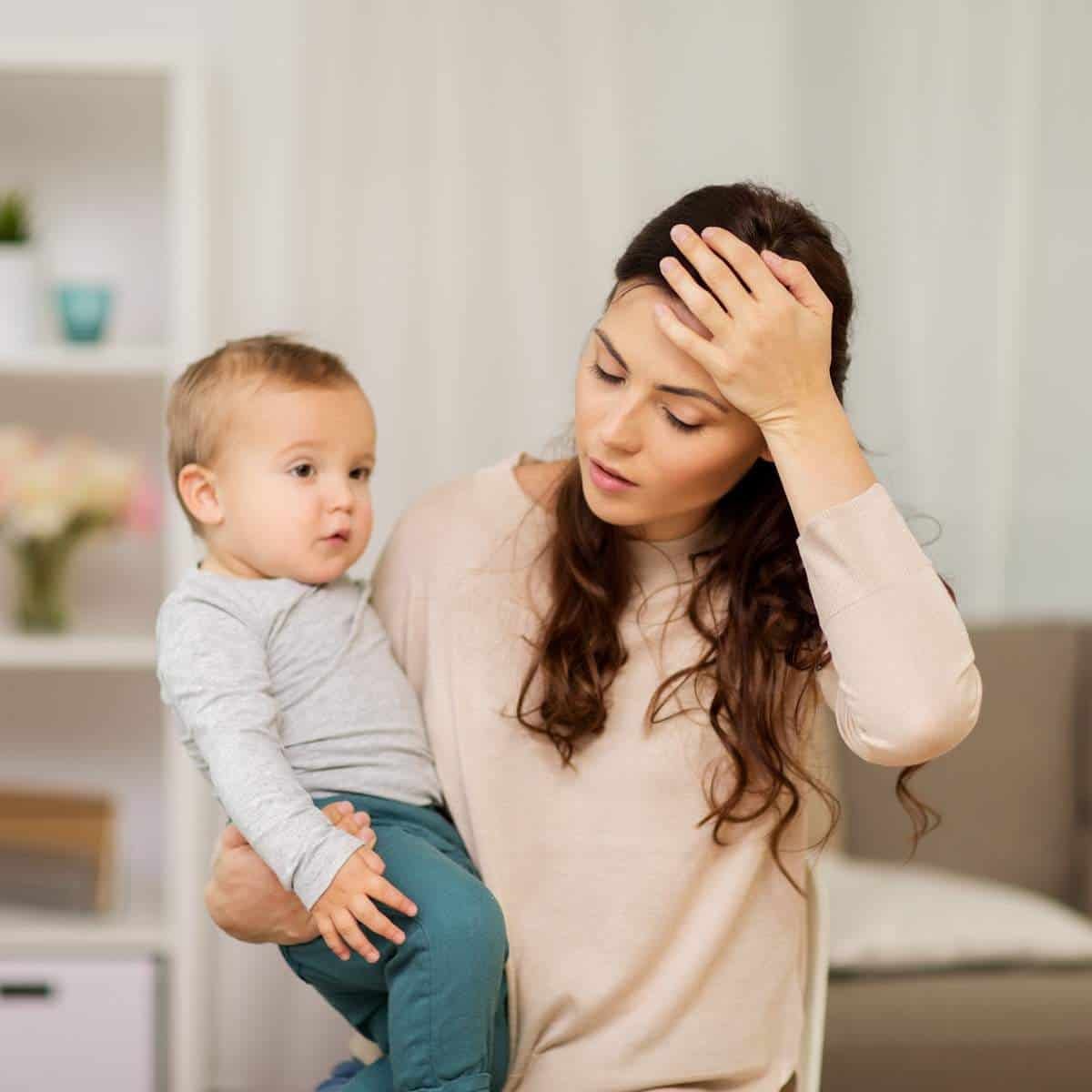 You know that keeping your physical and mental health in check is essential as a mom. After all, your kids are looking up to you as much as you're caring for them.
So how do you care for the family and yourself without crashing and burning? How do you maintain control without losing control?
There are questions I continually reflect on, even as a mama for over 6 years. To share what I've learned, here are 15 tips you can try to prevent and overcome that guilt-ridden mom burnout.
RELATED POSTS TO HOW TO FIX MOM BURNOUT:
How To Prevent Motherhood Burnout
This post may contain affiliate links. If you make a purchase from one of the links I will make a small commission at no charge to you. Blunders in Babyland does not diagnose, treat, or give out any professional advice for any medical or financial situations.
1 Take A Nap
Whether it's 10 minutes or 20, I feel calmer and think more clearly after a nap.
I know this can be challenging to coordinate depending on your kid's ages but give yourself permission to take a break and do nothing for a bit.
Your kids may be humming around you, but even a light sleep can be refreshing.
So rest, sweet mama. Recharge.
2 Learn From Fellow Mamas
Do you agree that the best places to go for advice are from the people that have lived it? I do!
Parenting has many paths, and not every path suits every parent. But some mamas out there get you and have darn good tricks up their sleeve. And epiphanies.
Why did no one warn me about these near-constant self-transformations?!
3 Master Meal Prepping
Meal prepping removes the mayhem from the dreaded "what's for dinner?" shirt-tug. Or when you forget to thaw the hamburger. Or when the budget is scarily slim.
Because when you master meal-prepping, you've got a plan for virtually every scenario life can throw your way.
And let's be honest: figuring out what's for dinner every night that appeases everyone can be maddening for your mental health.
I designate a Saturday night (I'm exciting, I know!) when the kids are sleeping to meal plan a month's worth of breakfast, lunch, and dinner. I mainly focus on dinner because that's when my family tends to be all together.
I gather my pinned recipes and dog-eared cookbook pages, plus a list I wrote of dinner, sides, and veggie combinations for easy reference. Then I assign meals to days on a calendar.
4 Make Low-Key Dinners A Thing
Don't feel guilty about feeding your child a Lunchable or McDonald's for dinner. They're fed if they eat it, which is the true goal here.
Yes, it would be fantastic if your baby magically finger-fed themselves a broccoli head, but worrying too much about whether they eat their vegetables won't do you any good.
Trust you're doing the best you can with what you've got.
So, I recommend penciling in low-key dinner nights to sidestep the guilt of not cooking a traditional 'well-balanced' meal.
Think cereal nights with muffins, grits, yogurt, granola, or frozen pizza. Pigs in a blanket and mac and cheese are bonafide winners too!
5 Journal
What happens in life is often out of our control, but we can control how we react and process.
So one of the best ways I process – and therefore keep mom burnout at bay – is by journaling. Spilling my thoughts onto paper helps me zoom out on a situation. It's therapeutic and relaxing, too. Well, at least until my hand starts to cramp!
I recommend Promptly's blank journals to start.
6 Drink More Water
Not drinking enough water is a quick ticket to low energy, brain fog, moodiness, and headaches. And ideally, you want none of those things as a busy mama.
Most doctors recommend 6-8 glasses of water (8 fl oz) a day, though you should check with your doctor first.
I like using the travel bottles with the fluid ounce marked on the bottle to keep track.
7 Take 10 Minutes to Exercise
Another way to fix mom burnout is by exercising. Exercise gives your brain and nervous system a needed break. I 1000% agree that running after kiddos can be a full-blown workout.
But spending time on yourself and in a way that nourishes your body and mind is preventative care, and I think most of us can commit to 10 minutes on the regular.
You could YouTube a dance cardio class or walk the apartment complex. Use your old college textbooks as weights. Stretch in your living room.
I'm a fan of Hannah Bower and Andrea Allen's quick but effective workouts!
8 Lower Your Expectations Of Yourself
Listen, mama, I get it. You want to do it all. Balance work, the house, and the kids. Keep up with laundry and bills. And I'd be amiss if I didn't mention the unnecessary importance of a home-cooked meal *every night*.
But, it's a tremendous amount of pressure you're putting upon yourself. You're 100% amazing, but you weren't meant to do it all.
No parent is!
So get comfortable with the uncomfortable: the dirt on the floors, milk-splattered countertops, and your personal Eiffel Tower of wrinkled laundry.
9 Say "Yes" To More Screen Time
Brace yourself: I'm recommending more screen time for your kids.
Why? You already know why: they focus on their game so you can rest or knock some chores out.
I'm not saying let your children watch four back-to-back movies (though those days will happen), but allowing them to watch a little extra won't hurt in the long run. My son isn't a stranger to an extra 30 minutes to 2 hours of video game time on days when I simply just can't.
Plus, video games boost your child's brain: they flex their ability to listen, letter recognition, and problem-solving skills, just to name a few!
 RELATED POST: The Best Free Educational Apps for Toddlers
10 Ask For Help
Not all of us are blessed with built-in family support systems. Sometimes you have to ask for help and create your own. You never know if that cool chick over there needs a carpool buddy, too, unless you strike up a conversation!
Try the park or library to meet fellow mamas and local online groups on Facebook or the Peanut app.
11 Plan Your Week In A Planner
Get in the habit of writing down your daily, weekly, and even monthly tasks in a planner. Then, keep it by your bedside and take it with you when you're on the move.
You expend much more mental energy trying to piece together your day when it's not planned out, so reclaim it by using a planner.
Try The Daily Routine Journal by The House of Routine or Emily Ley's Simplified Planner.
12 Stick With A Schedule
Once you get into the habit of using your planner, it'll be easier to recognize and schedule tasks, plan meals, and manage your family's busy schedules.
For instance, what day and time are best for meal planning, exercising, relaxing, etc.
13 Prioritize 1-2 "Big" Tasks Each Week
Another way to curb mom burnout is to schedule 1-2 "big ticket" tasks each week and commit to completing them.
By planning this, you'll avoid the awful feeling of having to do these "fun" tasks – usually on your lunch break or with screaming kiddos in the background.
Each month I write what needs to get done, then break that down week by week, step by step.
14 Go To The Library
There is something so soothing about being surrounded by books. Is it the smell? The quiet? The excitement of losing yourself in a story? The self-help?
The library is like a magic reset button for me. Both the kids and I enjoy it, and they get to exercise a little autonomy in choosing their own books.
The library is a great place to simmer down if you're riding the struggle bus over arguing with your kids.
15 Say "Yes" To Something You Want To Do
Finally, to fix mom burnout, you need to find ways to do more things you want to do. Because what is life if we are not enjoying at least some of it? 
Do you enjoy crafting? Reading? Yoga? How about a sultry date night?
You'll probably have to say no to something else to find the time, but try to say "yes" to things that give you inspiration and joy every once in a while.
Play hooky with the dishes and do what you want to do instead!
Your children deserve to see a happy mother and not one who constantly toils away. 
Learn more about a simple morning self-care routine.
Preventing Mommy Burnout Benefits Everyone in the Family!
As the daily stress of life piles up, so many moms go to bed every night feeling exhausted and utterly burned out. Fortunately, there are things you can do to fix mom burnout before you lose control.
I hope these tips help you catch a break and help you see how much of a good mom you really already are!
How do you avoid mommy burnout? Share your tips below!
RELATED POSTS TO HOW TO FIX MOM BURNOUT:
How to Reduce Stress and Stay Positive as a New (Overwhelmed) Mom
7 Books to Encourage Stay at Home Moms
10 Tips to Help You Finally Overcome Stay at Home Mom Guilt