Baby weight.
Ugh.
Contrary to this post's title, there's nothing "simple" about losing baby weight. Most new and expecting moms realize that it probably easy, but I don't think I don't think anyone really knows how difficult it can be.
If you're reading this, your postpartum weight loss isn't exactly going as you hoped.
Maybe you've tried several diets without success (or worse, you HAVE had success, but gained the weight back a couple weeks later). Or maybe you just don't have the time or energy eat healthy or work out.
I get it…
Not only have I struggled to lose the baby weight, but I have struggled with a complete self-loathing that has marred almost every aspect of life postpartum.
Do you know what I'm talking about?
When your husband calls you beautiful and you no longer believe him.
When you constantly avoiding being in ANY pictures with your new baby, because you're terrified that the public (like your old high schools friends or exes) will discover how motherhood completely destroyed your figure.
That self-degradation you feel every time you "cave" and eat something you know you shouldn't.
Does any of this sound familiar?
Before we dive into a few weight loss tips, I want to set the record straight:
Your weight has NO correlation to your beauty or self-worth.
You are beautiful RIGHT NOW. Be CONFIDENT in who you are right now. Yes, losing the baby weight is extremely important. But ONLY from a health standpoint.
Look, I'm no dietitian or fitness trainer. The tips below are just coming from a busy, new mom that wants to become healthier. I'm still struggling with my weight and my self-image. Having said that, since I've given birth, I've lost nearly 35lbs. I have experimented with several diets, but these tips–by far–have produced the most successful results. In this post, I'm going to share the tips that I believe will help you learn how to lose the baby weight.
I firmly believe that you can integrate these tips TODAY to begin YOUR  weight loss journey.
How to Lose the Baby Weight With 5 Simple Steps
This post may contain

affiliate links.

If you make a purchase from one of the links I will make a small commission at no charge to you. I only recommend what I trust. Blunders in Babyland does not diagnose, treat, or give out any professional advice for any medical conditions.
MEAL. PLANNING.
Meal planning saves you time, money, and calories. ALL extremely valuable commodities for new moms.
But, if you're like me and struggle with 1. Never having the ENERGY to cook healthy meals. 2. Have absolutely no idea HOW to cook healthy meals. And 3. Have absolutely no INTEREST in cooking healthy meals… meal planning is absolutely essential for you.
If you're new to the concept of meal planning and aren't even a little bit sure how to get started, you're in luck. This weekend my absolute favorite meal planning resource is having a flash sale! It's called the Ultimate Healthy Meal Planning Bundle and it contains over 3000 combined recipes and 100 weeks of meal plans (including Paleo, Keto, and Gluten-Free).
Don't Work Out
Yep, I said it. Don't work out.
No, I'm not dismissing the importance of a good cardio workout. But when you're learning how to lose the baby weight, you need to have attainable goals.
(Plus working out sucks for anyone that isn't already physically fit).
Instead, focus on staying active. Working out is a single activity that you hate. Staying active is a lifestyle choice. Focus on doing the things that YOU love that get you off the couch. For example, are you a Doctor Who fan? Commit to watching your favorite Doctor Who episodes ONLY if your butt is on a recumbent bike.
SHORT ON TIME? PIN THIS POST FOR LATER!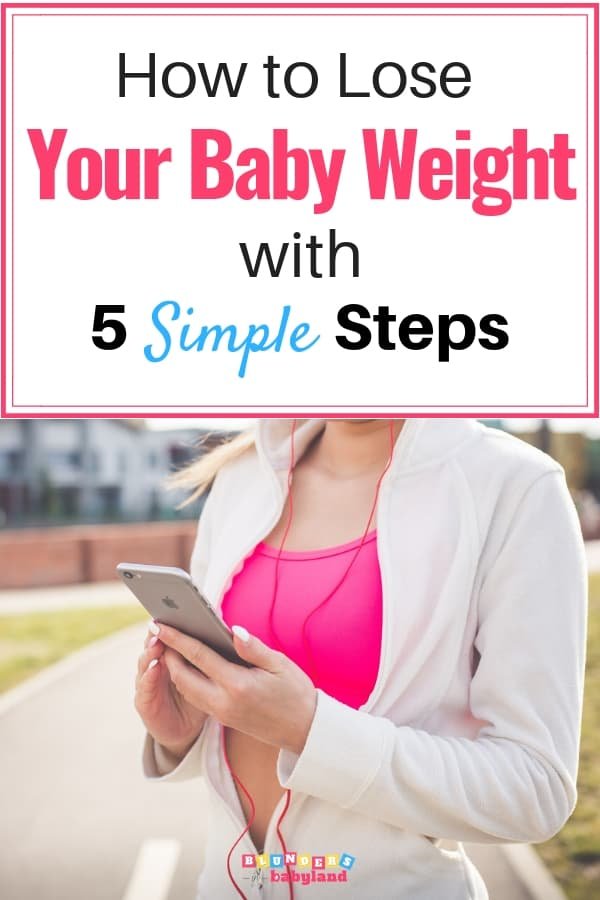 Make SMALL Substitutions
This hack has REALLY helped with MY weight loss. I hope it helps you too!
Think about the habits that are sabotaging your weight loss efforts (E.g. for me it's sweets, fast food, and lack of activity). Then, integrate small changes to conquer these habits. Focus on changing your lifestyle, one day at a time.
For example, I've completely eliminated sweets from my daily diet. It's been this way for TWO. MONTHS.
And it all started with the simple goal of using stevia in my coffee, instead of sugar. This ONE change gave me the discipline and CONFIDENCE I needed to make bigger changes gradually.
Make your goal easily attainable. Make sure your steps are SMALL and include an end date. Then, once the habit has developed, you can decide to continue.
Plan Your Day
I've stood on my schedule soapbox time and time again when it comes to baby sleep training. The key to getting your baby to sleep through the night is an efficient yet flexible daily routine.
Do you know what I'm finding?
A flexible daily routine is also the key to YOUR weight loss. When you plan your day ahead of time you have more time. More time to be active, more time to eat healthy, more time to relax (which is also the key to weight loss).
Plan. Your. Day. Wisely.
ALWAYS Bring a Snack with You
Fast food is the devil…that I constantly indulge in.
It's not because fast food is soooo good (though, I love me a good sandwich from Chick-fil-A…), it's just so convenient and I'm so darn hungry. So, the best way to combat it is to MEAL PLAN and ALWAYS keep a snack with you to deal with the random hunger cravings. Carry some healthy and delicious in your purse, diaper bag, or glove compartment. Anywhere easily accessible!
If you're struggling with losing the your baby weight, YOU ARE NOT ALONE. And you have absolutely NO reason to be down on yourself. You are beautiful just the way you are. You're not lazy, you're not weak. You're human. And if you're serious about developing a healthy lifestyle, you can do it! We can do it together!
In the meantime, if this post spoke to your heart, I'd love to hear from you! Tell me your story! AND I'd also love to hear what's worked for you (or isn't working). With your permission, I'd love to share your tips with the other ladies!
I hope to hear from you!