Whether you're kid is 2 or 6, nighttime potty training can be tough.
After finding out that we were expecting our second child, we decided it was time to "bite the bullet" and try potty training our daughter once again. I was more than a little apprehensive. The last round, when my daughter was 24 months, did not go well. 6 months later, we used the Oh Crap Potty Training Book and she nailed potty training almost from day one. It was incredible.
But, the success of our daytime training brought about the next confounding question: how do we and when do we night train? We already figured out that she's much more likely to have accidents in diapers.
So, were we supposed to just use pajamas and pray she didn't have an accident? Or should we continue using diapers indefinitely? I knew what I didn't want to do: wake up in the middle of the night for potty trips and/or wake up and change her bedclothes until she grasped the concept of holding it at night.
My solution: Peejamas.
A couple weeks before, Peejamas reached out to me about trying out their product. They're timing was scary-perfect. I had never heard of the company and, frankly, never considered the concept of training pants at night. It seemed like the perfect solution.
If you're reading this Peejamas review, chances are, you're desperate for a solution to your child's nighttime accidents or nighttime potty training. You might be like me, training your toddler for the first time and searching for a solution outside diapers or just pajamas. Or, maybe you're the parent of an older child with frequent bed wettings.
In either case, my goal is to share my experience with this product so you can decide if it's the solution you've been searching for.
Let's find out if they are right for you.
RELATED POSTS TO THE PEEJAMAS REVIEW:
Best Baby and Toddler-Safe Essential Oils for Cold and Flu
Pros & Cons: Peejamas Review At-a-Glance
This post may contain affiliate links. If you make a purchase from one of the links I will make a small commission at no charge to you. Blunders in Babyland does not diagnose, treat, or give out any professional advice for any medical conditions. I was gifted a free pair of Peejamas to facilitate this review. All opinions are my own.
PROS
Multiple, cute designs
Oeko-100 Tested and Certified Materials
Effective absorption if used correctly
Can be a great tool for "night" potty training
Shorts and pants available
Sizes 2T-6/7
Machine washable
Environmentally-friendly
60-Day Return Policy
CONS
Must "size-up"
Will not work with heavy (or moderate) bedwetters
Should not be used with frequent "night" poopers
"Diaper" insert can be very tight (cause mild red marks on thighs)
No returns on used Peejamas
SAVE 15% ON YOUR ORDER WITH MY CODE BLUNDER15
What are Peejamas?
Like many other start-ups, Peejamas was founded by parents trying to find a solution that didn't exist yet. The company Peejamas launched in 2016. They create diaper-alternative "training pants" for nighttime sleep. This product fills a significant void in the potty training market.
While your kid is on his way to becoming daytime potty trained, he may still be struggling with holding his bladder at night when he's in a diaper. In my experience, underwear and typical training pants tend to remind children of diapers, which may cause more accidents. Peejamas feels like pajamas, reminding your child that pee goes in the toilet, not in his pants.
How It Works
Before you use the Peejamas, it's extremely important that you put at least the pants through the wash (inside out) at least 3-4 times. Your Peejamas will not absorb correctly until this is done (more on that below). One sticker on the pajamas recommends going through the wash 5 times. I would stick with that guideline just to be safe.
Once you've prepped the Peejamas, you simply put them on your toddler and call it a night (hopefully!)
Design and Comfort
Design and Materials
The Peejamas insert is made from a blend of polyester and bamboo, while the actual pajamas are made from 100% cotton. All of these materials have received an Okeo-100 certification.
In case you're not familiar, Okeo Tex-100 is a standard for testing harmful materials or substances in textiles. This certification is a big deal. It means that Peejamas' materials are safe, eco-friendly, and contain no fire retardants.
The designs of Peejamas are adorable. My daughter is inlove with the "fishies" (read: whales) on her first pair. Having said that, if you were hoping for any pink, girly designs, you'll be disappointed. Peejamas definitely runs more toward the boy/gender neutral side.
Peejamas also offers shorts as well as pants ( we only tested the pants) from sizes 2T-6/7. According to their website, they are working even larger sizes, such as 7/8 .
Comfort
In order to effectively keep the pee in and replace fire retardant materials, the Peejamas are a "fitted cut". In other words, they are TIGHT.
My daughter is short and stout (just like a teapot 🙂 ). She wears 2T shirts, but she can easily fit into 18-24 month pants. At Peejamas' suggestion, we ordered 3T. I am SO glad we did. Even at a 3T, the shirt and pants are snug. The tightness of the Peejamas is kind of a blessing and a curse. On one hand, it helps prevent leakage. On the other, I did notice little red lines on my daughter's thighs. Having said that, these marks don't seem to be painful or cut off circulation.
In any case, I highly recommend ordering a size up from what your child usually wears.
The Peejamas material is ridiculously soft. I wish I had pajamas this soft! The material is also very cool, so on colder nights we supplement with heavier socks and a sweater.
Peejamas Care
Taking care of the Peejamas is a synch. You just turn them inside out, run it on the cold cycle (hold the fabric softeners), dry on low, and you're good to go. I love that it's machine washable. That would have definitely been a make or break situation for us.
Just note that because the insert is so absorbent, you might have to run it for a cycle and a half in the dryer.
Functionality
Now for the burning question that made you search for this Peejamas review: do they actually work?
If you've read consumer reviews on Peejamas, you're probably on the fence about whether or not you should buy them. You've probably seen the other parents that say the Peejamas have soaked through and they're awful. Then you've seen other reviews that are practically glowing. I'd say I'm right in the middle.
As I mentioned before, the Peejamas MUST be washed a minimum of 3-4 times before use.
Just out of curiosity, I did not do this. I only washed them twice. That night, my daughter soaked right through. I mean, SOAKED. On the third wash, she soaked through again, but much less so. I washed the pajamas once more and I've had a minor leak around the thighs since then.
This experience leads me to this theory: I think most of the negative reviews are from parents that either a) did not wash the minimum amount of times before use or b) have a heavy wetter.
My daughter is almost completely potty trained. We cut her off from liquids about an hour before bedtime and she uses the potty 2-3 times before lights out. Any tinkling she does through the night is just that: tinkling.
If your child's potty training scenario is similar to this, I think Peejamas will work GREAT.
The Peejamas Review: Are Peejamas Right for You?
Who Peejamas is Best for
If your toddler is well on his way into potty training and you just need a transition tool to help with nighttime training, I think Peejamas is a great product that you should definitely check out. Or, if you have an older child that still tends to leak a little through the night, this can help him move away from diapers and into "big boy" pajamas.
You can also use the Peejamas pants as a safe-guard for long road trips or staying in motels, or other irregular situations where accidents can occur.
Who Peejamas Isn't For
I think it's important to have realistic expectations about this product before you press the "buy" button. You don't purchase regular diapers expecting them to absorb properly in the pool. Likewise, I don't think you should purchase Peejamas if they aren't right for your child's needs.
If your toddler is still fully wetting his diaper, I don't think Peejamas will work. If you have an older child that has an overactive bladder or is a heavy bedwetter, I don't think Peejamas is right for you (I've seen other posts where parents supplement with a diaper though).
In these situations, I think your child will wet through his pair multiple times and you will just have wasted your money.
My Final Thoughts on Peejamas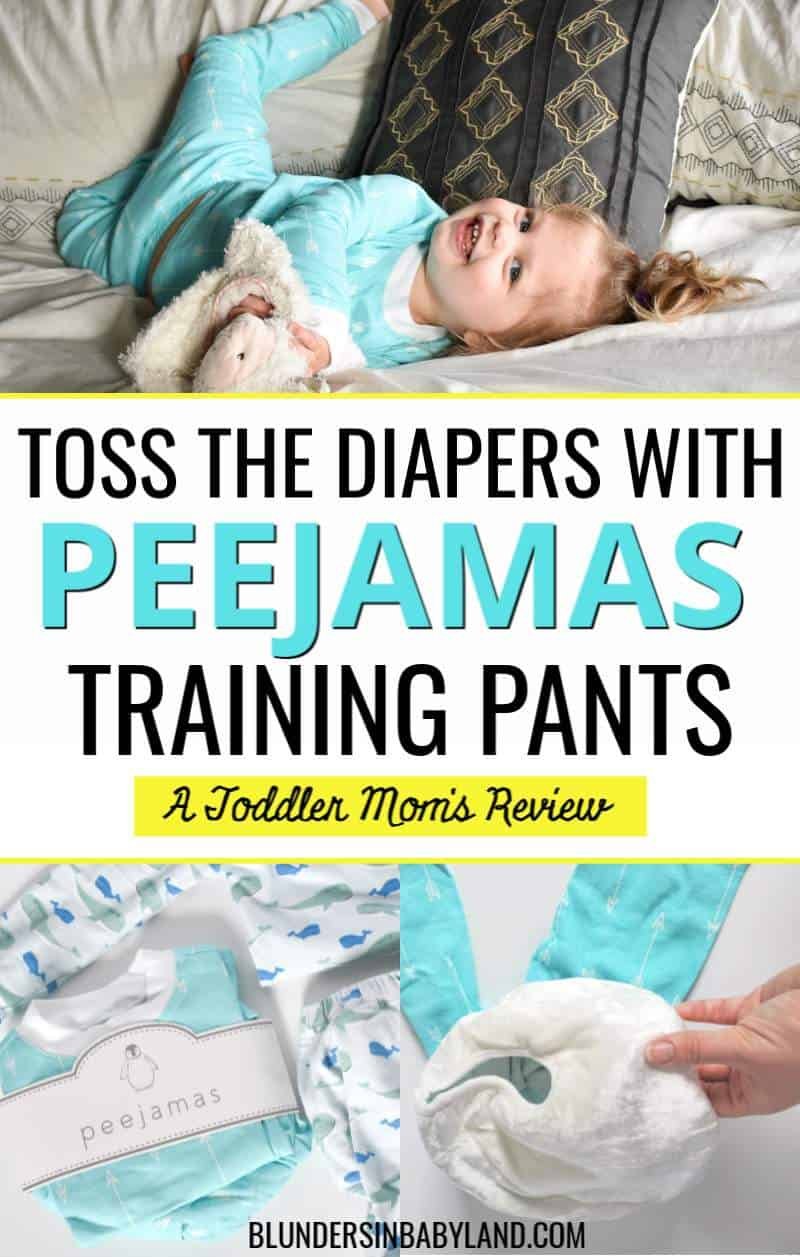 I'm so glad I found Peejamas. They are exactly what my daughter needed for her potty training journey and we use them almost every night! The designs are adorable, it works great , and most of all, the elimination of diapers.
I think there's an added pride value that can't be quantified when you take a child out of diapers. My daughter now says, "Pahjamas. I wear pah-jamas." When you're teaching a newly self-aware child a difficult concept, I think they need that little extra encouragement sometimes. In my opinion, Peejamas gave my daughter that boost.
If you're wrapping up potty training and looking for the next tool to help potty train your child, I can't recommend them enough.
As a final note, if you do decide to go with Peejamas, I would purchase two pairs to start with. It makes life so much easier when you're in between washing times.
As I'm writing this Peejamas review, EVERYONE is at home with their kids because of the pandemic. Apparently, Peejamas thinks this is the PERFECT time to potty train. So, if you're interested in trying out Peejamas, you can get your order 15% off with code BLUNDER15. Click the button below to check out their website!
If you have questions about my experience, let me know in the comments below! I'm happy to help.
Good luck!
SAVE 10% ON YOUR ORDER WITH CODE SAVE10
RELATED POSTS TO THE PEEJAMAS REVIEW:
Best Baby and Toddler-Safe Essential Oils for Cold and Flu