10 Minimalist Nursery Ideas to Help You Make Your Own
During the newborn phase you will spend countless sleepless nights in the nursery. So, let's make it look pretty. Minimalist nursery decor is perfect for parents with very little square footage (or budget) to work with.
It emphasizes simplicity and symmetry. You can easily set up a modern, elegant minimalist interior by keeping everything well-organized, removing clutter, and brightening up the space.
Feeing a little clueless? Allow me to help you create a calm, zen environment for the tiniest member of your family. Here are 10 minimalist nursery decor ideas for some inspiration.
RELATED POSTS TO MINIMALST NURSERY IDEAS:
10 Minimalist Nursery Decor Must-Haves for Your Little One
This post contains affiliate links. If you make a purchase from one of the links I will make a small commission at no charge to you. I only recommend what I trust. Blunders in Babyland does not diagnose, treat, or advise medical conditions.
1. Simple Bedding
The best minimalist nursery decor starts with simple bedding. Focus on the bed sheets patterns, rather than cramming the crib with tons of accessories like pillows, bumper pads, and blankets, soft toys that increase the risk of SIDS (Sudden Infant Death Syndrome).
Remember, according to the AAP, your newborn needs nothing more than snugly fitted crib sheets and a flat infant mattress.
2. Choose the Lighting Wisely
The right lighting can make or break your minimalist nursery. Soft white lamps are easier on tiny, angelic eyes than harsh overhead fixtures.
Instead, add a little texture to the room with oversized pendant nursery lighting or woven lighting. For a touch of elegance, go for a striking statement chandelier.
A ceiling fan with lights would be in keeping with the minimalist nursery theme.
For a flexible lighting solution, choose a nursery floor lamp. A pretty nursery floor lamp beside the crib is perfect for those late-night breastfeeding sessions. It'll help you see what you're doing without disturbing the baby's sleep patterns.
3. Use a Clothing Rack
This is one of the many reasons why minimalist nursery decor is perfect for small houses! If you're short on closet space, consider purchasing a clothing rack to display your baby's clothes. The one pictured above is a two-tier, meaning you can use the bottom for linens, diapers, baskets, and other baby essentials.
Make sure to choose a neutral-colored rack to help it blend with the minimalist decor of your nursery. There you go! Problem solved.
4. Decorate Using Neutrals and Pastel Colors
Sticking to simple color palettes is one of the fundamentals of minimalism. Create a calm, peaceful space for your bundle of joy by introducing pastel colors.
Add some drama by creatively incorporating geometric shapes in the form of furniture, printed linens, curtains, and rugs.
Make the room look more dynamic with DIY artwork placed right in above the crib for your baby to admire all day.
5. Use Multi-purpose Furniture
When you're short on space and money, using multipurpose furniture is a must. Combine form with function with the help of multi-purpose furniture like convertible play tables, drawers, or shelving.
A very popular minimalist nursery idea is to nix the diaper changing table and use a diaper changing pad on a dresser or desk. Novelty factor aside, this arrangement can save tons of money and valuable space for small nurseries.
6. Make the Most of Vertical Space
One of the most effective tricks to keep the nursery decluttered, minimalist, and pleasing to the eye is to put all the vacant vertical space to good use.
Look for floating shelves, wall-mounted bookshelves, and wall organizers in neutral colors to round out the minimalist nursery decor.
7. The Beige Way
Nothing whispers minimalist like a simple beige room with just a couple of accessories of the matching shade. Apart from the minimalist appeal, beige has this incredible ability to coordinate with every other color under the sun which opens up limitless decoration possibilities.
8. Accent with Bold Patterns and Textures
Break the monotony of the neutral tones with color animal-inspired wallpapers, linens, and soft toys. Brighten up the space with natural textures, potted indoor plants, terracotta decorative pieces, or something that oozes boho chicness like a rattan rocking chair or light fixture.
Give a serene, natural touch to the decor with bamboo accents. If you're going for something a little more visually striking, I'd suggest making an elaborate jungle mural act as the backdrop for your playful, modern jungle-themed nursery.
9. Floor Baskets Are a Must
With small babies come lots of onesies and cute outfits. Declutter the space by storing all the baby essentials in a few large floor baskets. Cotton rope baskets or rattan baskets can also tie in your minimalist nursery decor and add some freshness and texture.
Target is your best friend here. They offer a huge selection of pastel-colored or natural baskets that will look great in your baby's space!
10. Sleek Shelving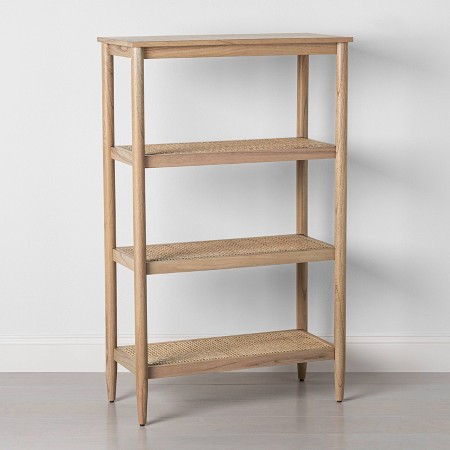 Sleek, natural wood shelves breaks up the monochromatic theme and keeps the clutter at bay. If you're planning on using standard shelves, remember to anchor them to the wall for baby's safety.
Otherwise, use these floating shelves to neatly organize the toys, trinkets and display books, and photographs. Up the aesthetics with LED lighting underneath.
Which Minimalist Nursery Ideas do You Love?
So, what do you think? Minimalist nurseries aren't dull and boring if you know what you are doing. Minimalism is all about showing restraint, focusing on what matters, and avoiding clutter.
Neutral colors, clean lines, soothing lighting, and complementing textures make the perfect recipe for an effortlessly chic and minimalist baby room.
Do you have any great minimalist nursery ideas you'd like to share? Let us know below.
RELATED POSTS TO MINIMALST NURSERY IDEAS: