Hibobi Review: A Mom of Two's Experience with This Bargain Baby Brand
Ruffles, bows, and flowers.
Dressing my daughters in adorable outfits has become somewhat of an obsession of mine. Thanks to the miracle of online shopping, it's pretty easy to score an Insta-worthy outfit. But finding adorable and cheap baby clothes?
That's a challenge.
When I heard about Hibobi, an online clothing brand that claims to offer boutique-style baby clothes for jaw-dropping prices, I knew I had to try them out. If you've heard about Hibobi and you're hoping to learn more or you're simply searching for a new brand to shop from, I'm glad you're here.
In this Hibobi review, I'm sharing my experiences with the brand's toddler and baby clothes. I'll go over everything you need to know: the fit, quality, and sizing, as well as my experience with their customer service and shipping.
POSTS RELATED TO THIS HIBOBI REVIEW:
Pros and Cons: The Hibobi Review At-a-Glance
This post may contain affiliate links. If you make a purchase from one of the links I will make a small commission at no charge to you. Blunders in Babyland does not diagnose, treat, or give out any professional advice for any medical conditions. I received clothes from Hibobi for free in order to facilitate this review. All opinions are my own.
PROS
Vast selection
Offers infant, toddler, and maternity styles
Stylish designs
Fantastic price
Quality material and construction
Accurate sizing
7-Day Return Policy
CONS
Some awkward fittings
10-20 Shipping Times (No expedited shipping)
No returns on worn or washed clothing
What is Hibobi?
Hibobi is an online clothing brand specializing in high fashion baby, toddler, and maternity clothing. They also offer children's clothing up to 9 years, as well as some accessories (like the stockings shown in this review), and baby supplies. Hibobi's goal is to be a one-stop shop parents, offering fantastic styles at a great price without compromising quality.
Seems almost too good to be true, right? Let me share my real-life experience with this brand.
Design and Quality of Materials
For my Hibobi review, I really wanted to test out casualwear and formalwear.
While you were probably initially drawn to Hibobi for their cheap baby dresses and outfits, I think their line of inexpensive baby jumpsuits, onesies, and rompers will impress you the most.
Below I'm going over each of the items I ordered. That way, whatever you're shopping for at Hibobi, you'll have a good idea of what to expect.
Baby Jumpsuit
Believe it or not, the jumpsuit was the star of the show for me.
Since babies have the tendency to…er…explode, you want to make sure that you've accumulated a stockpile of everyday outfits that are durable and relatively inexpensive (just in case those stains don't actually come out!)
I was thoroughly impressed by the quality of this jumpsuit. The material was light and breathable, and so, so soft. The stitching was a very good quality; I didn't see any loose threads or tears in the seams.
After our little photoshoot, my daughter provided an opportunity for me to test out how well it washes (if you know what I mean 😉 ) and it came out of the wash stain-free and as soft as can be. So far, no pilling or loose threads!
Infant Dress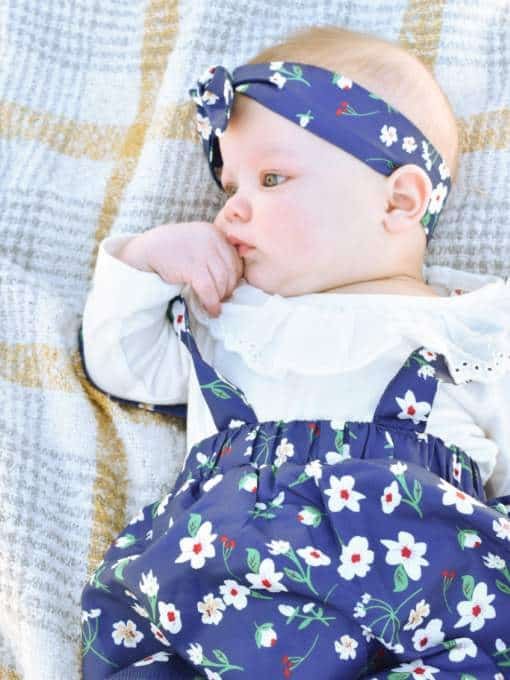 The Hibobi app is LOADED with adorable dresses and outfits for babies.
I was especially excited to try out Hibobi's pinafore selection. I've tried buying pinafores on Amazon in the past but haven't always been pleased with the quality.
Once again, I'm impressed. The print quality is great and the material is so soft. I did notice a few loose threads on the interior of the pinafore, but overall the quality is great. The included long-sleeve onesie is also very comfortable, stitched together well, and looks fantastic.
Infant stockings
I have not had a lot of luck finding great infant stockings. They're either too big or too small, too hot or so thin they fall apart.
Thankfully, I thought these stockings were great! I purchased the 0-6 size and the stockings fit really well. They were a little long, but thanks to the elastic at the top of the stockings, it was easy to pull them up. On that note, I also loved that I didn't have to worry about pulling them up all the time.
Toddler Dress
My older daughter's pinafore was so stinking cute; I can't wait for her to wear it again.
Once again, I was very pleased with the quality of the material. The denim was thick and well made. Just for testing purposes, I washed the skirt (I hand-washed the shirt). It came out of the washer and dryer without any defects.
Comfort & Fit
Okay, can we talk about the jumpsuit one more time? I can't get over how soft the material is. I can't believe it's just $11. It fits perfectly as well. I ordered the 3-6 months size and it fits exactly as I would expect it to: snug but with a little room to grow.
The dresses were spot on as well. I ordered a size 2-3 years for my older daughter; She's 3.5, about 32lbs and the dress fit well with a little room to grow. My only complaint is the type of buckle used to attach the straps. This dress uses a double ring buckle to attach the straps. It works, but it's kind of a bear to get right and you need to tighten periodically.
The overall fit of the infant pinafore is good, however, the length on the infant straps was also a little long.
Shipping, Returns, and Customer Service
According to Hibobi's website, orders from the United States arrive within 15-30 business days. That's 3-5 days to process the order and 10-20 days for delivery. Within about 3 days of your purchase, Hibobi gives you a tracking number so you can keep an eye on your order.
My order was placed March 2nd and it arrived March 19th. Shipping isn't fast, but it's not atrociously slow either, considering complications from the pandemic.
So, what if you get your new clothes and (drats) you ordered the wrong size?
Hibobi offers a 7-day return policy. This includes if the outfits don't fit properly, they're the wrong color, or they just aren't what you expected.
Real life example, when I received my order, I was sent the wrong color for the jumpsuit. My rep offered to have the correct color sent over. I declined (honestly, this color looks so much better anyway!) but I appreciated the commitment to great customer service.
Just keep in mind that the clothes should be unused (tags still on, not worn/washed) when returned.
Pricing
Spoiler alert: Hibobi's prices are darn cheap.
You can buy most of their adorable 2-piece outfits for between $6-11. Not only that, but Hibobi is usually running a sale. For example, as I'm writing this review customers can receive an extra $5 off orders over $59 PLUS free shipping on orders over $29.
Hibobi also offers nursing and maternity clothing for great prices as well. I'm talking $6-21 for nursing tops. In my opinion, that's phenomenal.
My Final Thoughts on Hibobi
If you're looking for adorable clothes for bargain prices, you should check out Hibobi . I think you'll be pleased with the quality and the styles this brand offers. It does take a while to receive the clothes, but I think they're well-worth the wait.
Check out Hibobi's latest sales here
I hope this review helps you buy tons of cute clothes! If you have any questions about my experience with Hibobi or you'd like to share yours, just let me know below!
POSTS RELATED TO THIS HIBOBI REVIEW: