Hello Bello Diaper Review + Coupon 2021
Do you ever feel kind of bad for using disposable diapers? Environmentalists have made it clear that disposable diapers just fill the landfills. You'd like to try a greener option like cloth diapers or even biodegradable diapers, but man…they're just so expensive!
I get it. When you're raising a baby on a budget, justifying the cost of premium, environmentally-friendly diapers can be tough!
When I received an offer to review Hello Bello diapers, I gladly jumped on board. I've heard a lot of things about Hello Bello. Good things like, they offer the best of both worlds in affordability and environmental-impact. With a 10-month-old girl (with very sensitive skin), I was eager to try them out!
If you're looking for an environmentally-friendly, hypoallergenic diaper on a budget, I'm excited for you to read this post. In this Hello Bello diaper review, I'm going over everything you need to know before you try it out: brand commitment, my experience with the diapers, and even some cool ways to save money on your first order.
RELATED POSTS TO THE HELLO BELLO DIAPER REVIEW:
Pros & Cons: Hello Bello Diaper Review At-a-Glance
PROS
Adorable designs
Plant-derived, chlorine-free liner
Wetness indicator
Comfortable overall fit
Fantastic  water-based wipes
No parabens, artificial scents, or phthalates (i.e., great for sensitive skin)
Great absorbency
Accurate sizing
60-Day Return Policy (unopened boxes)
CONS
Seems a little taut/tight around waist
Moderate price point
No returns on opened boxes
Not fully eco-friendly
This post may contain affiliate links. If you make a purchase from one of the links I will make a small commission at no charge to you. Blunders in Babyland does not diagnose, treat, or give out any professional advice for any medical conditions. I received the Hello Bello Diaper Bundle for free in order to facilitate this review. All opinions are my own.
What is Hello Bello?
Did you know that Hello Bello was co-founded by Kristen Bell and Dax Shepherd? 
I have a little Frozen fan in the house. We literally spend the majority of our day listening to the soundtrack and playing with the Barbie dolls. So, when I told my oldest daughter that Anna made Baby Elle's diapers, she was excited…to say the least.
But I digress. Kristen Bell and Dax Shepherd are more than celebrities. They're environmentally-conscious parents that want to give families on a budget the option to buy greener diapers. They understand that it can be hard to stomach the extra cost of premium diapers and wanted to give every family the option of buying one.
Eco-Friendly Materials
Long-lasting comfort, great leakage protection, biodegradable materials, cute designs, AND affordability? Doesn't Hello Bello seem a little too good to be true?
Not necessarily. Hello Bello does offer a much more environmentally-friendly diaper than several similarly priced competitors. But, I'm not going to lie to you, it's not the greenest, most environmentally-friendly diaper in the world. Let's unpack these features so you can have a realistic look at what you're buying.
Do Hello Bello Diapers Decompose?
The liner of Hello Bello diapers is made from plant-based fibers, which are biodegradable. Hello Bello diapers are also made without artificial perfumes, parabens, chlorine, lotions, and latex. That makes them a fantastic option for babies with sensitive skin.
Having said that, while the fluff (the stuff in the middle that swells after your baby pees) claims to be sustainably harvested, it's made from the same superabsorbent polymer that most disposable diaper brands use. Which is okay. SAP isn't a bad material. And, as long as it doesn't get on your baby, it can't irritate his skin. But, it is less environmentally-friendly than bamboo-fluff options.
Also, I scoured the internet to determine the materials used in the back and front liner. I don't believe those materials are plant-based or biodegradable.
So, it seems like Hello Bello offers a mid-range eco-friendly product. A hybrid of a traditional and premium, biodegradable diaper.
My Experience with these Diapers (I.E. Why You're Reading This Hello Bello Diaper Review)
Hopefully now you have a fair idea of what kind of materials are used in the Hello Bell diapers. Let's talk about how well they perform!
Comfort & Fit
Overall, I think the Hello Bello diapers fit really well.
I thought the tightness of the leg cuffs was just about perfect. Snug around my daughter's obnoxiously cute chubby legs…but not so much that it caused red marks or rashes.
The sizing seems spot on (my daughter weighs 19lbs and the range for size 3 is 14-24lbs). My one complaint is that it seems a little snug around her belly. So far that hasn't been an issue, but it makes me question how well it'll hold on a busy day with lots of tumbling (which is everyday) or how it'll fit as she grows.
I have to say though…the exterior is soft. Really soft. Hello Bello boasts "cotton-like" softness and I'd have to agree!
Do Hello Bello Diapers Have Wetness Indicators?
Yes, Hello Bello diapers do have a wetness indicator from newborn to size 3. For some reason there's some debate about this on the internet. So, let me definitively confirm: size 3 definitely has a wetness indicator! From what I've seen, the wetness indicator is actually fairly accurate. My little girl had just a tiny tinkle and it picked it up.
Leakability
I have to be honest, when I held the diapers in my hands for the first time, I was a little nervous about the absorbency. They're just so light and thin. Much lighter than my Pampers Swaddlers diapers. (If you've ever used the Up & Up kind from Target, that's a pretty similar feel.)
Surprisingly, I haven't seen a single leak, even while using daytime time diapers overnight. I will say that the diapers do get very full, but certainly not more than my Pampers Swaddlers.
Design
As you can see, the Hello Bello diapers are dang cute.
I love the eco-friendly considerations and price-point of Hello Bello, but honestly, the designs really are what makes it for me! I. LOVE. THEM. Hello Bello offers girl, boy, unisex, and seasonal designs.
My favorite is definitely the mermaids 😉
The Wipes (I LOVE the Wipes)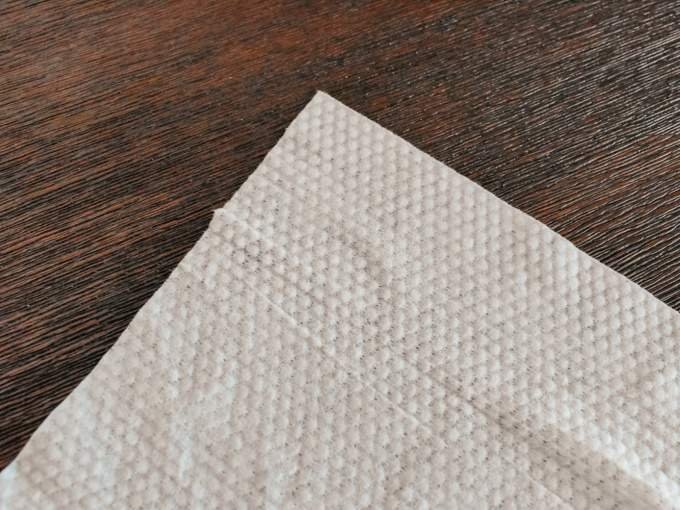 If you decide to purchase the diaper bundle, you'll also get to sample Hello Bello's water-based baby wipes.
With my baby's sensitive skin, I've always been interested in trying out water-based wipes. The trouble is… they're so expensive. And yet Hello Bello's wipes are so affordable.
These wipes are a total game-changer for me. They're thick and leave no residue on my baby's most sensitive regions (which can cause irritation and redness). Even water-based, they contain just the right amount of liquid.
I've used the wipes to clean her face, which is prone to breakouts if I use the wrong kind of wipes. No issues!
Shipping, Returns, and Customer Service
So, you've decided to grab yourself some Hello Bello diapers. Congratulations, you're in for a treat!
Usually Hello Bello ships within 1-2 days and you'll receive your box in about 7 days. I received my box in 5 days.
If you order the wrong size by mistake, Hello Bello does offer a 60-day return policy on unopened boxes. This is especially handy if you order a box and your baby has a growth spurt before it arrives or you order a friend a box of the wrong size. Just keep in mind that Hello Bell only accepts unopened boxes.
Pricing: Are Hello Bello Diapers More Expensive?
Compared to other eco-friendly diapers, Hello Bello is incredibly affordable. The prices range between .$.20-$.35 per diaper, depending on quantity, sizes, and coupons (more on that in a minute 😉 )
Where to Buy Hello Bello:
Here's the cool thing about Hello Bello, while its sold at your favorite retailers like Walmart or Amazon.com, you can save a decent chunk of change if you decide to buy through hellobello.com. There you can take advantage of their Diaper Bundle and current coupons.
The Diaper Bundle
Which brings us to our next topic.
The Diaper Bundle! The Diaper bundle gives you an entire month worth of diapers plus a month's worth of diaper wipes for approximately $65.99.
What's included in the diaper bundle:
7 packs of diapers
3 packs of baby wipes
1 Bonus Goodie
The price per diaper ranges depending on your baby's size, but it makes Hello Bello much more affordable.
For example, my daughter is a size 3. Typically, we buy Pampers Swaddlers for $.29 a diaper. With the Hello Bundle, she receives 185 diapers for $65.99. When you subtract the cost of the wipes, that makes the diapers $.29 per diaper. Fantastic price for an environmentally-friendly diaper!
I also love that the box is so customizable. You can choose between overnight diapers and daytime diapers, between two sizes, and up to 7 designs! Plus, they even give you a free bonus goodie for ordering (like free wipes, shampoo, soap, etc.)
If you want to try the diaper box subscription, use the code SAVE16 to save $16 on your first order.
That makes the bundle $49.99 and the diapers (remember, minus the cost of the wipes) $.20 per diaper!
My Final Thoughts on Hello Bello
If you're looking for an eco-friendly, hypoallergenic diaper for a good price, give Hello Bello a try!
It's not the most eco-friendly diaper on the market, but it's certainly an improvement on its competitors and offered for a fantastic price. Especially when you buy the diaper bundle.
If you want to grab your box, use the code SAVE16 for $16 off your first bundle order!
RELATED POSTS TO THE HELLO BELLO DIAPER REVIEW: