Easter Outfits for Babies: 10 Best Places to Shop
Easter takes on a whole new meaning after you've had a baby. Suddenly you want to do all the things. Easter egg hunts, photoshoots, baskets, egg decorating, church services, and–of course–find the perfect Easter outfit for your baby.
Mama, I get it. I go a little all out for Easter. Think ruffles, lace, and ginormous hats (for my daughters, that is). But, honestly, finding the perfect dress is somewhat of an art. You really want to buy something that looks adorable but somehow encapsulates their little baby personality.
Well, if you're searching for the best places to buy Easter outfits for babies, you're in luck. Below are my absolute favorite places to shop with completely different styles and price points. Hopefully, you'll find a little inspiration for your baby's first Easter!
POSTS RELATED TO THE BEST PLACES TO BUY EASTER OUTFITS FOR BABIES:
Where to Buy the Perfect Easter Outfit for Baby
This post may contain affiliate links. If you make a purchase from one of the links I will make a small commission at no charge to you. Blunders in Babyland does not diagnose, treat, or give out any professional advice for any medical or financial situations.
1 Hibobi
I recently found Hibobi and I am obsessed! Hibobi sells adorable clothes for prices for budget-friendly prices. Their style definitely has a high-fashion, European twist, so expect to see adorable pinafores and rompers.
If you're planning on having an Easter photoshoot, I recommend checking out their selection of matching outfits and Mommy and Me outfits. Perfect for Easter photos!
Right now Hibobi is having a sale on baby outfits, with Easter dresses as low as $4.80 (seriously!) They're offering free shipping on orders over $29.
2 PatPat
PatPat is very similar to Hibobi in styling and price, albeit slightly longer shipping times. They offer adorable European style outfits that will look perfect for your baby's Easter photoshoot.
3 Amazon.com
Short on time and cash? Amazon will do in a jiffy! I love shopping Amazon for just about any holiday. They usually offer a good medium between great shipping times, affordable pricing, and style.
4 Target.com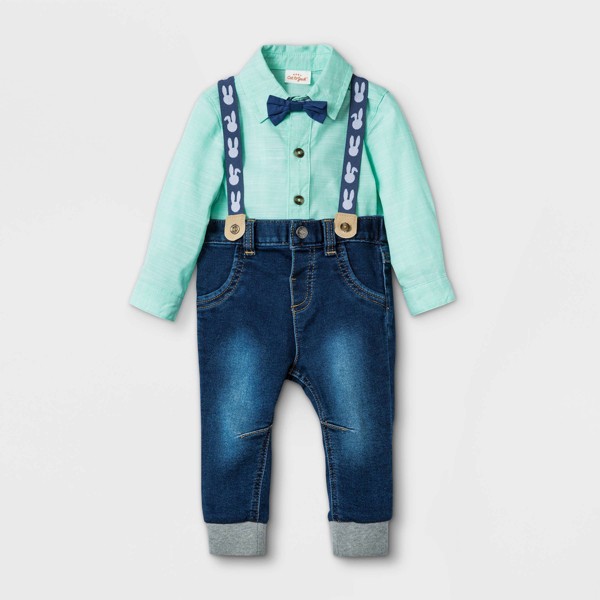 Can we all agree that Target has the best of everything? I love their baby outfits in general; Easter is no exception. Target has become my go-to place after COVID, thanks to their 2-hour curbside pickup. With our current COVID situation, it's easy to order your dress online and pickup with their curbside pickup that day.
Right now, Target is having a massive sale on their Easter outfits! I love the selection by Cat & Jack.
5 Ruffle Butts
If you're looking for a boutique-style shop to find an Easter baby outfit, you need to check out Ruffle Butts. As you might expect, Ruffle Butts specializes in baby clothes with–you guessed it–ruffles.
Their clothes are so dang cute. I love their whimsical, cheerful patterns, and wide range of color choices.
When you hit up their sale section, you can usually find a ton of great deals under $20.
6 Etsy
Are you looking for a "My First Easter" outfit? Etsy is the perfect place to search. While Amazon.com and Target also offer "My First Easter" outfits, Etsy takes the prize for style.
Etsy's also the place to go if you're looking for personalized Easter outfits.
7 Bonnie Jean
If your style ranges more toward the traditional side, check out Bonnie Jean. It's a boutique shop that specializes in classy yet whimsical clothing for girls. Big bows, classical patterns, and pastels are a common theme in their Easter shop.
8 Old Navy
From mom jeans to baby jumpers, I'm a little obsessed with Old Navy. You're looking for something cute and durable for baby to join in big sister or brother's egg hunt, Old Navy is the perfect place to shop.
They offer bunny-printed pajamas, onesies, casual dresses.
9 Resale Shops
If you're searching for an outfit for baby's first Easter on a budget, don't forget to hit up the local resale shop. Formal outfits are fairly popular at these shops because they are usually used only once.
10 Carters
Denim is the word this Easter at Carter's! Denim dresses, short sets, and to-die-for denim overalls. They also offer plenty of pajamas with bunny prints and witty Easter-inspired quotes.
My favorite reason for shopping at Carter's online is the frequency of their massive sales. Right now you can buy Easter outfits for up to 30% off.
Where are Your Favorite Places to Shop Easter Outfits for Babies?
Hopefully by now you have a few good ideas on where to buy Easter outfits for babies.
If you've already done some research and found a few shops you think should be on this list, let me know below. I'd love to know! In the meantime, if you're looking for fun ideas for your baby's first Easter, check out the posts below!
Good luck, Mama!
POSTS RELATED TO THE BEST PLACES TO BUY EASTER OUTFITS FOR BABIES: