Best Blackout Curtains for a Nursery (to help you & baby sleep)
Blackout curtains are only important if you want your baby to nap. Like, ever. In this post, we're going over some of the best blackout curtains for a nursery and exploring how to find the perfect pair for your house.
We'll also check out other helpful tools for darkening your baby's room: blackout curtain rods, shades, and more.
A quality pair of blackout curtains was the best purchase I made as a new mom. Before, my daughter's naps were spotty and she woke at the crack of dawn. However, with blackout curtains and a whole lot of gentle sleep training? 7:30 rising, baby. It was magical.
Is your baby waking with the sun too? I wrote this post to help you find the best blackout curtains for your nursery. We're going to explore some of my favorite options (two of which are furnishing my daughters' rooms right now) and discuss how you can decide which curtains will work for your home.
Don't skip the buying guide at the bottom of the post!
In that section, we'll go over important features to for in blackout curtains (this will save you so much time and money!) and key tips for making your baby's room pitch black. 
10 Best Blackout Curtains for a Nursery
This post may contain affiliate links. If you make a purchase from one of the links I will make a small commission at no charge to you. Blunders in Babyland does not diagnose, treat, or give out any professional advice for any medical conditions.
Pillowfort Ruffle Curtains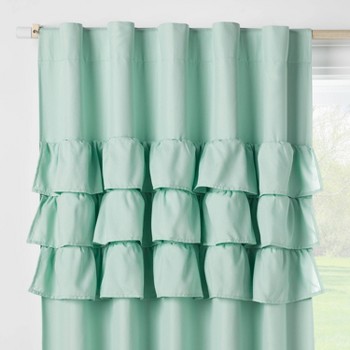 My personal favorite blackout curtains for nurseries! These hang in my youngest daughter's nursery, and they are so cute! I stumbled upon the Pillowfort Ruffle Curtains at Target and absolutely fell in love.
I'm used to blackout curtains being kind of ugly, but these look great and completely block out sunlight. I've also noticed that they provide a fair amount of insulation on cold nights.
My suggestion: pair them with a blackout curtain rod. There's a wide selection available on Amazon and Target, but I listed one below at the bottom of the post as well.
Things to Love About Them:
STANDARD 100 by OEKO-TEX® certified
Machine-Washable
Made from 100% recycled polyester fibers
Option for rod pocket or rod tab
NiceTown Full Blackout Curtains
My other go-to for blackout curtains for a baby's room. I used this brand for my firstborn exclusively because they were the only curtains I could find at the time that were truly blackout.
Things to Love About Them:
Price is unbeatable
Sold as two panels
Blocks heat and cold very well
Huge selection of colors and sizes
Triple Weave
Grommet
Machine-washable
Pillowfort Blackout Tassel Curtain Panel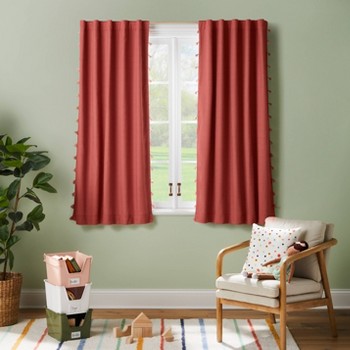 Pillowfort is actually a collection of home decor items for babies. As of right now, there are five decor themes within this line.
So, if you select Pillowfort curtains, it's super easy to find a pair of coordinating crib sheets or accessories.
It's hard to see the full cute factor of these curtains with the picture above. But if you click the button, you'll be taken to the different color options available. I am in love with the white curtains with rainbow tassels.
Related Post: How to Create a Beautiful Nursery on a Budget
Things to Love About Them:
STANDARD 100 by OEKO-TEX® certified
Good selection of colors and sizes
Made from 100% recycled polyester fibers
Option for rod pocket or rod tab
Deconovo Blackout Curtain
Are you looking blackout nursery curtains with fashionable prints? Deconovo offers stylish designs for a great price. The reviews are great (4.5 stars with over 5,000 ratings), and they offer the biggest selection of sizes next to Nicetown.
Things to Love About Them:
Huge selection of sizes, colors, and patterns
Often on sale
Sold as 2 panels
Machine-washable
Grommet
Nicetown Universal Curtain Liner
What if you already purchased curtains for your baby's nursery?
Once again, Nicetown saves the day.
These universal curtain liners are 100% blackout and can attach to any curtain (as long as the size matches). You simply loop them onto the curtain rod behind your existing curtains. 
Things to Love About Them:
Can attach to grommets, tabletops, pleated, and even rod pockets
Insulated
You can purchase black or white (remember, most of the time you won't see the color. However, if your front curtains are thinner, this is a nice feature).
Tons of sizes
Blackout Curtain Panel Trees – Cloud Island™ Gray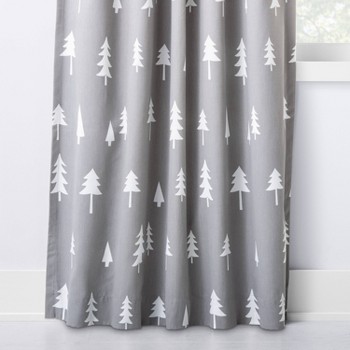 If you're wanting to design a beautiful rustic nursery, you need to check these out. The Cloud Island curtains are actually a combination of polyester and cotton, and completely machine-washable.
Things to Love About Them:
STANDARD 100 by OEKO-TEX® certified
Option for rod pocket or rod tab
Machine-washable
DriftAway Ada Floral Botanical
These are so cute! I can imagine the DriftAway Ada Floral Botanical Curtains completing a vintage or farmhouse nursery.
Things To Love About Them:
Machine-Washable
Good size selection
Grommet
Triple Weave
Metro Parlor Moroccan Design Curtains
I love Moroccan-style patterns. I think they work for modern and whimsical nurseries alike. These curtains are fully blackout, insulate well, and have a beautiful ombre color scheme. 
Things to love about them:
Sold as 2 panels
Decent sizing and color selection
Triple Weave
Machine-Washable
Grommet
H.VERSAILTEX
I chose the H. Versailtex curtains because they are on par with the Nicetown blackout curtains and offer rod pocket installation. That's just a nice feature if showcasing your curtain rod just isn't your thing.
The sizes and color selection is a little limited (mostly neutrals), but the quality is top-notch. This product has a 4.5 star rating with over 3,000 reviews.
Things to love about them:
Sold as 2 panels
Triple Weave
Machine-Washable
Option for rod tiebacks or rod pocket
LORDTEX Dinosaur and Star Foil Print Blackout Curtains
How cute are these?!
If you have a future paleontologist on your hands, you need the Lordtex Dinosaur and Star Foil curtains. They offer a fantastic size selection as well as an array of colors from pink to blue. Because girls like dinosaurs too!
These are the only blackout curtains I've found from Amazon that are STANDARD 100 by OEKO TEX certified.
Things to love about them:
Sold as 2 panels
Triple Weave
STANDARD 100 by OEKO TEX certified
Machine-Washable
Grommet
Other Blackout Options
If you've been looking at curtains and you're just not pleased with the aesthetics, check out these options.
Pleated Blackout Paper Shade
Paper shades are a cinch to install and do a pretty decent job of blocking out sunlight. I wouldn't call them 100%, but probably 95% is a decent estimate.
Simply measure, cut, and adhere. No tools required.
Blackout EZ Window Covers
The EZ Blackout Window Cover has become a very popular choice for parents. If you don't plan on opening your window or removing the cover very often, it's probably the most effective blackout option in this post.
Like the paper shades, you just measure, cut, and adhere with the included strip. The strip is actually velcro, so you do have the option of removing the covers every so often.
Blackout Curtain Rods
Even the best blackout curtains for nurseries need a good curtain rod.
Blackout curtain rods allow the curtains to hug the wall, eliminating a lot of the light sneaking in from the sides. There are a ton of options on Amazon, but I chose these because they look awesome (love that industrial look!) and they set close to the wall.
This is important because your curtains will block out more light when they set closer to the wall.
What to Look for in Blackout Curtains
I want your first blackout curtain purchase to be the right purchase. Hopefully the buying guide below helps with that.
Size
Before purchasing your curtains, you'll want to measure your window from sill to sill, top to bottom, and side to side.
Generally speaking, curtains extend past your window sill 4-6 inches. You will most likely mount your curtain rod 4-6 inches above the window sill, so account for that distance as well.
Keep in mind that some parents like to hang their curtains to the floor. This can eliminate another area where sunlight peeks in. However, other parents are nervous about hanging the curtains within their baby's reach (and rightfully so).
Blackout Level
When you begin your search, you'll see the words "room dimming" or "room darkening" curtains. Run away. These are not blackout curtains.
For adults, room-darkening curtains could work just fine. Not for your nursery.
Look only for curtains that say "100% blackout" or "full blackout." Then, just to be safe, check out the reviews. Scroll through the pictures to see if anyone has posted the curtains in sunlight. If the curtains look like they are glowing from the sun, stay away.
Material
Let's talk material, shall we?
Blackout curtains are usually made from cotton or polyester. Polyester is overwhelmingly more popular.
There are usually three main layers (but sometimes two): the pretty front layer that you see, the thick insulated layer (usually black), and then the outer layer that faces the window.
Thermal-Insulated
Many times, the second layer is thermal-insulated. That just means the fabric is thick enough to prevent air circulation. This layer will protect your baby from cold drafts coming in through the window or the sun's smoldering heat. It also dampens sound.
Machine Washable
Why would I need machine-washable curtains? The answer will surprise you. Tiny, grubby hands destroy everything. As does breast and formula milk. You'll also find that your curtains will become a magnet for dust and pet dander.
Most polyester curtains are machine-washable. However, double-check the label for correct washing and drying instructions. The last thing you want is for your curtains to shrink.
OEKO-TEX
If the toxicity of your baby's curtains is a priority for you, look for an OEKO-TEX standard certification. This means that the material was tested for harmful materials and found in good standing.
That said, it's hard to find blackout curtains with this certification. Independent manufacturers will be your best bet, but I did find a few at Target. Those are listed above.
Grommet vs Rod Pocket
This is more of a stylistic choice than anything. Grommets are typically circular openings (usually metal) that allows the rod to easily go through. If you have a pretty curtain rod, this will most likely be your choice.
A rod pocket allows you to slip the rod through the material, covering it almost completely. This will most likely be your choice if you purchased the ugly white rods from Walmart. 
Pricing
The price of blackout curtains ranges significantly based on size, pattern, and manufacturer.
Also, keep in mind that some curtains are sold with one panel or two. On Amazon, curtains are often packaged with two panels. However, at Target and Pottery Barn, one is more common.
Blackout Curtains FAQ
Why Should I Get Blackout Curtains for My Baby's Nursery?
Right now your baby is very sensitive to light. Blackout curtains prevent your baby from being stimulated by the light.
What's that?
A circadian rhythm is the biological clock that tells your baby nighttime is for sleep and daytime is for play. Over time, your baby will produce the sleep hormone, melatonin. This hormone is produced as a response to darkness. In contrast, your baby is very sensitive to wakey time cues, like sunlight. I.e., she'll wake at the crack of dawn and will have trouble sleeping during the day. 
The solution: your nursery needs to be dark. Like, really dark.
Which leads us to our next question…
How Dark Should My Baby's Nursery Be?
One of my favorite baby sleep experts ever, Cara from Taking Cara Babies, recommends creating a nursery so dark you can't even see your hand in front of your face.
When my second daughter was having sleep problems and the old sleep training techniques I used just weren't doing it, I took Cara's Newborn Sleep Class.
It was pure magic. Immediately, my daughter started sleeping 3-4 hours more.
In the course, Cara talked about how babies are most sensitive to the early morning light. At around 5-6 am, their bodies are practically begging for an excuse to wake up. Blacking out the nursery can help you steal a few more hours of sleep. 
How to Get Your Baby's Room Completely Dark
Block Out the Overhead and Side Light
You won't think about this until you turn the lights off and you see the beam of light streaking up to your ceiling.
The quickest solution is to simply throw a blanket over the curtain rod. (I will fully admit that this is what my current nursery looks like right now)
But we have smarter and prettier options:
Install the curtain rod a little higher. This often eliminates the problem. The curtains will be flush with the sill and thus block out the light.
Buy blackout shades. I've listed a pair of those above. That's the easiest way to block out sunlight, but they aren't quite as pretty as curtains.
Install a valence
Use magnetic tape: Put magnetic tape on the sides and top of the curtains to keep them flush against the sill
Install a Blackout Curtain Rod: as recommended above
What Are Your Favorite Blackout Curtains For Nurseries?
That's it! The best of the best blackout curtains for nurseries. I hope you found a pair that hits your fancy and, most importantly, helps your baby sleep a long, long time.
If you did, comment below!
While you're here, be sure to download a free nursery checklist printable! And also check out some of baby sleep posts. As a mom of two, I'd love to share a few resources that I've found along the way!
Good luck, Mama!