8 Sheep Organics – Junior's Bedtime Lotion Review 2021
Shouldn't getting your kids to sleep be easier?
You've tried sleep training and bedtime routines…and yet every night still feels like a battle. And when he does finally get to sleep? It's spotty and restless, with multiple wakings through the night.
Magnesium is an essential mineral we all need but sometimes lack. It's responsible for regulating a our mood, digestion, and sleep cycles. When we're low on magnesium, we tend to be restless and sleepless. Children (notorious picky eaters) can be especially prone to skimping out on nutrient-rich meals.
Whether your child suffers from a magnesium deficiency or just needs a little assistance unwinding before bed, magnesium lotion can make a world of difference with his sleep life.
As a natural sedative, it infiltrates your little one's bloodstream, quieting nerve activity and regulating the production of melatonin (the sleep hormone). The end result is a child that is primed and ready for long, rejuvenating sleep.
In this post, we're taking a look at the Junior's Bedtime Lotion from 8 Sheep Organics. This magnesium lotion supplements any magnesium deficiency your little one might be experiencing and gently eases his body into restorative sleep. 
I've used this lotion for almost 3 weeks now, and I'm beyond blown away by the results. In this Junior's Bedtime Lotion review, I'm sharing everything you need to know before you try it on your babies: what's in it, how it can help, and my personal experience with it.
In the end, I hope this post helps you and your little one get more sleep!
RELATED POSTS TO THE JUNIOR'S BEDTIME LOTION REVIEW:
Pros and Cons: 8 Sheep Organics Junior's Bedtime Lotion At-a-Glance
This post may contain affiliate links. If you make a purchase from one of the links I will make a small commission at no charge to you. Blunders in Babyland does not diagnose, treat, or give out any professional advice for any medical conditions. I was gifted this lotion in order to facilitate this review. All of my opinions are my own.
PROS
Natural ingredients
Magnesium is a proven natural sedative and muscle relaxant
Uses sleep-promoting essential oils like lavender and chamomile
Fantastic smell
Lotion absorbs well (no oily residue)
Each jar is made fresh
60-Day Risk-Free Guarantee
CONS
Moderate price
Potential for allergic reactions (patch test before using)
USE CODE ERIN10 FOR 10% OFF!
What is 8 Sheep Organics?
8 Sheep Organics is exactly the kind of small business that I love.
Based out of Elkhart, Indiana, it was founded by a mama that just wanted to get some more sleep. Plagued with cramps and insomnia during pregnancy, she turned to magnesium supplements to help.
It was a good effort, but sometimes magnesium supplements come with…uh…side effects.
If you've ever taken magnesium supplements, I'm sure you know what I mean. After a night spent on the toilet, the owner moved on to topical treatments. Unfortunately, she found that many magnesium oils were too irritating to be effective.
So, she developed her own solution: the Organic Sleep Lotion. Her pregnancy lotion smells great, is gentle on the skin, and can coax uncomfortable pregnant mamas into slumber in no time. No surprise, word of this lotion spread like wildfire. 
Thus, 8 Sheep Organics was born.
What's the Junior's Bedtime Lotion?
Soon after creating the Sleepy Lotion, 8 Sheep Organics realized that there was definitely a market (composed of exhausted, desperate moms) for safe magnesium lotion for children.
The level of magnesium and essential oils in the Junior's Bedtime Lotion is formulated specifically for babies and children 3 months and older. It also contains gentle ingredients like goat's milk and vitamin E. This makes it a great solution for not just sleep, but common infant skin conditions (like eczema or cradle cap).
The Junior's Bedtime Lotion is handmade with these natural ingredients:
Magnesium Chloride
Organic mango butter
Organic coconut oil
Goat milk powder
Organic beeswax
Lavender essential oil
Organic vanilla absolute (to me this is the most noticeable scent. I love it!)
Vitamin E oil
Organic chamomile essential oil
How Does Magnesium Lotion Work Anyway?
Some moms call magnesium lotion pure magic. After using it myself, I'm inclined to believe that. We've already talked about how magnesium calms your baby's nerves and assists with melatonin production. Let's discuss how magnesium used as a lotion works.
Magnesium lotion passes through the pores in your baby's skin, eventually passing into her bloodstream.
In my mind, there is one major benefit to using magnesium lotion over oral supplements: you don't have to worry about irritating your baby's digestive system. Many children (and adults) experience loose bowels when they take oral magnesium supplements.
The lotion absorbs particularly well through your baby's feet, which is one reason why 8 Sheep Organics recommends applying there first.
Is the Junior's Bedtime Lotion Safe for Babies?
Yes, magnesium lotion is considered safe for babies and children. Your baby's body will eliminate any excess magnesium from her system.
Having said that, most handmade skin care products are not regulated by the FDA and it can be impossible to predict a child's response to any new substance. So, it's very important to perform a patch test before slathering it onto your baby's skin.
Use the right lotion: Magnesium lotion generally doesn't irritate a child's skin as long as you're applying the correct dosage. That's why it's important to use the Junior's Bedtime Lotion instead of the adult Sleepy Lotion.
Perform a patch test: The Junior's Bedtime Lotion contains other ingredients that your little one could have an allergic reaction to. A patch test can be super simple: just dab a tiny amount on the bottom of your baby's foot during the day. Watch for any irritation. FYI, I waited a full day before applying more.
My Experience with the Junior's Bedtime Lotion
I applied the Junior's Bedtime Lotion every night for almost three weeks before writing this review (except for two nights, but we'll unpack that in a minute).
First, let me give you a little backstory here. My little girls, 4-years-old and 9-months-old, sleep through the night well. Getting them to bed, however, can be a little stressful.
Both are very, very high-energy. They're the outgoing, party-until-you-drop kind of girls.
Typically, my 4-year-old sings, twists, turns, and laughs in her bed for about an hour before falling asleep. My youngest daughter falls asleep much more quickly, but sometimes screams before I lay her down. With each girl it's clear: they'd rather be doing anything but sleep.
My expectations going into this Junior Bedtime Lotion review were this: I'd love to see them enjoy bedtime, happily unwind, and fall asleep sooner. 
Big expectations, right?
Does the Junior's Bedtime Lotion Work?
I sure think so! In fact, the Junior Bedtime Lotion is now a permanent part of our bedtime routine.
The first night, I didn't notice a huge difference in my girls. Both of my daughters seemed to like the smell of the lotion and the novelty of getting a mini-foot massage.
Night two was a game-changer. 
My youngest daughter displayed the best results. I applied the Junior's Bedtime Lotion at the beginning of our bedtime routine. About 15 minutes later, I laid my almost completely limp baby in her crib.
Guys, the difference is remarkable.
She used to push at me and scream. Now she lays her head against my shoulder, cool as a cucumber. At first, I wondered if this was an isolated incident. Nope. She's an angel every night that I've used the lotion on her. 
I've also used the Junior's Bedtime Lotion when we were late for naptime and she was overtired with great results. 
I've noticed similar results with my oldest daughter, albeit on a smaller scale. Pre-Junior's Bedtime Lotion, she usually laid in bed for about an hour. Now she usually falls asleep in about a half hour and moves around a lot less. Most recently, she's been asking me to leave the room so she can sleep. This blows my mind (and if I'm honest, kinda makes me want to cry?)
What Happened When I Didn't Use It
I stopped applying the lotion on my youngest daughter for two nights just to test her reaction. The first night, she whined a little bit. No big deal. The second night, she fidgeted, complained, and cried. Basically, back to square one.
Is this irrefutable proof that the cream works? No, maybe not. But it's enough to make me continue!
Application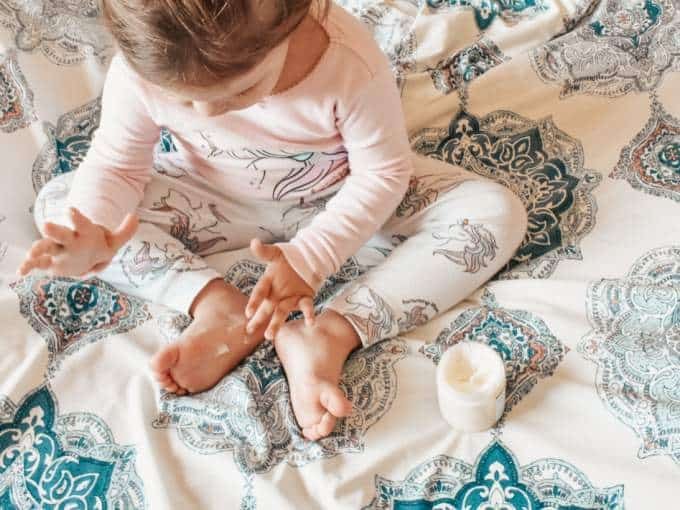 The Junior's Bedtime Lotion smells and feels great. It's thick, but not overly oil-y, and does not leave a residue on clothes (that I've noticed) or on my girls' skin.
The scent is incredible. I don't really smell the lavender or chamomile. I feel like the vanilla really shines through. My husband, who doesn't even like lavender, says that the lotion smells great.
I applied a pea-sized amount to my baby's feet. My eldest daughter applies the lotion herself, about two peas' worth. Once again, we use it on her feet. I haven't noticed any greasy stains on the sheets or my younger daughter's sleep sack, but I also try to let it absorb for a couple minutes before covering it up.
A little goes a long way. I've been using the cream for almost three weeks now and we're not even ⅓ through the jar.
Storage
Keep in mind that this is a handmade lotion, made fresh on a per order basis. It will have a shelf life.
According to 8 Sheep Organic's website, the lotion lasts about 3 months in room temperature or 6 months refrigerated. I own two containers, so I'm storing one in the refrigerator, and using another container for both girls.
Shipping, Customer Service, and Returns
My order shipped within a day and arrived two days later. However, most orders arrive within 5-7 days.
I love 8 Sheep Organics 60-day worry-free return policy (not that I would ever consider returning mine!) If you're not completely satisfied with the lotion, you can email their customer service, return the bottle, and they will send out a refund immediately.
On a side note, I've emailed the owner back and forth and she is very friendly and helpful. I'm a firm believer that great customer service comes from the top down. This company seems to genuinely care about improving the lives of their customers.
Would I Recommend the Junior's Bedtime Lotion?
Yes. 1000 times yes. I love this stuff. When my two bottles run out, I'm buying more because it's worth its weight in gold. My daughters are falling asleep so much easier and that's well-worth $20 every few months.
If you were on the fence, I hope my little review of 8 Sheep Organics Junior's Bedtime Lotion convinced you to give it a try. If you do, you can use the code ERIN10 for 10% off.
Have you used any products by 8 Sheep Organics? Let us know below!
RELATED POSTS TO THE JUNIOR'S BEDTIME LOTION REVIEW: