How to Dream Feed Your Breastfeeding Baby
During my first 7 weeks of motherhood I missed out on a tool that could've saved me hours of sleep.
Even before I gave birth, I was obsessed with getting my baby to sleep through the night. You see, I can barely function with at least eight hours of sleep and two cups of coffee in my system. I knew that this whole infant wailing through the night thing wasn't going to work for me.
I found out about dream feeding from a book called, The Baby Whisperer Solves All Your Problems. I feel in love with the techniques in that book. All, except one: the dream feed.
That's because it's darn hard to dream feed a breastfeeding baby.
If you're an exhausted mom of a newborn, you've probably already done your research into the dream feed. Maybe you've even tried it a couple times without success. Let me tell you, I have been in the same boat!
There are plenty of dream feed posts on the internet. I decided to write this because learning to dream feed your breastfeeding baby is whole different animal. It's not easy, and there's definitely a little finesse involved in it.
Hopefully, with the tips below you'll be able to master the dream feed technique and get the sleep you desperately need.

Before we get started, did you know that I have an entire free blog series dedicated to infant sleep? Check out the other posts here.

How to Dream Feed Your Breastfeeding Baby
This post contains affiliate links. If you make a purchase from one of the links I will make a small commission at no charge to you. I only recommend what I trust. Blunders in Babyland does not diagnose, treat, or give out any professional advice for any medical conditions.
What is the Dream Feed
In a word? Freedom.
The dream feed is a late night feeding that you give to your baby, ideally, while he's still asleep. In theory, you simply present a bottle or your breast to your baby and his natural suckling instincts will take over.
(But if it was that easy, you wouldn't be here looking up how to dream feed your breastfeeding baby!)
Timing is Everything. A dream feed is usually given between 10-11pm, though depending on your baby's bedtime, it can be between 9:30-11:30pm.
The goal of dream feeding is to align his hunger clock with your sleep schedule.

To illustrate the benefit of a dream feed here's what my typical nightly schedule looked like before the dream feed:
8:00 Bedtime
10:30 My Bedtime
12:00-1AM: Hunger Waking
5:00: Hunger Waking
After the dreamfeed:
7:30 Bedtime
10:30 Dream Feed and My Bedtime
4:00AM Hunger Waking
Before the dream feed, I went to bed early because I had no idea when my daughter would need to nurse next. Sometimes she'd let me sleep until midnight. Other times it was around 1AM (I prayed for 1am).
After I implemented the dream feed, I could stay up with my husband, feed my daughter when I was ready for bed, and reliably sleep for a minimum of three hours.

A dream feed is also a great technique for sleep training.
In the beginning, your baby will need 8-12 feedings a day. So, night feedings are inevitable. The dream feed satisfies your baby's caloric need without interrupting his developing night sleep schedule.
RELATED POST: How I Got My Breastfed Baby to Sleep Through the Night at 8 Weeks
When to Start and When to Stop a Dream Feed
Honestly, when to start a dream feed is somewhat of a controversial answer.
Some experts say don't start the dream feed until 12 weeks, after baby is on a schedule (if you've read any of my blog, you know that I firmly believe a baby should be on a schedule before that).
In the book Baby Whisperer Solves All Your Problems, Tracy Hogg suggests starting the dream feed as soon as you'd like and eliminating it by 8 months. After this point, the dream feed could interrupt your baby's natural sleep habits.
I ended the dream feed at probably closer to 9 months. My daughter went through a growth spurt and if I'm perfectly honest, I was a little reluctant to stop. It was our only cuddle time!

Pin This Post for Later!
Why Dream Feeding Isn't Working for Breastfed Babies
I've noticed two main complaints with the dream feed.
The first: Your baby won't latch.
Sometimes it's just not easy to dream feed a breastfeeding baby. I get it!
My baby just wouldn't latch at first either. I would nudge her and do the feather boob trick (see below) and she just wasn't interested in rousing enough to eat.
Or, alternatively, she would completely wake up, which defeats the entire purpose.
If this is you, hopefully you'll find my techniques below helpful. I used these exact techniques to successfully dream feed my breastfed baby and you can too!
Complaint 2: The dream feed can mess with a baby's nighttime sleep.
For some babies, this is absolutely true. Some moms have noticed that a dream feed can result in even more night wakings. If that's the case, you just want to give it up.

Dream Feed Guidelines: At a Glance
Burp Wisely – Some babies need to be burped, some don't. I did not burp mine because it would fully wake her.
Environment – Don't switch on the lights, keep it as chill as possible. You do NOT want to fully wake baby.
Timing is Everything – Dream feeds should be between 10-11pm. If your baby has already passed through the 4 month sleep regression, try to get to him when he's about to enter a new cycle (which happens roughly every 45 minutes).
Try Varying Dream Feed Times – I varied my dream feeds by a half hour or so every couple days so my daughter wouldn't get used to a specific time.
Swaddle/UnSwaddle Wisely- I unswaddled because it roused my daughter enough to eat.
RELATED POST: How to Swaddle a Baby That Hates Being Swaddled
How to Dream Feed Your Breastfeeding Baby: Dream Feed Techniques
Bottle Feed Only
Many nursing moms have more success bottle-feeding for the dream feed.
To dream feed with a bottle, pump a half hour before the designated feeding. Sneak in and simply place the nipple between your baby's lips.
I liked to nudge my daughter's lips apart by wiggling the nipple gently. The movement stirred her suckling instincts.
I also found that if I aimed the nipple toward the roof of her mouth, she would grasp it better.

[mailerlite_form form_id=14]
The Feather Boob Technique
The most difficult (but straight-forward) method to dream feeding a breastfed baby, is simply nursing her.
Take your baby out of her crib, just as you would for a regular feeding, and try to rouse her just enough to latch, but not enough to fully wake. I call this the Feather Boob Technique, because essentially you'll tickle her cheek or lips with your nipple.
The goal is to stimulate her rooting reflex.
I found it easier to sandwich my breast with one hand and either tickle my daughter's cheek with a nipple or a wet washcloth.
If your baby absolutely will not wake enough to latch, try to time the dream feed to that natural point where his sleep cycle shifts.
Once your baby latches, his suckling instinct will take over and he'll be able to feed himself in his sleep.

The Bottle/Boob Hybrid: My Favorite Dream Feed Technique
The name of this trick definitely isn't patent-worthy, but it's a great tool to dream feed your breastfeeding baby.
Take your baby out of the crib.
Place the bottle between his lips and gently wiggle it until he rouses enough to latch on. When your baby begins to suckle (I'd say after about a minute), remove the bottle from his mouth and immediately replace it with your nipple. I've found that tilting baby's head back slightly will keep his mouth open enough to wedge your nipple in.
At this point, he will probably accept your nipple. If not, continue with the bottle and try again the next night.
Continue this method for a few nights. Eventually, your baby will learn to expect the dream feed and will latch on just by your nipple.
I love this technique because it gradually eliminates the bottle from the dream feed and isn't nearly as frustrating as the Feather Boob Technique.

Recap: How to Dream Feed Your Breastfeeding Baby
Put your baby down at your designated bedtime.
Between 10-11pm, sneak into baby's room.
If your baby is dead asleep, you can rouse her with a wet washcloth, unswaddling, diaper change, etc. Don't wake her fully.
Use one of the techniques listed above.
Burp and re-swaddle if necessary
Put her back to bed
RELATED POST: 7 Surprising Things that Could Be Ruining Your Baby's Sleep
My Final Tip: Consistency
If you can't dream feed your breastfeeding baby right away, keep at it.
I began dream feeding using the bottle only technique (which didn't work until I accidentally discovered the wiggle method), transitioned to the bottle/boob hybrid about a week in, and then exclusively breastfed soon after that.
This technique takes time. Some nights you're going to be so dead tired that you don't even have the energy for the dream feed.
Other times, your baby will take the dream feed and still wake up around midnight.
This is all completely normal.
Be diligent with it for about a week. By that point you should be able to tell if it's a good fit for you both.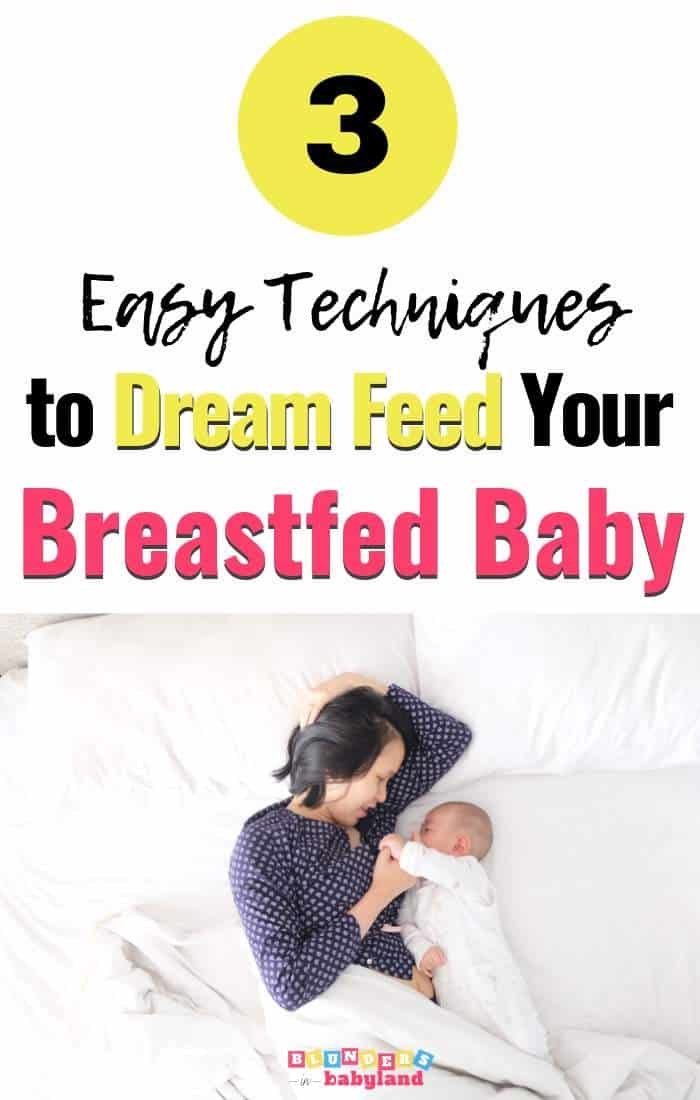 We Have Baby Sleep Resources to Help You!
I sincerely hope these tips help you dream feed your breastfeeding baby.
If you're still struggling to get your baby on a sleep schedule, please feel free to download the free Baby Sleep Printables Bundle. It's a great resource with sample schedules, troubleshooting worksheets, and other handy tools.

I hope you'll also consider taking my quick my quick 1 minute survey? It will give your struggles as a new mom a voice and help me know how to best serve you!
Good luck, Mama! (And get some sleep!)