What to Do When Your Baby Has the Flu: 10 Infant Flu Home Remedies
There is nothing that strikes terror in the hearts of new moms more than the idea of her baby catching the flu.
I'm a worry wart at heart, so hearing words like "upper respiratory infection" and influenza" automatically make me think of nursery rhymes like John Brown's Baby and Solomon Grundy.
All new mom hysteria aside, it's still important to prepare for the flu season. In the same boat? This post lists the best infant flu home remedies that will keep your baby healthy and you sane.
RELATED POSTS:
How to Treat the Flu in Babies
This post contains affiliate links. If you make a purchase from one of the links I will make a small commission at no charge to you. I only recommend what I trust. Blunders in Babyland does not diagnose, treat, or give out any professional advice for any medical conditions.
This year's flu strain is no joke. It may not be at pandemic proportions yet, but it is particularly severe and uniquely widespread. Not only that, as I'm writing this post, this year's vaccine only has an estimated 10% efficacy rate. For the mother of a baby under a year old, these facts are disconcerting.
First things first. Know thy enemy. This strain's symptoms are severe, but very common. Your child may have the flu if she displays these symptoms:
Runny nose
High Fever
Headache
Chills
Nausea
Diarrhea
Upper Respiratory Infection
Decreased Appetite
Cough
If you notice these symptoms and suspect that your baby has the flu, give your pediatrician a call. Since this year's strain is so nasty, he may want to prescribe Tamiflu.
Tamiflu can help your infant recover from the virus much quicker, but it only has a 24-72 hour window to be effective. The best bet you have of helping your baby with a speedy recovery is treating his symptoms. The infant home remedies in this post will focus on the worst symptoms of the flu, such as preventing a serious respiratory infection and dehydration.
10 Infant Flu Home Remedies to Kick the Flu to the Curb
1: Keep Breastfeeding
If you're introducing solids to your baby in the midst of this year's flu season, think about reconsidering. It's no secret that the antibodies in your milk are crucial to your baby's immune system. However, many moms don't know that exclusively breastfeeding (EBF) for at least 6 months has huge benefits. One study estimated that babies EBF for 4-6 months were 4 times more likely to develop an upper respiratory infection than babies EBF for at least 6 months. 4 TIMES. Even a month or two makes a huge difference.
Related Post: How You Can Have Amazing Sleep with a Breastfed Baby
2: Saline Drops
I know that every single infant flu home remedies guide on the internet has breastfeeding and saline drops as their top picks, but hear me out.
There's a method to this remedy and it's really important that you get it right. Flushing your infant's nose relieves some of her discomfort and can keep the mucus from building up. However, there's an additional benefit to using a saline solution.
Consider flushing out your baby's nose before every single feeding.
Think about when you have a runny nose. Do you feel like eating? Do you sleep very well? Our babies don't either. Flush her nose out before every feeding to keep her appetite up and ensure her caloric intake.
There are deals you can find on saline drops. You can save a couple bucks and buy the three pack of the Little Remedies Saline Drops on Amazon (you'll need it), or for an all-natural product, try NoseFrida Saline Snot Spray. Alternatively, you can make your own saline drops at home.
3: Remove Mucus and Clear Airways
One of the more undignified moments of motherhood was when I sucked the snot out of my baby's nose. Literally.
The NoseFrida Snotsucker came recommended by my pediatrician and several other moms. I was so excited to throw out the stupid blue aspirator that I didn't even know what I purchased until after I opened the package. You want me to do what now?
In all seriousness, this is one of the most effective infant flu home remedies out there. The NoseFrida consists of a blue pen-shaped tube that you stick at the entrance of your baby's nostril. There's another tube connected to a mouth piece that allows you to literally suck the snot out of your baby's nose. Don't worry, there's a hygienic filter that prevents you from eating any boogers.
For all its quirkiness, the NoseFrida is hands-down the best snot sucker I've used. Your baby might hate you (you may even hate yourself) for five minutes, but I guarantee everyone wins in the end.
4: Elevate Your Baby's Head
If your baby is struggling with a stuffy nose, this can give the poor dear a reprieve. If purchasing an infant swing or bassinet is out of the budget, there's also a wedge you can purchase that is safe for your baby's crib. We purchased ours at Toys R' Us, but Amazon carries a universal wedge that is very similar.
Having said that, elevating your baby's head is a bit of a double-edged sword. The American Academy of Pediatrics is clear about safe sleep. Your baby should sleep on a flat mattress for the lowest chance of SIDS. Also consider that research suggests that any elevated surface can obstruct an infant's airways when used for long periods of time. So, like any decision you make with your little squishy, weigh the pros and cons.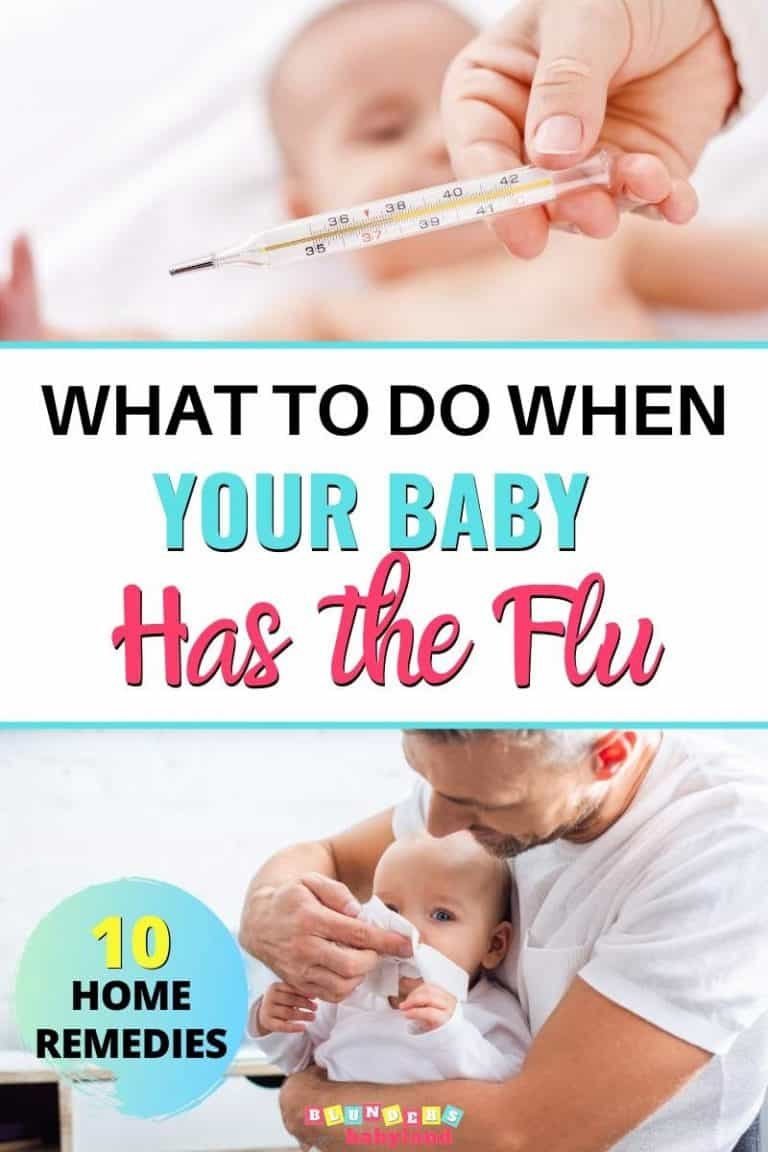 5: Use a Humidifier
If your baby hates an aspirator (let's face it, we all do), you can use a humidifier to break up some of that congestion. Experts recommend using a cold air humidifier rather than a traditional, heated humidifier.
A cold air is safer for mobile babies and less like to raise the room's temperature. Trust me, this is the best investment you will ever make. My daughter is now a toddler and we use it almost every night through the winter. Her nose runs like a river but at least she doesn't have that heart-wrenching cough.
If your baby is over 6 months, you can try adding essential oils to your humidifier or diffuser. Essential oils such as lemon, lavender, and frankincense (in very, very small amounts), can help break up congestion and relieve insomnia.
6: Vapor Rub
My mom has been slapping Vicks VapoRub on my chest since I can remember (of course, she's stopped that by now…).
She'd be happy to know that I've carried on that tradition to my husband, and eventually, Baby C. Vicks VapoRub isn't some hookey old wives' tale. It really does work! However, I wouldn't add the adult Vicks VapoRub to your infant flu home remedies list just yet.
The adult version can have the opposite effect on children under two and actually cause mucus to thicken. Luckily, Vicks sells a non-medicated version for babies, Vicks BabyRub. BabyRub doesn't contain the ingredients that smash mucus to smithereens but it does contain soothing fragrances like lavender and eucalyptus that provide some relief.
If I was pushed into a corner, I would use Vicks BabyRub, but this product also contains petrolatum. Petrolatum is used in a ton of cosmetic products and is generally considered safe. But, honestly? I hate the thought of putting it on my baby. If you're like me and would like a natural alternative, Wellness Mama has a pretty good DIY Vapor Rub recipe.
Either way, keep in mind that vapor rubs should probably only be used on babies 3 months and older.
7: Snack Feed
So far my infant flu home remedies have focused on keeping your baby's respiratory system clear and healthy. Hydration is the other concern you should focus on.
As a Babywise mom, it irks me to consider snack feeding. However, it takes a lot of fluids for a baby's body to function at optimal levels, never mind fighting off a virus. When your baby doesn't feel well, often her appetite suffers. It's up to you to make sure she's getting the fluids she needs.
This is one instance where deviating from your nice 3-4 hour schedule may be necessary. It might be annoying, you might feel like you're taking 5 steps backward, but ensuring that her health is in tip-top shape is paramount. If you want to keep some semblance of a schedule, consider moving back to a 2.5-3 hour routine temporarily.
Short on time? Pin it for later!
8: Pedialyte
This may not exactly be an infant flu home remedy, but it's still an important component of caring for your baby when he's sick, especially if diarrhea is present. Remain vigilante about counting your baby's diapers. It might be a good idea to familiarize yourself with the diaper guidelines. If you don't think that baby is producing enough wet diapers, it might be a good idea to give him some Pedialyte.
Speak to your pediatrician or the nurse line for recommended amounts. When I called our nurse line, they told me to give her just a few sips or use a baby dropper. She was 3.5 months at the time.
RELATED POST: How to Find an Amazing Pediatrician
9: Hold Back on the Aspirin
A fever is actually one of the best infant flu home remedies you could ask for. It's the body's natural medicine for an infection. Treating a fever too quickly can hinder the body's defenses against a virus, mask your child's symptoms, spread the virus, and cause detrimental side-effects.
Obviously use your own judgement here, Mama, but at least consider holding off introducing the medication until absolutely necessary.
With that said, it's a good idea to call your pediatrician if your baby is under 3 months and has a fever of over 100.4 degrees, 3-6 month old and has a fever over 101, or is over 6 months old and has a fever over 103.
Your pediatrician will be familiar with this particular flu strain's characteristics and can give you the best advice on how to proceed.
10: Vitamin D
There's kind of this stereotypical idea of what to do when you have the flu; you curl up under the covers, fill your tummy with chicken noodle soup, and pop in an IV filled with vitamin C.
Actually, recent research indicates that vitamin C may not even be the best option for your illness. Taking vitamin D can increase your immune system's response to viruses and, if taken before regularly, can help prevent you from getting sick at all.
Researchers believe that there's a correlation between the lack of vitamin D caused by winter's dreary days, and the increase in flu cases.
How does this relate to infant flu home remedies? If you're not out in the sun, chances are, you're lacking vitamin D and so is your baby. This makes you and her much more susceptible to cold and flu viruses. Breastfeeding mommies, take your vitamin D. This increases her chances of getting the necessary amount.
Whether you're bottle feeding or breastfeeding, you should give your baby vitamin D. I'm a big fan of the Mommy's Bliss Organic Vitamin D Drops. It's pretty easy to administer it. Just add a drop to either your nipple or the bottle's and let your baby do the rest.
"To avoid illness, expose yourself to germs, enabling your immune system to develop antibodies. I don't know why everyone doesn't do this… Maybe they have something against living forever."
—Dwight Schrute, The Office
Infant Flu Home Remedies Conclusion
The flu season sucks. It truly does. It seems like you can sequester yourself and your child from the entire population and yet somehow still get it. If you're prone to over-dramatic episodes like me, don't entertain thoughts of hospitalizations; serious flu situations are rare and in the long run, your baby will be better off with these new antibodies.
Keep your cool and implement a few infant flu home remedies. Treat his symptoms, ensure that he's getting plenty of fluids and rest, and help him bolster his immune system. As always, keep an eye out for the serious symptoms, and never be shy about contacting your pediatrician.
Okay, mama…those are the infant flu home remedies that helped me through my baby's mini crisis. Do you have any good ones? Let me know in the comments below!
By the way, if you love essential oils and are looking for some more natural cold and flu home remedies, you might love the post below.
RELATED POSTS: